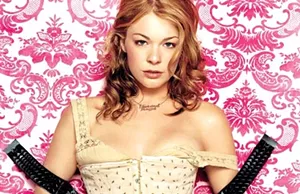 The fall season is upon us, and for bands across the country it's the perfect time to tour. Hopping in the bus — musicians from David Crosby and Graham Nash to Talib Kweli and Nas, will hit the road this fall — is never easier than when the weather is temperate, and rocker-types don't have to mess their well-crafted coiffures with high humidity or piercing winds. This autumn a diverse group of hip-hoppers, oldies but goodies, blues musicians, and indie rock sweethearts take to the highway to bring music to the Land of Lincoln.
Here's a short list of the big talent burning rubber through Illinois (and St. Louis) this fall.
Uniting hot weather and the blues just seems right — maybe it's because the genre originated in the steamy South, or perhaps, the blistering guitar riffs add to the functionality of the union — but whatever the reason, summertime is the right time to watch a blues concert. Peoria hosts its annual Illinois Central Blues Festival (Aug. 29 and 30)featuring tunes from The Tommy Castro Band and Lonnie Brooks along with 17 other performers to round out the weekend lineup. Another show of note is a not-to be-missed rare club performance from hip-hop legend Nas with support from Brooklyn MC Talib Kweli and New Orleans rapper Jay Electronica at Urbana's Canopy Club.(Aug. 30). The touring mates also make a stop at The Pageant in St. Louis (Sept. 3).
The month of September begins with a double-bill concert at Prairie Capital Convention Center featuring American Idol winner Jordin Sparks and pop songster Jesse McCartney (Sept. 4). After a bout with acute vocal cord damage, Sparks canceled numerous tour dates — including a Champaign gig — last spring, but the R & B high-note singer is back, and touring again in support of her major label debut, Jordin Sparks.

But, if you're willing to burn a little gas, traveling to St. Louis for music would be a fruitful endeavor. The September lineup for Verizon Wireless Amphitheater includes popular country crooners Kenny Chesney with LeAnn Rimes (Sept. 11), 1980s arena rockers Journey with Heart and Cheap Trick (Sept. 13), and contemporary hit makers Maroon 5 (Sept. 27). The Eagles are scheduled to play the Scottrade Center (Sept. 20). If your tastes run a little less mainstream, St. Louis' Pageant features indie darlings Vampire Weekend (Sept. 10) and alt-country singer/songwriter Neko Case (Sept. 24).
It takes a big stage to accommodate big stars, and in October the duo of David Crosby and Graham Nash of the 1960s and 70s rock outfit Crosby, Stills, Nash and Young will have no trouble filling the 2,018 seats inside Sangamon Auditorium. Hall-of-famers Crosby and Nash (Oct. 26) present an intimate concert featuring songs from their large repertoire as solo artists and as members of CSNY. Country Idol, Carrie Underwood (Oct. 2), arguably one of the competition's most successful alums, rolls into Champaign's Assembly Hall to kick up her boots to the tune of her 2007 release Carnival Ride. But if you like your guitar with a little less twang, Scottrade Center in St. Louis hosts a gaggle of alt-rock groups — Panic at the Disco, Dashboard Confessional, Plain White T's, and The Cab — touring as a package deal dubbed Rock Band Live (Oct. 19).
So yes, technically he's not a musician, but — make no mistake — Ira Glass is a rock star. His radio show, on Chicago Public Radio, This American Life, is a wildly popular radio program that has expanded into a television show, and finds a home on I-Pods around the country via podcast. Glass visits the capital city for a live version of his radio shows dubbed Ira Glass: Radio Stories and Other Stories at Sangamon Auditorium (Dec. 13).