Action movies aren't my thing. If I have a choice of what movie to sit down and watch, you won't see me picking an action flick. However, if my husband chooses the movie, I may be stuck with an action-packed film, and oddly enough, I often get engrossed in the movie.
Recently, the same thing happened with the latest chapter book I read with my kids, Tristan Strong Punches a Hole in the Sky by Kwame Mbalia. Just like action movies aren't my jam, the fantasy genre isn't really my thing, either. However, it's my 11-year-old daughter's favorite genre (she started with Harry Potter), and my 9-year-old son likes action, so I decided to pick a book they would enjoy, even though I wasn't convinced I would myself. And luckily, all three of us enjoyed it.
Tristan Strong Punches a Hole in the Sky is about seventh-grader Tristan Strong, who lives in Chicago but is going to spend some of his summer down in Alabama with his grandparents to help him deal with the recent death of his best friend. The thing is, one night while he's out on his grandparents' land, he ends up punching a tree, and that rips a hole right into the sky. Tristan ends up going through the hole and into MidPass, a land where he encounters many Black American gods, like John Henry and Brer Rabbit, who are in a battle to save their land. Since the hole Tristan made is part of the reason for their drama, he becomes part of the team that is trying to save MidPass.
Besides all the action and drama among characters in this book, it was nice to encounter characters we already knew. Both kids had heard about John Henry before, and I remembered reading stories about Brer Rabbit in my own childhood. Another one of the reasons we loved this book was because it was also unexpectedly funny. There's one character in particular, Gum Baby, that had me and the kids cracking up laughing, so much so that they were begging me to reread her scenes over and over again. Tristan Strong Punches a Hole in the Sky is the first book in a series, so we'll be reading the next book soon, I'm sure.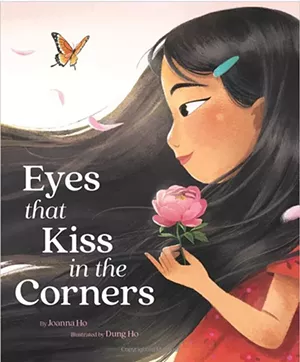 Another book we recently enjoyed that was not action-packed, but still a little out of the box for us, was Eyes that Kiss in the Corners by Joanna Ho and illustrated by Dung Ho. It's a beautiful, poetic picture book. In this story, the main character explains how her eyes are different than others because they are slanted and "kiss in the corners." The main character is a young girl, and I so admire how confident and appreciative she is about the shape of the eyes of the females in her family. When talking about her grandma's eyes, she says, "Amah's eyes that kiss in the corners and glow like warm tea don't work like they used to." My kids and I don't normally gravitate to this type of poetic language, but can appreciate the beautiful message, along with the gorgeous illustration. This made Eyes that Kiss in the Corners a winner in our house.
So, even though a book may not be you or your child's first choice, you may want to give it a chance anyway. You may end up turning pages while sitting eagerly on the edge of your seats.
Deana Metzke is a wife, mom of two, blogger and book lover who is trying her best to raise children who will enjoy reading long after she's gone. She is a literary coach at a Springfield elementary school. You can find her talking about children's books on Twitter at @DMetzke or her blog, raisingreaders.site.