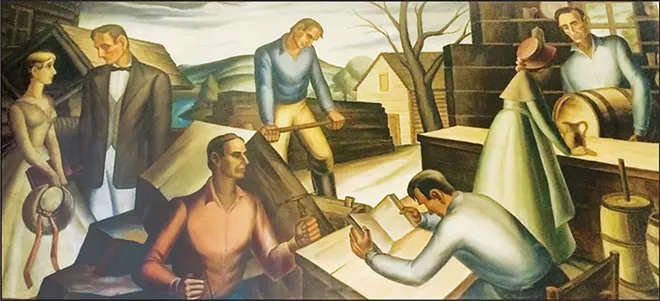 Dottie Troop visits a lot of post offices but not to mail letters. Instead, she likes to gaze at Depression-era murals, the work of government-sponsored artists.
More than 70 municipalities in Illinois have some form of post office art and, while Troop hasn't visited all of them, she has made a dent in the list. She also has looked for the artwork in other states, including Arizona and New York.
"I just got fascinated by them," says Troop of Springfield, who is retired from University of Illinois Springfield. One of her favorites is the main post office in Decatur, which has frescos in the north, south and central lobbies and the most artwork of any postal station in Illinois.
Among the scenes are Native Americans, early pioneers, agriculture, industry and natural resources of Illinois. Such notables as poet Carl Sandburg, architect Frank Lloyd Wright, educator Francis Parker and farm implement inventor John Deere also grace the walls.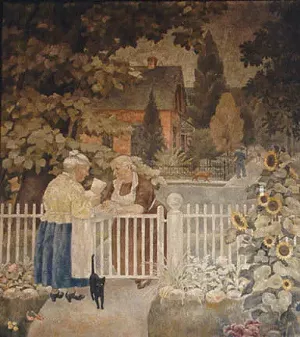 The murals are original and draw visitors and comments, says Liz, the downtown Decatur post office supervisor who prefers not to give her last name. "I think this building is beautiful and is a great place to work. The windows are irreplaceable."
Built in 1934, the post office lobby features high ceilings, marble walls and paned glass in the windows. Visitors can ask for a printout explaining the various murals.
Three different artists completed the frescoes, with the work supervised by Edward Rowan, then superintendent of the Section of Painting and Sculpture of the U.S. Treasury Department, according to the printout.
Troop often uses a guidebook written by the late Mary Emma Thompson, which lists Illinois post offices' Depression-era art. The book explains that, in the 1930s and early 1940s, the U.S. Treasury Department Section of Fine Arts agreed with the Public Buildings Administration to use 1 percent of the funds designated for post offices and new federal buildings for art.
Similar to other public works projects aimed at finding work for people suffering from the economic downturn, the art initiative sometimes met resistance. However. Harry Hopkins, President Franklin Roosevelt's relief administrator, defended the project. "(Artists) have got to eat just like other people," Hopkins is quoted as saying.
Other backers pointed to the need to lift people's spirits and the art's accessibility, as almost all communities had a post office. That made post office art, mostly murals, truly democratic, according to a 1997 article by Patricia Raynor distributed by the National Postal Museum.
Artists anonymously competed for the jobs by submitting designs and putting their ideas before a jury, which sometimes included other artists, postmasters, architects and prominent citizens. The juries often opted for scenes of local interest and historical events and invited artists to visit the communities.
Artists installed an estimated 1,200-1,400 works in post offices across the country. Some of the murals are gone and others need repairing, but that hasn't stopeed fans like Thompson and Troop from seeking the art. Sometimes a post office was torn down and, if citizens were aware, the art moved to another site in town.
Troop says Thompson got interested in Depression-era art after she retired as an educator. She put together guides based on the art's different themes, including mail delivery, culture, industry, transportation, farming, pioneers and Abraham Lincoln. Her main work, A Guide to Depression Era Art in Illinois Post Offices, is available from online sellers. She produced a DVD on her work, available at many local libraries.
Thompson also lists the art by Illinois regions and notes the piece's title, medium, artist, date and commission. For example, Virden's post office houses "Illinois Pastoral," a tempera and oil by James Daughtery. He created the piece in 1939 and earned $700.
Fittingly, "Lincoln at New Salem, Illinois" landed in Petersburg. John Winters painted the oil on canvas in 1938 for the commission of $560.
Not all of the art is inside. Outside of Peoria's federal building and post office stands a four-panel limestone relief by Freeman Schoolcraft. The 1939 sculpture titled "Postal Service, Native Indian, Agriculture and Industry" earned him $4,585.
Nokomis has a wood sculpture named "Mining" by Bernard Rosenthal. His commission was $700 in 1941.
Post offices in Chicago and its suburbs are home to many pieces of art, including two cast aluminum with gold foil figures "Throwing the Mail" and "Mail Handler" in Evanston. Ceramic tile murals of Sandburg and architect Louis Sullivan are at the Uptown Station on North Broadway in Chicago.
Troop's favorite piece is the oil on canvas "The Letter" by Francis Foy, added to the East Alton post office in 1936 for $560. It depicts two neighbors chatting over a white picket fence with a letter carrier and dog in the background. She also likes the multiple murals in Decatur, noting that most post offices had just one.
For more information on Depression-era art in Illinois post offices, go to www.wpamurals.org/ilpost.html or www.newdealartregistry.org
Mary Bohlen, a Springfield travel writer, is happy to discover positive news about post offices at a time when they are under threat.