Editor's note: This article marks the first in a series of monthly travel columns focusing on Illinois in honor of the state's bicentennial year in 2018.

It's a good thing early state leaders moved the capital away from Kaskaskia in southwestern Illinois. Otherwise we might all be living west of the Mississippi.
As students of Illinois history know, the site of the first capital was next to that great river, which had its way with the town after Vandalia and then Springfield took over as the seat of government. Eventually the river separated the original Kaskaskia from the rest of Illinois, creating an island that can be reached only by boat or a drive through part of Missouri across a bridge.
Travelers to what has been called French Colonial Illinois won't find much on the island itself, but nearby they can enjoy sweeping views of the Mississippi, visit an early fort, step in Pierre Menard's footsteps and, for something completely different, pay homage to Popeye the Sailor Man.
The island does have a few residents and the Kaskaskia Bell State Memorial in a small brick building next to the Immaculate Conception Catholic Church. King Louis XV of France gave the 1741 bell to Catholics in the then Illinois Country. Later villagers rang it to celebrate their freedom on July 4, 1778, after George Rogers Clark captured Kaskaskia from the British during the Revolutionary War. Today you can view the "Liberty Bell of the West" and murals from Kaskaskia history at the free memorial.
Back across the Mississippi at Fort Kaskaskia State Historic Site, you can walk among earthen remains of the fort, visit gravestones of pioneers and get a grand view of the river below. The 200-acre park has camping and picnic areas and is open year round.

Below the bluff sits the state-owned home of Pierre Menard, a French-Canadian fur trader, businessman and Illinois' first lieutenant governor. Curator Michelle Baker says the house, built in 1802, attracts a fair number of international visitors, including some from France and French Canada.
After an orientation video on the lower level, you can view small displays about Menard and other settlers, including information about trapping, family heirlooms and slavery in the Illinois territory. "French-Canadians were a lot nicer (to their slaves) than other people," Baker says, adding that Menard also helped many of the Native Americans in the area, including adopting a young girl whose father was dying. Still, his support of slavery remains controversial.
The house's main floor features mostly original hand-pressed-in-France windows, original flooring, hand-hewn timbers held together with pegs and furnishings that are a mix of Menard family items and period pieces. A wedding dress belonging to one of Menard's 14 children (by two wives) rests on a bed, and Baker proudly displays a pair of leather boots with wooden bottoms thought to have been Menard's.
The state bought the house in 1929, but Illinois budget woes leave it in need of a new roof and outside paint. It is open May through October from 9 to 5 Wednesdays through Sundays and by appointment in the winter. Call 618-284-7230 to arrange a tour in the off season.
To pay your respects to another Illinois founder, head south on State Route 3 a few miles to Chester and stop at Evergreen Cemetery. A memorial obelisk marks the grave of Shadrach Bond, the first governor after Illinois became a state in 1818.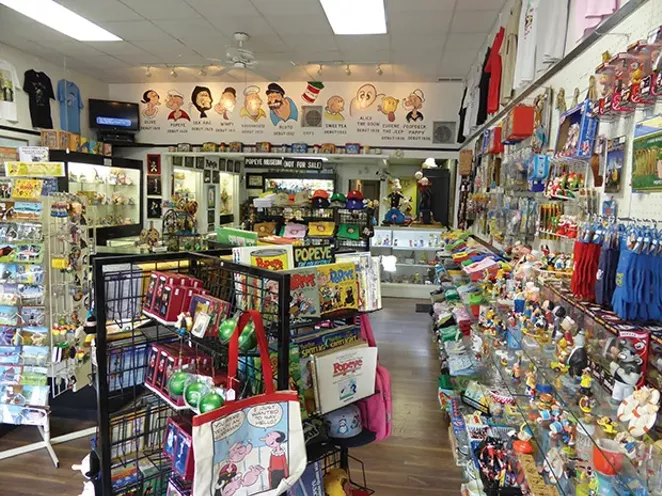 For something more lively, pop into Spinach Can Collectibles on State Street in Chester. You will be greeted by perhaps the mother of all Popeye fans in the form of Debbie Brooks, who owns the part store/part museum with her husband, Mike. They have been collecting Popeye memorabilia for 40 years, she says, and moved from Memphis to Chester in 1994 "because it was the home of Popeye."
Debbie says the second story of their building was the town's opera house, where Popeye creator and Chester native Elzie Segar once worked. He based several Popeye characters on townspeople, she says.

Segar's inspiration for Wimpy, for example, was his boss and the opera house owner, who loved hamburgers.

True fans may know Segar's original comic strip featured Olive Oyl and her family, with Popeye, Wimpy and others added later. You can learn all this and view more than 1,000 Popeye items in the museum. Debbie says they have another 500 still in boxes and rotate them to keep the collection fresh.

Prominent in the display are plastic characters, dishware, lunchboxes, games and posters. In the store you can pick up Popeye key chains, comic books and Christmas ornaments. Debbie and Mike also run a 2,200-member Popeye fan club, website and Facebook page.
The town of Chester has installed 13 statues of Popeye characters around town, added Popeye logos on police uniforms and fire trucks, and hosts a Popeye picnic the weekend after Labor Day.

"We all wanted to put Chester on the map for more than the (Menard) prison being here, for more than (serial killer) John Wayne Gacy being housed there for 14 years, for something more positive," Debbie says.
If you have time for more exploring in the area, you can visit Fort de Chartres and the Creole House in Prairie du Rocher, the rock shelter archaeological site in Modoc and historic Ste. Genevieve across the Mississippi in Missouri.
For information, contact the Randolph County Tourism Committee at 618-826-2721 or www.randolphco.org and click on the tourism link. Chester is 130 miles from Springfield.

Mary Bohlen is a Springfield travel writer and emeritus journalism professor at University of Illinois Springfield.