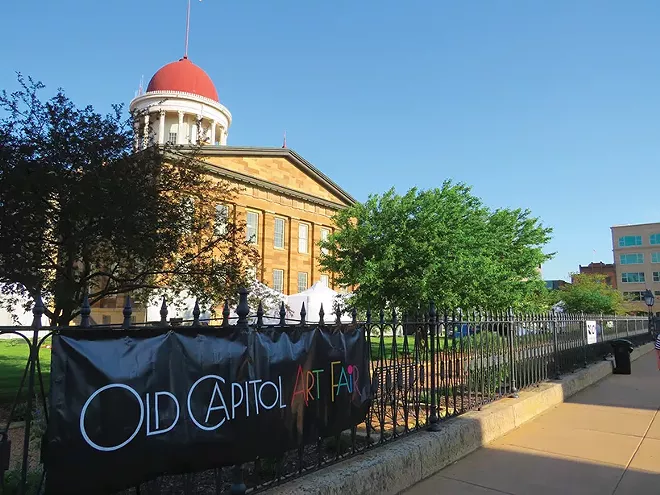 "Negro League Beisbol"
April 11-June 23. Open during regular museum hours. A traveling exhibit developed to honor and explore the connections of African American baseball history with Hispanic cultures, communities and countries. The exhibit features profiles of significant baseball players, a timeline of American and Hispanic baseball history and detailed baseball histories of several countries. spiaahm.org. Springfield and Central Illinois African-American History Museum, 1440 Monument Ave., 217-391-6323.
Spanish-American War Encampment
April 18, 10am-3pm Sat. Historians will display equipment, uniforms and weapons used by over 11,000 Illinois National Guard Soldiers in the Spanish-American War in 1898. Illinois was the first state to offer troops to the federal government in support of the war. Illinois State Military Museum, 1301 N. MacArthur Blvd., 217-761-3910.
Roasted: Hot Pots and Pork
April 25, 3-9pm Sat. Glaze a raku pot and watch it get fired in an outdoor kiln, enjoy a hog roast dinner and listen to live music by the Mary Jo Curry Blues Band and Bluesmattic Blues Band. $30 admission and pot, $20 admission only, $15 children 12 and under, day-of fee add $5. springfieldart.org. Springfield Art Association, 700 N. Fourth St., 217-523-2631.
Antique Farm Show
May 2, 10am-4pm Sat. Featuring horse-drawn plows, historic farming equipment and agricultural techniques from the 19th century. Free. lincolnsnewsalem.com. Lincoln's New Salem State Historic Site, 15588 History Lane, Petersburg, 217-632-4000.
Illinois Archaeology Collections
May 7, 12-1pm Thu. Moderated by curator of anthropology Brooke Morgan. From humble fragments of animal bone to intricately decorated ceramic pots to glassware that once graced the tables of diplomats, millions of objects tell the history of Native Americans, Euro-Americans and African Americans in the Midwest. Illinoisstatemuseum.org. Illinois State Museum Research and Collections Center, 1011 E. Ash St., 217-558-6696.
Fat Ass Craft Beer and Cigar Festival 5K and Street Party
May 8-9, 10am Fri-Sat. The event kicks off at 5pm on Friday with live music. The Saturday 5K race includes food, beer and entertainment along race route. The street party, featuring a hog roast and more music, will follow. Registration. fatass5k.com. Downtown Springfield, 217-525-1111.
Hammer-In
May 9, 9am-2pm Sat. Resident and other area blacksmiths will give demonstrate how everyday items were made at the forge. The historic village's grounds and buildings will be open for tours. clayville.org. Clayville, Route 125, Pleasant Plains, 217-481-4430.
Springfield PrideFest
May 16, 11am-11pm Sat. This annual celebration features a parade, entertainment, dancing, vendors, food, drink, children's area and more. Presented by t he Springfield Phoenix Center. Free. springfieldpride.org. Downtown Springfield, Capitol Avenue between Fourth and Sixth streets, 217-528-5253.
Old Capitol Art Fair
May 16-17, 8am-5pm Sat, 8am-4pm Sun. One of the most popular juried art fairs in the country. Original art, entertainment, food, a children's tent and more. Free. socaf.org. Old State Capitol, One Old State Capitol Plaza, Springfield, 217-785-9363.
An Evening of Magic
May 30, 7:30pm Sat. A show for the entire family presented by top magicians from across the U.S. Astounding large-stage illusions, amazing sleights of hand, hilarious comedy and plenty of audience participation. hcfta.org. $15. Hoogland Center for the Arts LRS Theatre 1, 420 S. Sixth St., 217-523-2787.
The Addams Family
May 29-31, Fri-Sun and June 3-7, Wed-Sun. Call for times. A comical feast that embraces the wackiness of every family. Reserved tickets $15 and $17. Tickets for general lawn seating are $12 for adults and $10 for seniors, students, military and children ages 3-12. themuni.org. The Muni, 815 E. Lake Drive, 217-793-6864.
Rees International Carillon Festival
June 4-7, 6pm Thu-Sun. An annual festival that features nightly carillon concerts by renowned carillonneurs. Fireworks on Friday at dusk. Bring a picnic dinner and lawn chairs or blankets. Free. carillon-rees.org. Thomas Rees Memorial Carillon, Washington Park, 1740 W. Fayette Ave., 217-546-3853.
Legacy of Giving Music Festival
June 5-6, 5pm Fri, 12pm Sat. Featuring 65 bands across five stages, plus a vendor fair and food trucks. Kid friendly. Proceeds to charity. Admission $5. logmusicfest.org. Downtown Springfield.