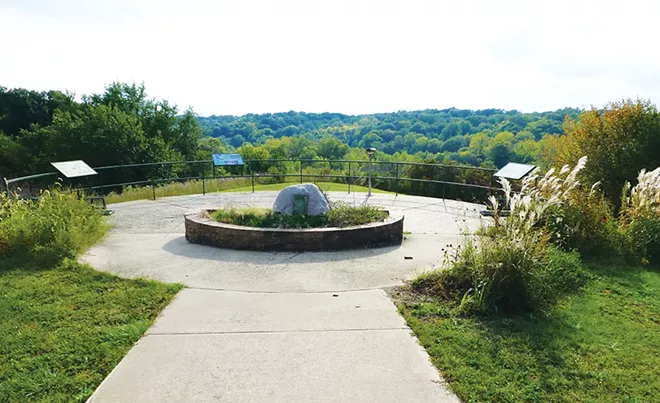 If you have a raging case of cabin fever, you can break it with a visit to state parks in central Illinois.
A short drive to Clinton Lake, Sangchris Lake or Jim Edgar Panther Creek State Fish and Wildlife Area may be just the cure.
All three offer wildlife, water and woods, with plenty of room to roam and stay socially distanced from other visitors. Pack a picnic, fishing rods and binoculars for some fun in the sun.
The three parks were part of the governor's first reopening of 60 Illinois natural areas. That's because they had enough acreage to allow social distancing, low-risk recreational activities such as fishing and accessibility to residents in different parts of the state, according to Rachel Torbert, deputy director of the Illinois Department of Natural Resources.
All state parks opened May 29 with some restrictions as the state moved into Phase 3 of its fight against COVID-19. Campgrounds and concessions are open, but playgrounds, shelters and visitors' centers remain closed for now.
"As Illinois continues to flatten, and eventually bend the curve, we are looking forward to welcoming Illinoisans back to the state parks," Torbert said.
Of course, you don't have to be in the middle of pandemic to enjoy the parks. They have plenty to offer any time.
Clinton Lake
The 9,300-acre Clinton Lake State Recreation Area is just off Illinois routes 54 and 48 some 70 miles northeast of Springfield. Its main draw, a 4,900-acre lake, was built in the 1970s as the cooling lake for a nuclear power station and is known as a good place to catch catfish, crappie, bass and walleye.
On a recent spring day, fishing aficionados were lined along the shore, especially at the access areas, with accessibility ramps to fishing piers. Several boaters were hauling in large catfish.
In normal times, the lake sports a long sandy beach and numerous playgrounds, but they are closed until the state further advances its reopening.
Visitors can still fish along the shore or in a boat, sail, hike on trails, bird watch, camp, ride horses or bikes, enjoy the archery range and hunt during season. Restrooms are open.
Sangchris Lake
Fishing is also popular at Sangchris Lake State Park, less than 20 miles southeast of Springfield. Here the catch might include bass, bluegill, crappie and catfish, and anglers along the shore and in boats were out in force the first weekend the park opened in May.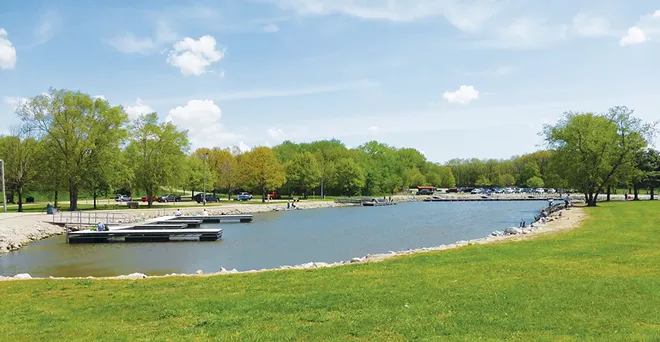 Non-fishing visitors can picnic, hike, bike, look for wildlife, shoot arrows at the archery range, ride their horses and watch the water tumble over the lake's spillway. The large campground along the lakeshore is open as are restrooms, but playgrounds are closed for now.
Lots of Canada geese call Sangchris home so visitors need to watch their steps to avoid the droppings. If you want to sit by the water, bring your own chair.
Like Clinton, Sangchris grew from a power plant's construction, and the tall smokestacks of the Kincaid power plant are visible from parts of the lake.
Jim Edgar Panther Creek State Fish and Wildlife Area
The largest state natural area nearby is Jim Edgar Panther Creek, 25 miles northwest of Springfield. Its 26 square miles provide plenty of physical distance between visitors. Originally intended for a Commonwealth Edison coal-fired power plant, the area became a state property after the utility abandoned the plan.
The site features three scenic lakes, lots of prairie grass, plentiful wildlife, an archery range, equestrian trails, bicycling, hiking, abundant wildflowers, cabins for rent and a campground. Restrooms are open now.
The lakes all have boat launches but some power restrictions apply. Prairie Lake covers 210 acres and is open to unlimited horsepower but no wake, and also to sailing. Drake Lake (35 acres) and Gridley Lake (25 acres) can have trolling motors and canoes. Muskie, catfish, bass and sunfish frequent the waters.
In season, hunters come to bow hunt for deer and shoot wild turkeys, pheasants and mourning doves. Horseback riders have access to 24 miles of trails.
Bicyclists can ride on a hard-surface trail and the site's roads. Off-road trails also abound.
Jake's Point in the site's western part features a sweeping view of the original Panther Creek valley and markers telling the area's history. Stop at numerous points to picnic or bird watch.
Restrictions for state park visitors
IDNR reminds visitors to practice social distancing and other public health measures while at the parks. Camping, campfires and picnic tables are limited to members of an immediate household. Visit www.idnr.illinois.gov for a complete list of parks or to buy a fishing license online.
Mary Bohlen of Springfield writes about travel in Illinois and surrounding states and enjoys visiting state parks and recreation areas.