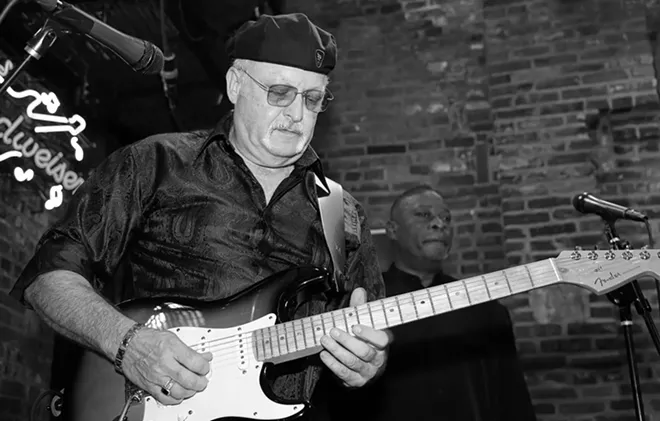 Contemporary blues guitarist David Lumsden from Springfield has been playing music since he was 10 years old, over 50 years ago. He has lived and traveled as a professional musician most of his adult life and has opened for bands such as Heart, Wayne Shepherd and The Allman Brothers Band.
He is currently working on his second record and looking forward to playing the Washington Street Stage at Legacy of Giving on July 3.
Musicians are lifelong learners. Even the most skilled and seasoned guitarist still has more to discover. "We're always learning," says Lumsden. "Always try to find someone better than you. Because that's where you can learn. That's good advice for any musician."
Teaching is another great way to keep your skills sharp. "Giving lessons, just like teaching anything, is a good way to improve yourself," says Lumsden. "You'll get some pretty proficient students that pick things up quick. So you have to get off your butt and 'chop woodshed' and sharpen your teaching skills or get embarrassed."
Booking shows and making ends meet can be difficult.
The life of a musician can be exciting and fulfilling. But it can also be hard to make a living doing what you love. "The vast majority [of musicians] have to have a regular day job to make ends meet," says Lumsden. "It can be a poverty-level existence. A lot of work and little pay."
Booking and playing shows takes a lot of work, preparation and planning. "Traveling is both desirable and undesirable," says Lumsden. "It's fun but sometimes can be a real labor. It's difficult and expensive. When you're going around playing bars and private events – and if you're only making $100 each a show, you have to have cooperation from your bandmates. They have got to really be into the music and what you're creating together."
Cooperation is a big part of keeping a band together.
Working with a group is also where the magic happens. "We talk. Did the audience like that one? Oh, they didn't like that? Maybe we change the arrangement or use a different approach."
It's that moment when several musicians really gel that brings joy to the music. "I like to share the front spot with someone who has a different style and brings something different to the table. A different flavor, a different style. You work together to create an interesting collaboration."
Working with other musicians takes a lot of cooperation and understanding. "Keeping a band together can be quite challenging," says Lumsden. "Because you have to get people to work together and get along. And if you're the leader, you better come up with some stuff that the audience likes. Or else your band will drop you like a hot rock. Nobody wants to be part of a bad act or one that's not progressing."
The pandemic hit live music really hard... but it's starting to make a comeback.
"Everyone suffered because of COVID-19," says Lumsden. "Venues were struggling even before, but of course a lot of places went dark. Most places did go dark."
Recently, Illinois has begun to ease mask mandates and loosen restrictions on indoor capacities. Paired with the warm weather many venues are starting to have live music again.
"It's starting to come back. My friend and I played at The Alamo two weeks ago" says Lumsden. "Back to a good regular crowd for a Monday night. It was full so it had to have been 80-plus people. Before it was dismal – maybe 10 people with the mask mandate." –Joseph Copley