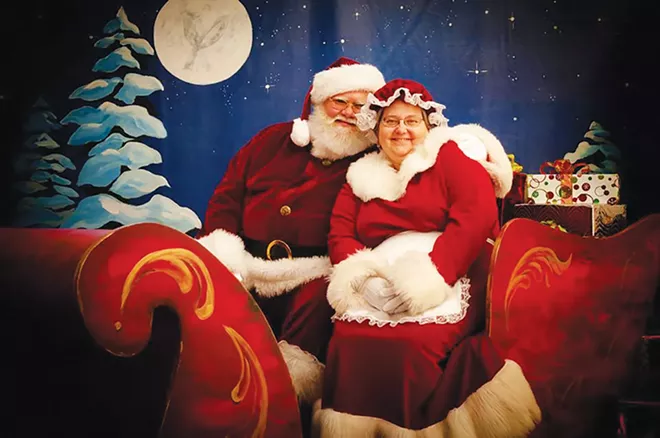 Professional Santa
Santa Ray, from Springfield, has been seeing kids of all ages for 15 years and is a real-beard and real-belly Santa. He also has a Mrs. Claus who comes with him on visits.
Never promise a specific gift. One of the worst things a Santa can do is promise children they'll get what they want for Christmas. "A good Santa never promises a child a specific gift," says Santa Ray. "Sometimes you just don't know their situation or if the gift is going to appear. We always ask what they want but never promise." As a rule Santas usually don't promise pets either. "Personally I tell them I can't deliver pets on the sleigh," said Santa Ray. "I make such high-speed turns the animals might get hurt."
It's a very physical job. In a typical year Santa Ray will do dozens of home visits delivering presents to full households. "Sometimes we pick up packages and go up to the door with a big 'Ho Ho Ho' and jingling sleigh bells," said Santa Ray. "It can be tiring. It's a very physical job. Some families may have 20 to 30 people with gifts for everyone." Santa Ray says the parents get just as excited about the visit as the kids. "They will often let the kids open the door to greet us," said Santa Ray. "Sometimes the children get so excited they forget to open the door."
It's all about being a good listener. The most important part of a Santa's job, according to Santa Ray, is to lend a kind ear to kids who might be feeling lost. Some kids might ask for the return of a deceased family member or for their divorced parents to reconcile. "I've had children ask for their daddy back. They were killed in Afghanistan or some other part of the world where they were serving," said Santa Ray. "I can't bring Daddy back, but I can hug you and pray for you. Sometimes that helps."
Santa makes virtual visits too. This will be Santa Ray's first year doing virtual visits. "Due to COVID and social distancing, we've had to adapt," said Santa Ray. "We use various platforms like Zoom, Facetime and Facebook rooms." With virtual visits Santa can connect with kids anywhere with the click of a mouse. This year Santa Ray has virtual visits planned as close as Chatham and as far away as Arizona.
Snooky the clown
Over 20 years with the Springfield Ansar Shriners
Being a clown is not a job. It's love. The Shriner clowns are committed to community service and bringing joy to people's lives. "It's not a job. We make no money. It's all volunteer," says Snooky. "It's love. We love people and we love everything about being a clown." Being a clown is more than squirting flowers and big shoes. There are a lot of responsibilities to the title. "You're being a clown for all of the other clowns out in the world," says Snooky. "You're trying to set an example. You don't want kids going back home and having a terrible experience."
Things can get very emotional. Clowns feel and express powerful and intense emotions. Snooky has been volunteering since 1999 and recounts many standout moments as a clown. "I did a funeral once when one of our clowns passed away," said Snooky. "I walked up to pay my respects holding a heart. I looked up at the ceiling and I waved goodbye to Harold. Then I turned to the widow and gave her the heart. That was one of the most emotional moments."
Clowns want to help. "As Shriner clowns, we have a purpose. To take care of our kids," said Snooky. "I love doing what I'm doing but at the same time we're out there promoting our hospitals." This year has taken a toll on clowndom, but the Shriner clowns are doing what they can to raise spirits. "The last eight months have been very low," said Snooky. "We have gone to nursing homes, outside of course. Waving through the windows."–Joseph Copley