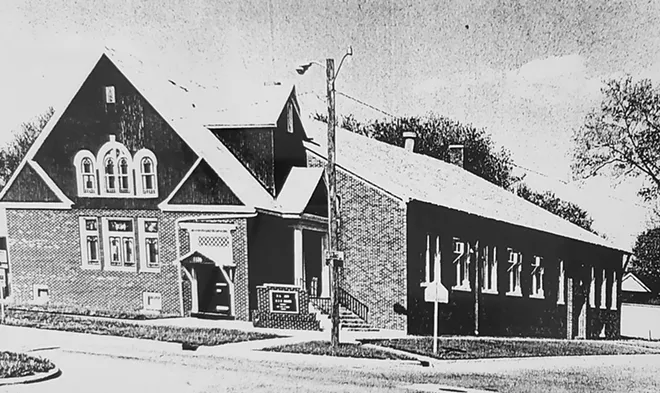 For centuries now, the entity known as the "Black church" has been a pillar of Black society. Many traditions such as singing styles and joyous reverberations like call-and-response have deep roots in Western Africa. Even the way in which some Black Christian churchgoers – particularly those who were raised in Baptist or Pentecostal traditions – seem to have moments of out-of-body projections is an influence from our ancestors.
The first church established in this country by African Americans was First African Baptist Church in Savannah, Georgia. Its congregants organized in 1773, before the founding of the U.S. George Leile, an enslaved man born in Virginia around 1750, led the congregation. He was owned by a Baptist minister named Henry Sharp but was freed shortly before the Revolutionary War began. In 1784, Leile left for Jamaica with his family in hopes of finding safety with the British and work as a missionary. His church was left in the hands of his close friend, Andrew Bryan. First African Baptist Church still operates today.
During the height of chattel slavery in the U.S. and the movements to follow, Black churches served as meeting grounds and places of refuge. Later, historically Black colleges and universities would as well. Wilberforce University of Ohio was founded in part by the African Methodist Episcopal Church in 1856. The influence of the American Black church is widespread and felt to this day, including here in Springfield, Illinois.
Between the years of 1838 to 1876, four Black churches in particular were the central hubs of Black life in Springfield. They were not only places of worship but also the scene of all things social – dances, recitals and various other celebrations – and places to commune.
The Springfield and Central Illinois African American History Museum (1440 Monument Ave.) currently has a wonderfully curated exhibit dedicated to the legacy of these institutions, titled "The Four Oldest African American Churches in Springfield, Illinois." It celebrates Zion Missionary Baptist, St. Paul African Methodist Episcopal (AME), Union Baptist and St. John AME. These churches were established during a time when segregation laws were extremely prevalent. They were formed out of a need for spaces where those who were most marginalized could safely practice their faith.
Springfield is a city that has always had a way of separating its Black populace from the rest of the community – which continues today – as a result of the oppressive system in which we live. This is true regardless of whether the more than 70% of white residents choose to acknowledge it or not. History speaks for itself. It can even be seen in the infrastructure of the city. For example, the railroad tracks at Ninth Street serve as a dividing line, with most Black people residing on the east side of the city. Though the laws within the state of Illinois allegedly prohibited segregation in 1874, evidence of it still persists – which is the reason behind the need for separate places of worship.
Founded as Colored Baptist Church, Zion Missionary Baptist was established by Rev. John Livingston and other settlers on April 21, 1838. It is the oldest Black church in the capital city. Not only has the church been a worship center for the past 183 years, but during the years of slavery it served as a haven for escaped enslaved ancestors.
St. Paul AME Church was founded in 1843. It too, not only guided people through their individual spiritual journeys, but also their travels toward gaining freedom.
Even today these churches, and several others, continue to be bulwarks – not just spiritually – for the Black community at large. A 2013 article in the State Journal-Register quoted Zion Missionary Baptist's former pastor, Rev. Negil McPherson, who said, "The church must participate and try to serve the whole (community), and not just the religious side" – words for all pastors and parishioners to follow. In 1974, McPherson sued Springfield School District 186 over segregation, which resulted in a desegregation order from a federal court.
There is so much to learn about these churches, their leaders and their influence. That knowledge can be found within the walls of the Springfield and Central Illinois African American History Museum through this summer. More information is at spiaahm.org.
Vincent "June" Chappelle is a local historian who serves on the board of the Springfield and Central Illinois African American History Museum, among numerous other affiliations with civic and historical organizations and institutions in Springfield.