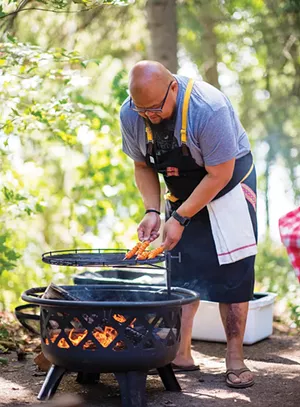 During the Vietnam War, the CIA ran a clandestine sideshow in Laos. Known as the Secret War, it was the largest CIA operation in history. The CIA built an air base in the mountains of Laos from which it could launch military attacks. This base was so secret that not even Congress was aware of its existence. It was so active that more than 400 flights flew to and from the air base daily. When fighter jets could not reach their targets, they would unload bombs over Laos because of the inability to land with bombs on board. Laos became the most intensely bombed country in history. Now, over 50 years later, an estimated 80 million unexploded bombs and cluster munitions continue to maim and kill Laotians.
The CIA recruited 60,000 Hmong tribesmen to be their surrogate army. A nomadic people, the Hmong are a rural Asian ethnic group whose roots date back to ancient China, later migrating into Laos, Burma, Thailand and Vietnam. Hmong soldiers, many as young as 11 years old, were trained to upset the supply lines along the Ho Chi Min trail, recover downed airmen and guard American bases.
In 1975 the CIA evacuated Laos, leaving their Hmong allies in the crosshairs of the Viet Cong, who began hunting down and killing them in large numbers. The Hmong had to hide in the mountains. Many died of hunger and disease. Others fled by crossing the Mekong River to get to the border of Thailand. About 100,000 Hmong lives were lost. One-third of the Hmong population left Laos seeking refuge. Many were sent into internment camps in Thailand. In the following decades, the American government gave contracts to Christian groups to relocate Hmong refugees to the U.S.
One of these refugees was Nhia Vang. He was recruited by the CIA and trained in guerilla warfare. After the fall of Saigon, he spent six weeks hiding in the jungle before crossing the Mekong River in the dead of night. He ended up in a refugee camp in Thailand, where he met his wife and started a family. His son, Yia Vang, was only five when his family emigrated to the U.S. They now live in Minnesota's Twin Cities, home to our nation's largest populations of Hmong immigrants.
Yia Vang, now 37 years old, is a celebrated chef and preeminent spokesman for Hmong culinary traditions. He's been featured in National Geographic and was the cover story of the May 2020 issue of Bon Appetit. A gifted storyteller, Yia uses food to tell his story and believes every dish has a narrative. "To know the food, know the people. When you dine with us, you're not just eating a meal, you're actually partaking in our history."
His food always connects back to the story of his parents and their grueling journey to America. The Hmong people survived by learning to cultivate and adapt their culinary traditions to whatever ground they've landed on. "No matter where we go, our cultural DNA is woven into our food," Yia explains. "My mom and dad didn't have the luxury of thinking creatively. All their energy was about survival. When you realize that, it changes the way you do everything. It changes the way you care about people, the way you talk to people, the way you love people, and for me, it changes the way I cook."
Yia believes that Hmong food isn't a type of food, it's a philosophy of food. "The way we do our food tells the story of our people. Every dish has a narrative. Follow the story to find the people. It's always changing. Every generation adds to it. It's first and foremost a cuisine for feeding friends and family at home. There's a Hmong saying, 'Come and eat.' You come in and if we're making food, you're joining us."
"When you come to my Mom's house and she's cooking for you, from the moment you get there to the moment you leave, everything you've experienced, that's part of Hmong food. No matter where we were or what we were doing, we could hear the voice of my mom, a tiny Hmong woman, yelling for us to come to eat. My parents believed in eating at the table together for dinner. It was a time to take a pause in our lives and connect with each other. At the table we connected with each other and shared a meal."
He continues: "When it comes to Hmong food, there's always four different elements on our dinner table: protein, rice, vegetables, hot sauce." The neutral rice balances the heat from the hot sauce and the fatty richness from proteins: usually pork or chicken. Seasonings usually include lemongrass, ginger, shallots, garlic, chili peppers, lime juice and fish sauce. Most dishes are cooked over an open fire or braised in a pot. "It's simple food. It's food you could cook in a jungle over fire. It's the way our people cooked hundreds of years ago. It's how we still cook today."
"When my dad set out to do a bonfire, it wasn't just a recreational thing. He was actually preparing dinner. He taught me how to cook. Before I knew how to shoot a basketball, I knew how to break down a primal cut on a pig. I was more comfortable holding a boning knife than holding a baseball. We connected over the wood fire and butchering on those Saturday mornings when I was supposed to be watching cartoons and eating cereal like a normal 10-year-old kid." Through his cooking, Yia wants to "preserve the giants and heroes who have gone before us, the trailblazers."
Yia Vang's Tiger Bite Sauce
Ingredients
1 ½ cups cherry tomatoes
1 teaspoon vegetable oil
1 small shallot, chopped
4 garlic cloves, chopped
4 Thai chiles, chopped
½ cup cilantro, chopped
Juice of one small lime
1 tablespoon fish sauce
1 tablespoon oyster sauce
Preparation
Toss tomatoes with oil in a medium bowl; season with salt.
Skewer and place in a single layer on a hot grill. Turn occasionally, until lightly charred and beginning to burst, about 5 minutes. Return to bowl and let cool.
Pulse shallot, garlic, chiles and a pinch of salt in a food processor until mixture starts to resemble a paste. (This is even better in a mortar and pestle, which will create a finer texture.)
Add cilantro and pulse until very finely chopped.
Lightly crush the tomatoes with your hands and add the shallot mixture, lime juice, fish sauce and oyster sauce. Season sauce with salt to taste; let sit for 10 minutes before serving.
Since the start of the pandemic, Peter has been traveling the country listening to people's stories through the foods they cook.