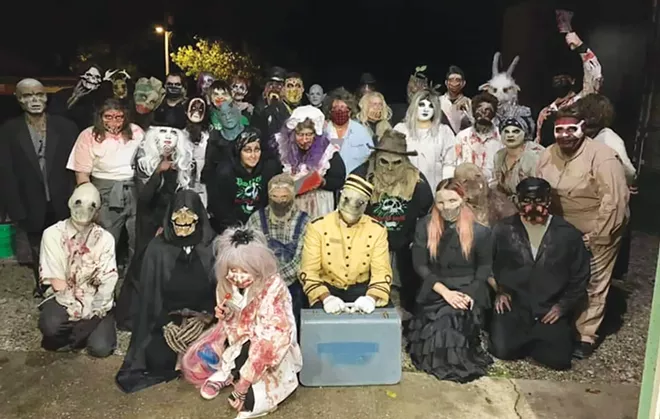 As events may be canceled or rescheduled at the last moment, please first check with the host or venue when making plans to attend an event.
September
PrideLinc Senior LBGT Connections Thursdays, 11:30am. Weekly congregate meals open to LBGTQ seniors and an ally or caregiver. Includes time for education and socialization. Call by Tuesday for a Thursday meal. Visit the Facebook page for more information. AgeLinc, 2731 S. MacArthur Blvd., 217-787-9234.
Bares, Broncs & Bull Riding Sun., Sep. 25, 4pm. Wild enough for both the traditional rodeo fans and the new breed of rodeo fanatics. $15. Illinois State Fairgrounds, 801 Sangamon Ave., 217-782-6661.
Boo Crew Haunted House Sep. 30. Open every Friday and Saturday night through October. Both the Trail of Lost Souls and the haunted house are back this year. Concessions available. Boo victims should be at least age 10, but matinee hours are available for youngsters. Box office opens at 6:30pm. Haunting begins around 7pm. Rain or shine. $25-$40, matinee hours $15 and $5 for children. Boo Crew Haunted House, Mechanicsburg, 11083 Buckhart Rd., 217-551-6969.
Holes in the Sky: The Sean Miller Story Sep. 30, 8pm. In July of 2013 Sean Miller disappeared for four days. Seven years later a documentary film crew found out why. An award-winning found-footage abduction film. Free. Hoogland Center for the Arts, 420 S. Sixth St., 217-523-2787.
October
Artisans & Antiques Market Oct. 1, 9am-5pm. Acres of antiques and independent artisans, food trucks and a children's area. Former Benedictine University campus, 1500 N. Fifth St., 217-836-7671.
Bill Forness & One More Round Oct. 1, 7pm. Celebrating the life and music of one of the most influential musicians of our time, Forness has mastered the essence of a real Johnny Cash performance. $25. Hoogland Center for the Arts LRS Theatre 1, 420 S. Sixth St., 217-523-2787.
Echoes of Yesteryear Oct. 2, 12-4pm. A walk through Oak Ridge Cemetery. Actors in period costumes will tell personal stories of eight people who made significant contributions to our community. Last tour begins at 3:15pm. Refreshments available for purchase. Hosted by the Sangamon County Historical Society. Free. Oak Ridge Cemetery, 1441 Monument Ave., 217-525-1961.
Candlelight Walk Oct. 7. The only opportunity to see the log cabin village at night. Period-clothed interpreters will be inside many of the log homes and shops to talk about life in 19th century Illinois. Lincoln's New Salem State Historic Site, Petersburg, 15588 History Lane, 217-632-4000.
Soprano Diane Dietz Oct. 7, 7pm. Part of the First Friday concert series. Free. Cathedral of the Immaculate Conception, 524 E. Lawrence Ave., 217-522-3342.
Terror on the Square Oct. 7, 7-11pm. Every Friday and Saturday through Nov. 1. A terrifying haunted tour with mystifying illusions. Do you dare to step into the 1930s funeral home knowing that terror awaits? Go to terroronthesquare.com for details and tickets. $23. Terror on the Square, Petersburg, 119 S. Seventh St., 217-632-2731.
Youth Charity Horse Show Oct. 7-9. Class sessions are 8am-10pm Friday and Saturday and 8am-6pm Sunday. The organization donates its annual proceeds to area charities. Free. Coliseum, Illinois State Fairgrounds, 801 E. Sangamon Ave., 217-494-1215.
Bird Banding Sat., Oct. 8, 8am-2pm. Tony Rothering, licensed bird bander with the Lincoln Land Association of Bird Banders, will band wild birds and share information about the diverse bird population in our region. Free. Jubilee Farm, 6760 Old Jacksonville Rd., 217-787-6927.
Fall Harvest Festival Oct. 8-9,10am-4pm. Visit the garden for artisan demonstrations and exhibits, children's activities, fairy house building, tree troll program, Art in the Garden, photo contest, music and entertainment. Admission $8. Children age 10 and under are free. Lincoln Memorial Garden, 2301 E. Lake Shore Dr., 217-529-1111.
A Night Under the Stars Oct. 8, 5-8pm. A night filled with fun, food, drink and music in the backyard of the Edgar Lee Masters home. Live music by saxophonist George Caton and silent auction of local art, wine baskets and other items. Ticket includes appetizers and desserts. Bring a lawn chair and your adult beverages. Request tickets through the venue's Facebook page. Edgar Lee Masters Memorial Museum, Petersburg, Eighth and Jackson streets.
Kinky Boots the Musical Oct. 14-16, Oct. 19-23, Oct. 26-30. A sizzling, high-spirited musical that is bound to put cheer in your heart. The Legacy Theatre, 101 E. Lawrence, 800-838-3006.
The Play that Goes Wrong Oct. 14-16 and Oct. 21-23. Follow the members of the Cornley Polytechnic Drama Society, who are trying their very best to stage a production of a 1920s murder mystery, and watch as everything, well, goes wrong. hcfta.org. Seniors $18, adults $20. Springfield Theatre Centre, 420 S. Sixth St., 217-523-2787.
Oak Ridge Tree Tour Oct. 15, 1-4pm. Some of the trees in the cemetery can be traced back to before Lincoln's time, while others have been propagated from historic and rare trees from around the temperate world. Walk a designated route, stopping to speak with guides who will identify some trees and their stories. Suitable for all ages. Follow the signs once inside the cemetery entrance. Oak Ridge Cemetery, 1441 Monument Ave., 217-789-2340.
Prairieland Classic Cluster of Dog Shows Oct. 20-23. AKC Conformation dog shows. Hundreds of dogs in four shows by central Illinois kennel clubs. Dog supply vendors. Free. Illinois State Fairgrounds Exposition Building, 801 Sangamon Ave., 217-621-5169.
Expo XLIII: Lagersttte Oct. 21-23, 8am-5pm. The world's largest fossil-only show. Buy, sell, swap and display. Children's activities, silent auctions, programs and workshops. Sponsored by the Mid-America Paleontology Society. Free. midamericapaleo.org. Orr Building, Illinois State Fairgrounds, 801 Sangamon Ave., 815-228-5083.
Fall Festival Oct. 22. Smell the hardwood fires and listen to the 19th century sounds as period-clothed interpreters demonstrate daily tasks throughout the historic village such as candle dipping, soap making, blacksmithing, spinning wool, gardening, and natural dyeing. lincolnsnewsalem.com. Lincoln's New Salem State Historic Site, Petersburg, 15588 History Lane, 217-632-4000.
Lincoln & African Americans in history and memory Oct. 22, 6pm. Dig a little deeper into our history as professors Jonathan White, Matthew Norman and Fred Hord discuss the many African Americans of the Civil War era and their connection to Abraham Lincoln. Part of the 2022 Mary and James Beaumont Endowed Lincoln Legacy Lecture Series. University of Illinois at Springfield, Student Union, 1 University Plaza, 217-206-6073.
6x6 Art Raffle Nov. 3-10. Visit the display of 6x6 art by local adult and youth artists and enter for a chance to win one. Winners will be announced during the in-person event on November 10 at 7:15pm. Chances to win can be purchased online or in person at $2 each. Free admission. Edwards Place, Springfield Art Association, 700 N. Fourth St., 217-523-2631.
Joe Bonamassa Nov. 3, 8pm. Bonamassa has been hailed internationally as one of the greatest guitar players of his generation. uispac.com. $59-$149. UIS Performing Arts Center, One University Plaza, 217-206-6160.
Route 66 Film Festival Nov. 4-14. The 21st Route 66 Film Festival, featuring independent films from around the world, will be online at filmfestivalflix.com. The awards ceremony will be held at the Hoogland Center for the Arts on Nov. 12. $10-$50. 217-494-1279.
Tenor Anthony Leon Nov.4, 7pm. The Cuban and Colombian tenor is pursuing a Master of Music degree in vocal performance at New England Conservatory of Music. Free. Cathedral of the Immaculate Conception, 524 E. Lawrence Ave., 217-522-3342.
Yesterday - The Beatles Tribute Nov. 4, 7:30pm. This production is a spellbinding enactment of the best-loved pop group in the history of modern music. $30. Hoogland Center for the Arts LRS Theatre 1, 420 S. Sixth St., 217-523-2787.
Fine Arts and Craft Fair Nov. 5-6,10am-5pm. Featuring over 25 artists and vendors, plus raffle holiday baskets. Free. Hope Presbyterian Church, 2211 Wabash Ave., 217-546-6951.