Family members of a 35-year-old Springfield man who died in December say they were glad two emergency medical service workers were charged with his murder after the pair allegedly put the man face-down on a stretcher and applied straps so tightly that he suffocated.
"They were professionally trained to avoid situations like that," Aaron Cutler, cousin of Earl Moore Jr., told Illinois Times on Jan. 10 outside the home where LifeStar Ambulance paramedic Peggy Finley and emergency medical technician Peter Cadigan responded to a Springfield police request for medical aid.

Finley, 44, of the 800 block of South Durkin Drive, and Cadigan, 50, of the 1000 block of Green Acres Lane, were charged Jan. 9 with first-degree murder – a charge that carries a potential penalty of 20 to 60 years in prison.

They were arrested earlier that day and remained at the Sangamon County Jail, with bond set at $1 million, after an
autopsy report
by forensic pathologist Dr. Scott Denton determined Moore died from "compressional and positional asphyxia" after the EMS workers placed him on an ambulance stretcher after responding to a 911 call at Moore's home, according to Sangamon County Coroner Jim Allmon. The coroner ruled the case a homicide.
The EMS workers, dressed in striped jail jumpsuits, appeared by video for an arraignment. Finley began to cry during the arraignment, while Cadigan showed no emotion and looked down at the end of the hearing.
Associate Circuit Judge Karen Tharp denied a request from attorney Peter Wise, who is representing Finley and Cadigan, to reduce their bond. They haven't pleaded guilty or not guilty, and a preliminary hearing for both is set for Jan. 19. Wise said neither one had a prior criminal record, and neither is at risk of fleeing prosecution.

Cadigan has been married for 13 years, a Sangamon County resident most of his life, has two children and worked as an EMT for more than 25 years, Wise said, telling the judge, "He has served and helped the community, not hurt the community."
Wise said Finley grew up on a farm in Fayette County, worked as a paramedic in the Springfield area for four years, is divorced and has four children and six grandchildren.
Finley and Cadigan's licenses as EMS workers were suspended by Springfield Memorial Hospital, which oversees LifeStar, and those suspensions were upheld by the Illinois Department of Public Health "pending ongoing further review and investigation," according to IDPH spokesman Mike Claffey.
Public health officials said this is the first time in recent memory that EMS workers in Illinois have faced murder charges connected with their official duties.
Roger Campbell, president of Centralia-based LifeStar, said in an email that he had no comment because of the ongoing investigation.
The charges State's Attorney Dan Wright filed against Finley and Cadigan said they "did acts without lawful justification" that caused Moore's death when they tightened restraints across Moore's back and lower body while he was in the prone position.
Based on Finley and Cadigan's training, experience and the surrounding circumstances, they knew that "such acts would create a substantial probability of great bodily harm or death," according to the charges.
The pair transported Moore – a longtime employee and shift manager at the McDonald's at 522 W. Jefferson St. – in a LifeStar ambulance to HSHS St. John's Hospital during the early morning hours of Dec. 18. He was pronounced dead by St. John's staff members at 3:14 a.m.
Teresa Haley, president of the Springfield chapter and statewide NAACP, appeared at a Jan. 10 news conference on charges with Wright, Allmon and officials from the Illinois State Police. She said she believes that Moore, who was Black, was treated rudely and roughly because of his race by Finley and Cadigan, who are white.
"This was a Black young man who lost his life due to negligence, and we want to make sure that justice is being served," Haley said. "He was treated unfairly."
Haley said police and prosecutors handled the case "extremely well," and police at the scene did what they could to keep Moore alive.
The incident began when police responding to a 911 call went to Moore's home, in the 1100 block of North 11th Street on the city's east side, authorities said. Moore made the call to 911 himself, according to Samantha Cutler, Aaron Cutler's wife, who was present at the time.
When three police officers arrived at about 2 a.m. Dec. 18, they "met with a resident who indicated the caller was suffering from hallucinations due to alcohol withdrawal," according to a written statement issued by the Springfield Police Department.
The officers – who were not named – determined Moore was in need of medical assistance and requested an ambulance, the statement said. The ambulance workers, identified by Wright as Finley and Cadigan, arrived at 2:18 a.m.
"It is clear based on the officers' body-worn camera footage that the patient was not able to walk, and the medical personnel were not offering any assistance," the police department statement said. "The three officers took turns helping the patient through the residence and onto the stretcher outside."
The officers' body cameras showed Finley and Cadigan putting Moore on the stretcher face-down and securing him to the stretcher before transport to St. John's, according to the statement.
Wright said at Finley and Cadigan's arraignment that Cadigan "slammed" Moore down on the stretcher face-down "contrary to well-established protocol and training." The autopsy report said Moore recently suffered two cracked ribs.
Wright said Finley later told St. John's staffers that Moore had been "combative" at his home, which wasn't true.
After learning of Moore's death, Police Chief Ken Scarlette requested an independent investigation by Illinois State Police. Wright said that investigation continues, but he wouldn't answer further questions. It's unknown whether conduct by the police officers is being investigated.
The police statement said the officers who responded to the 911 call "recognized the patient's need and requested medical assistance for the patient. When those personnel acted indifferently to the patient's condition, the officers took steps to assist the patient, to get him the care he needed, even waiting on scene to ensure the medical personnel loaded the patient in to the ambulance."
The statement continued: "The officers, who are not emergency medical professionals, are not trained nor equipped to provide the necessary medical treatment or to transport patients in this type of situation. The officers turned over care of the patient to the licensed medical professionals at the scene, in accordance with Springfield Police Department policy."
Haley compared the treatment of Moore to George Floyd, who died at the hands of Minneapolis police in 2020. "It was almost worse," she said. Haley said the bodycam video showed Moore apparently hyperventilating at his home.
"If this guy was already … having difficulties breathing, and then you put him on a stretcher face-down, I mean, it was hostile to see the video and how they treated him," Haley said. "They literally threw his hands behind and just strapped him down. He couldn't move if he wanted to.
"I don't think anybody shows up on the scene wanting someone dead," she said. "I think they showed up on the scene not wanting to provide the adequate care that this individual needed. I mean, it was obvious that they didn't want to be there. … They did not show any compassion whatsoever to this individual. And when you all go back and watch the video, I'm sure you'll come to the same conclusion."
Samantha Cutler, 35, said Finley "had an attitude the whole time in here. She said, 'I'm not dealing with this shit tonight.' … I got the vibe that she didn't like her job."
With tears in her eyes, Cutler said the EMS workers deserved the murder charges.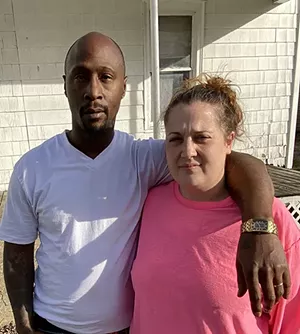 Moore was single and struggled with alcoholism but was "too young and had a lot of life yet to live," Cutler said. "He didn't even have kids yet, and I know that's one of the things he wanted."
Aaron Cutler, 38, said Moore was "like a brother to me" and generous with what little money he had. "He would give a person his last," Cutler said.