Shareese Tinsey, a Springfield mother of five children, had been struggling to find a job that would provide a steady income. That changed when Rev. Margaret Ann Jessup offered Tinsey a job at Wooden It Be Lovely, a nonprofit in Springfield centered on helping single mothers heal from lives of abuse and poverty.

"It started with a note on my door," Tinsey said. "I ignored the note, and a few days later, I had another one."

Eventually, Jessup knocked at Tinsey's door and insisted that she stop by Douglas Avenue United Methodist Church for a paint night.

"And I did," Tinsey said.

Ever since that night in late April, Tinsey has called Douglas Avenue church in Springfield her second home and place of employment.

Tinsey and the four other women employed by the program are single mothers from Springfield who come to the ministry to uplift themselves, maintain a form of stable income and refurbish furniture in their own creative styles at the Wooden It Be Lovely ministry hosted by the church. In hopes of expanding the program, the furniture will be priced and sold to the public on a monthly basis.

Under the leadership of Pastor Julia Melgreen and Jessup, associate pastor, Wooden It Be Lovely serves as a safe haven for women to come and uplift themselves spiritually, mentally and financially. Participants use chalk paint, a matte finish used on furniture that does not require any prior priming or sanding, to creatively refurbish various donated furniture pieces.

The program offers child care services free of charge to the employees whenever they are working with the program. On Thursdays from 6 p.m. to 8 p.m. the program hosts weekly paint nights directed at helping women who are struggling with abuse and poverty.

Before the program began in early March, the church offered assistance to women in the community, but noticed that those same women kept coming back for more help.

It was then that Jessup realized that the church needed to find a way to help the women into more stable conditions.

"One-way giving doesn't work," Jessup said. "It doesn't empower them to be all they could be. This program provides transitional employment in a place that they can feel nurtured within the community."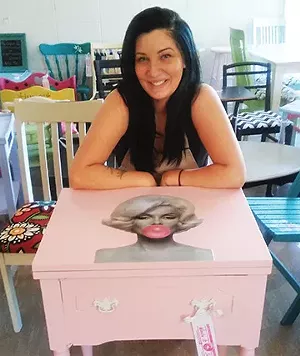 Cassandra Lusardi, a 26-year-old woman recovering from a history of drug abuse, says that the program has made a way for her to see the changes she needs to make in her life in order to be a good role model for her two daughters.
"Wooden It Be Lovely has filled me with a lot of hope for myself and for humanity," said Lusardi. "I have had the opportunity to create real friendships through the program and the church congregation. I am very thankful they came up with the program."
Most of the furniture and the paint is donated by community members.
The women come to work two or three days each week, learning how to use chalk paint and how to refurbish the furniture for potential buyers.
"This is a way to give the women a skill so that they may have a better resume for future employment," said Jessup. "Our goal is that each one of the women we hire becomes fully employed and not reliant on government assistance."
Wooden It Be Lovely will host its first furniture sale on July 30 at 9 a.m. on the first floor of Douglas Avenue United Methodist Church. Community members will be able to purchase a variety of furniture pieces including furniture for kids' rooms, offices, bedrooms and even funky statement pieces.
Megan Shomidie, a 30-year-old single mother and employee of the program, says that the sale will help build community interest in the program.
"My goal is to continue working here and watch Wooden It Be Lovely expand into a furniture store and be the best mother I can be to my daughter, Journey," Shomidie said.
To donate or volunteer, call 217-546-4631 or reach out to Jessup on Facebook at
https://www.facebook.com/Woodenitbelovelydaumc/
.
Contact Brittany Hilderbrand at intern@illinoistimes.com.