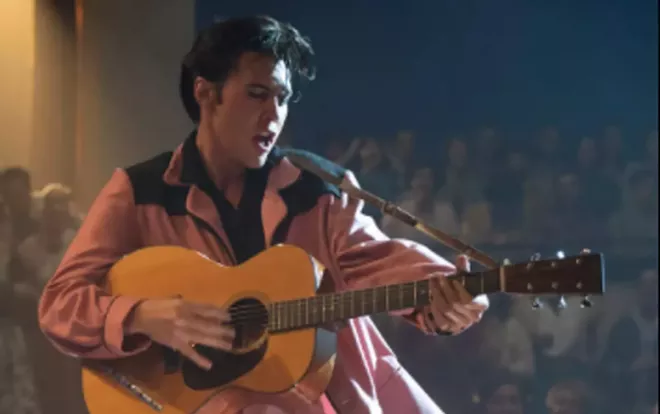 Butler mesmerizing as Elvis
It's been quite some time since I felt chills while watching a movie. And despite my initial reservations, Baz Luhrmann's Elvis provided those and then some on more than one occasion. Utilizing every cinematic trick at his disposal, the filmmaker brings to life the trials and tribulations of the legendary performer, the singer's story cast as a superhero epic with a relatable origin story and a villain drawn in the broadest strokes possible.
Told from the point of view of the singer's promoter, Colonel Tom Parker (Tom Hanks), the film jumps from big moment to big moment, all rendered with Luhrmann's trademark extravagance. From his teen years to his 1968 comeback special through his tragic decline, Austin Butler takes the role and runs with it and there's never a moment you're not convinced you're watching Elvis. To be sure, t's a star-making turn that keeps us enthralled, even during the film's rough patches. Elvis is a whirlwind and not without its flaws. Yet it's never less than captivating and captures the singer's magnetism while telling his story with the respect it deserves, thrilling and moving the viewer in equal measure. In theaters.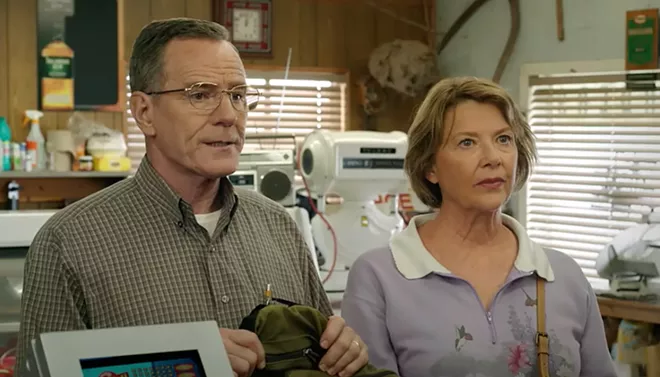 Jerry and Marge just fine
There's nothing inherently wrong with Jerry and Marge Go Large, but there certainly isn't anything exceptional about it. It's fine. But I don't think "fine" is the sort of reaction any actor or filmmaker aspires to while plying their craft. Based on a true story, Bryan Cranston and Annette Bening are the titular retirees who discover a loophole in the state lottery, playing it to their advantage. Not only do they benefit from the massive windfalls they win, but they share it with various members of the small town where they reside, forming a corporation in which for a small investment, big returns are guaranteed.
As directed by David Frankel, this is a by-the-numbers fluff piece that barely gets by on the filmmaker's pedestrian approach. This is the sort of story that needs Frank Capra's sense of whimsy to add a bit of life to it. This material is beneath Cranston and Bening's talent – they don't embarrass themselves, but you can tell they're coasting and if this is the caliber of scripts they're offered, that's a shame. This is a feel-good, innocuous entertainment that, unlike its protagonists, doesn't take any risks. Which is fine...I guess. Streaming on Paramount+.
Emotional intimacy drives Grande
You'd be hard-pressed to find a movie with as unique a story as Good Luck to You, Leo Grande. Listen to this – Nancy Stokes is a widow in her early 60s who's never been, shall we say, sexually adventurous. Never having had a satisfactory experience, she longs to find out what all the fuss is about. So, she does what any resourceful woman in her position would do. She hires a gigolo (Daryl McCormack), a very fit, intelligent young man who knows his way around the block, though its likely he's never had a client with a detailed list of sexual acts and positions they'd like to try.
The film wouldn't work without the chemistry between Thompson and McCormack who are exceptional, the give-and-take between them natural and engaging from start to finish. Over the course of four sessions, Nancy and Leo get to know each other in ways more meaningful than just the physical, each letting their guards down in ways they never expected. Far from salacious, Grande speaks to the necessity of occasionally getting out of your comfort zone and the lasting satisfaction that comes from emotional intimacy. Streaming on Hulu.