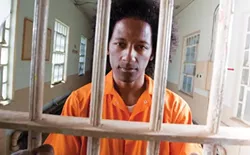 Putting a halt to early prison release in Illinois has cost the state $153 million a year, says one prison reform advocate. Meanwhile, inmates complain of cockroaches in their cells and a lack of rehabilitative programs.
State lawmakers met last week to discuss reinstating good conduct credits in response to overcrowding, budget constraints and reports of poor prison conditions.
Gov. Pat Quinn suspended good conduct credits for prisoners in December 2009 following reports of a supposedly secret program that let inmates out after serving only a few weeks in prison, and he has largely stayed silent about the issue since then. Last week's meeting of the House Judiciary II Committee in Chicago marked a rare occasion on which members of Quinn's administration have spoken publicly about overcrowding.
Toni Irving, Quinn's deputy chief of staff, told Illinois Times after the hearing that Quinn is evaluating several options to deal with overcrowding, but he is waiting for the legislature to act on the issue.
"Because they set the budget, it would be ridiculous for the governor's office to try to create programs that are dependent upon certain kinds of funding," Irving said.
She said the Illinois Department of Corrections must decide what overcrowding solutions are "possible and feasible," while the legislature must approve the funding.
But Malcolm Young, director of the Program for Prison Reentry Strategies at Northwestern University's Bluhm Legal Clinic, says the solution is simple and cheap: reinstate good conduct credits for inmates. Since Quinn suspended the credits, the state's prison population has hovered around a record high of 49,000 – about 4,000 more inmates than previously. Those extra 4,000 inmates are costing the state $153 million each year, Young said.
During the hearing, Young described prison conditions at the Vienna Correctional Center, as documented in reports by the John Howard Association, a Chicago-based prison watchdog group. In the Vienna prison, inmates complained of mice and cockroaches, broken light fixtures, a lack of rehabilitation programs and other problems.
In an email to Illinois Times after the hearing, Young called the hearing a "first step" in bringing the issue of overcrowding to lawmakers' attention.
Lawmakers at the hearing discussed House Bill 3899, which would create a framework for reinstating good conduct credits. No vote was taken at the hearing, however, and it's likely the bill will undergo changes before it is called for another hearing.
The controversy over early release arose in December 2009, when the Associated Press reported that the Illinois Department of Corrections had begun letting inmates out of prison early under a program the AP characterized as secret. The program, known as MGT Push, was an alteration of the state's long-standing Meritorious Good Time program. MGT Push did away with a traditional practice of making inmates serve 60 days in prison before receiving good conduct credits.
A few of the roughly 2,000 prisoners freed early went on to commit further crimes shortly after release, and Republicans criticized Quinn for jeopardizing public safety. Quinn, facing a heated primary election to retain his seat as governor, suspended all good conduct credits indefinitely.
Young wrote a report on the MGT Push program in late 2010, saying the issue was politicized. He explains that many of the prisoners released early under MGT Push actually served the majority of their sentences in county jails before being transferred to prisons. Doing away with the 60-day requirement previously used for MGT essentially allowed Illinois prisons to award good conduct credits for time served in county jails.
Bill Ryan, founder of the Illinois prison newsletter Statesville Speaks, attended the hearing, but wasn't encouraged. He said he doesn't have much hope that Quinn and state lawmakers will definitively address overcrowding during this legislative session.
"I don't think anything's going to happen," a frustrated Ryan said after the hearing. "I don't know if they're waiting for God or the Holy Spirit to sweep through or something."

Contact Patrick Yeagle at pyeagle@illinoistimes.com.