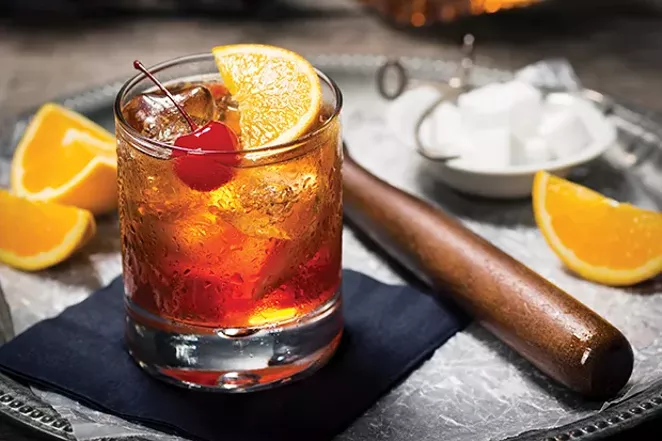 Soon, but not just yet, it will be that time of year again.

Summer lingers, at least for now, which is a good thing in more ways than one, especially for booze hounds. Margaritas, gin fizzes and other cocktails of summer are easy to contemplate, and, properly made, even easier to drink. If it's light and refreshing, you're more than halfway there when it comes to figuring out the proper indulgence when it's hot outside. Easy-peasey, as they say.
But fall? It takes more than citrus, alcohol and carbonation to deliver us to proper autumnal bliss. It takes thinking, and in the waning days of summer, as Labor Day nears, we should take the time to consider just what to sip as we watch leaves turn, then scatter in the wind. The easy way out, of course, is anything that contains cider, which is all the rage these days, and/or cinnamon-flavored hooch. No. If we wanted apple pie, we would eat a slice, not guzzle one. Better, we think, to consider the classics. Small efforts will be greatly rewarded. And so we offer these suggestions for what to drink as summer says goodbye.
The Old-Fashioned
Dating to the mid-19th century, the Old-Fashioned is, arguably, the most senior cocktail in America, and it is still around for very good reasons. Made properly, an Old-Fashioned tickles the palate with hints of cider that aren't quite apple, which is both surprising and natural, given that no apples or apple byproducts are contained. This can't be considered a true citrus drink, even though it typically contains – depending on the recipe – orange. Oranges weren't overly common when the Old-Fashioned was invented, and so some recipes eschew the fruit, but we like them. The trick is striking a balance between the fruit and bourbon to arrive at something that is neither fruit nor booze that encourages the imbiber to sip slowly and savor, a good idea considering that this drink is high octane. Use a high-quality single-barrel bourbon if rye isn't available. We prefer the cherry-less approach but, if you insist, avoid polluting the drink with cherry juice.
• One sugar cube
• One teaspoon water or club soda
• Healthy dash of bitters
• Two ounces bourbon or rye
• One wheel of orange
• Orange rind for garnish
• Maraschino cherry for garnish (optional)
Muddle sugar, bitters and water (or soda) until sugar is dissolved. Add orange wheel and muddle sparingly, just enough for orange to begin giving up its juice but not so much as to pulp the fruit. Add whiskey and stir. Strain into tumbler filled with ice cubes – you do not want any pulp to make the journey from cocktail shaker to glass. Garnish with orange rind and, if you like, a cherry.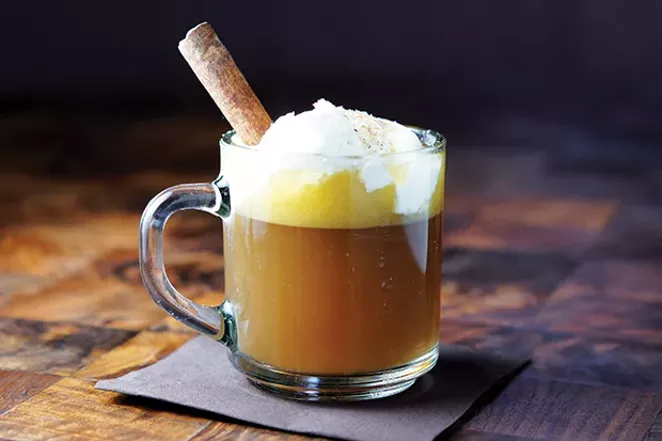 Hot buttered rum
Sure, this is often considered a drink of winter, but one never knows. When and if the temperature plummets earlier than expected, you should be prepared. There is, simply, no excuse for not having ingredients handy for a hot buttered rum. Likely as not, you already do. As with so many things, moderation is the key here, save for the rum part. Which is to say, nothing ruins a hot buttered rum like too much butter. You're looking for the flavor of butter, not an oily yellow slick atop the drink as if a butter-filled tanker ran aground, and so do not super-size this cocktail with a big dollop. Think thin slices, perhaps half the size of one of those pre-made pats sandwiched between nonstick cardboard and waxed paper offered up in restaurants alongside dinner rolls. Let the heat, spices and booze do the work. We prefer dark rum, but most any kind will do, so long as it is not clear. No need for spiced rum here. It just gets in the way.
• Equal parts rum and water, collectively enough to fill a mug. Err on side of more rum than water
• One-half teaspoon butter
• Pinch cloves
• Pinch nutmeg
• Pinch cinnamon
• Cinnamon stick for garnish (optional)
Boil water. While it's heating up, put butter, spices and booze in a mug. Fill to top with boiling water and stir, using a cinnamon stick if one is available. Make sure the end result is well heated, which will help ward off colds, the flu and other maladies, or at least make you feel better about them. If you have somehow erred and put in too much rum and not enough water so that the drink is not piping hot, do not despair. Simply zap in microwave for 20 seconds or so, then enjoy.
The Highball,
aka the Any Idiot Can Do It
Some folks don't have cocktail shakers. "What are bitters?" others may ask. And there are always those who prefer to muddle through things rather than muddle cocktail ingredients. This is why God invented ginger ale, which goes with darn near any amber liquor, and many clear ones, making even such disgusting things as cheap mezcal drinkable, if not digestible. The highball is excellent for fall – think of it as a transitional drink between the gin-and-tonics of summer and the brandies of deep winter. You can use most any whiskey so long as it is spelled with an "e" – do not even think of putting Scotch in a highball. But do consider a lime, and make sure that you use a proper highball glass, which is to say, not a tumbler. We are not, after all, heathens. The highball is perhaps the most forgiving drink on the planet.
You can make these as strong or weak as you like.
• Two ounces whiskey
• Ginger ale to taste
• Ice cubs
• Small lime wedge
Rub glass rim with lime. Put ice in glass. Pour in whiskey, then ginger ale. Stir, garnish with lime wedge. If you're feeling fancy, you can squeeze a drop or two of lime juice into this drink, but we would not.
Contact Bruce Rushton at brushton@illinoistimes.com.