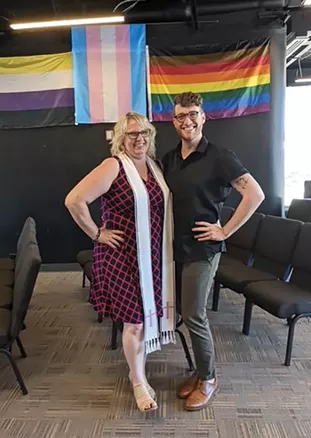 The United Methodists are not so united these days.
The nation's third-largest denomination is teetering on a schism over the role of the LGBTQ community.
At the center of this maelstrom of discontent is Isaac Simmons, a drag queen lay preacher in Bloomington, which is part of the Great Rivers Conference encompassing Springfield and much of Illinois.
Simmons is viewed as emblematic of bigger issues within the denomination, not only LGBTQ matters, but also the authority of the Bible. United Methodists, unlike some other mainline denominations, continue to prohibit same-sex marriages and the ordination of sexually active gay people in their churches.
A push is afoot to allow both.
And in response, more traditional congregations are breaking away and forming the Global Methodist Church. One of the churches that has been contemplating such a move is Sherman United Methodist Church.
On Aug. 28, the congregation voted on secession. The informal vote was to be a precursor for legal moves necessary to make the divorce complete.
Bishop Frank Beard said it is his understanding that the congregation opted to remain within the denomination.
"We take a Biblical view on sexuality – that it should only be between a man and woman who are married," said the Rev. Jon Carrell, senior pastor of Sherman United Methodist. "While homosexuality has drawn much of the media's attention, the issue goes much deeper. It goes to how we view the authority of the Bible and basic Christian doctrines."
Carrell views the Biblical epistles written by Paul and Peter as prohibiting homosexual activity, while some more progressive voices in the denomination contend the verses in question are poorly translated from the original language.
"It's not just about homosexuality. Some of the denomination's leaders reject the miracles of Jesus, salvation through his shed blood or believe there are paths to salvation other than through Christ. There is no accountability in the denomination," Carrell said.
A Methodist committee made up of members of a district within the Great Rivers Conference approved Simmons, who identifies as nonbinary, as a pre-ordination candidate.
Sexually active gay people are barred from the ministry, and all candidates for the ministry sign a pledge to be celibate in singleness and faithful in marriage. Bishop Beard noted an unmarried heterosexual pastoral candidate in the conference was recently rejected for failing to be celibate.
The vote on Simmons' pastoral candidacy captured national attention. It has been widely reported that Simmons is the first openly gay person to receive such approval within the conference and the first known drag queen to receive the designation in the history of the denomination.
The 23-year-old Bartonville native and Illinois Wesleyan graduate will soon enter seminary at Boston University. Until recently, Simmons was the associate pastor at Hope Church in Bloomington.
"I'm a drag queen, a drag artist. Much of my ministry and much of the work that I do is helping people heal the wounds of religious trauma and embracing themselves. The divine happens within gay bars as well as pulpits while in full drag. It's a ministry I never thought I would be doing," Simmons told Illinois Times.
Simmons' drag queen alter ego is Miss Penny Cost, a name derived from Pentecost, the festival day celebrated by Christians as the event when the Holy Spirit descended on Jesus' disciples.
"There is a disarming fact about laughter. I think when people see a drag queen in a pulpit, they're like, 'Oh, anyone can be in that pulpit.' That pulpit becomes the pulpit, not only of God, but the pulpit of the people. I like to believe that God dwells in and among us."
Carrell, the Sherman pastor, said of Simmons, "People in the congregation are well aware of the drag queen (ministerial candidate) and question how it squares with scripture."
Don Goodenow, pastor of Kumler United Methodist in Springfield, said members of his congregation reflect a variety of theological views and he anticipates the congregation will remain within the denomination.
"We have people on both sides of the fence. Church politics are the worst kind of politics for sure," he said.
But he said the pending schism is creating anxiety and frustration among Methodists.
"When I get together with other pastors, we really don't talk about it, because I don't know where they fall on this issue. It's very awkward. Methodism is supposed to be a big tent where everyone is welcome."
Al Riddley, who attends Douglas Avenue United Methodist Church in Springfield, supports same-sex marriage.
"The issue shouldn't be whether they are of the same sex, but whether they love each other," he said.
Riddley, who is an ordained Southern Baptist pastor, said he stopped attending Baptist churches because he felt they should be more inclusive of women in leadership roles. He said he sees the LGBTQ controversy in much the same light.
"I hate that conservative mentality. They view gays as freaks of nature. ... The church is leaving people out," he said.
Death threats and hate messages arrive daily for Simmons. Still, following seminary, Simmons looks to return to Illinois.
"I love central Illinois, and I love the people in the Great Rivers Conference. ... I am incredibly privileged to have the support that I have. ... I think that there are a thousand folks who can minister to the LGBT community in places like Chicago or San Francisco. But it does take a bit of a different approach when it's LGBT communities in small towns."
Scott Reeder, a staff writer for Illinois Times, can be reached at sreeder@illinoistimes.com.