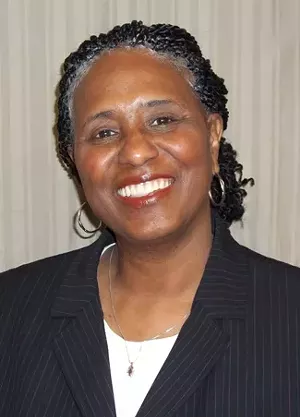 In a unanimous vote on Saturday, Feb. 6, Doris Turner of Springfield was chosen by Democratic Party officials to represent state Senate District 48, which includes all or parts of Springfield, Decatur, Taylorville and Litchfield. The seat was vacated by Andy Manar earlier this year.
State Sen. Doris Turner is a lifelong resident of the capital city. Her parents were both from Texas. Her mother was a beautician and her father worked for a factory that manufactured heavy construction equipment. "We have always been a very strong union family, and I continue to always have those union ties throughout my entire political career," Turner told Illinois Times in a Feb. 8 interview. Turner is one of four siblings. She lives on the east side of Springfield with her husband. They have three children and 10 grandchildren.
Turner graduated from Lanphier High School and took political science classes at Sangamon State University, now University of Illinois Springfield. Her career began at the Illinois Attorney General's office, when Neil Hartigan was in office. From there she worked for state Sen. Emil Jones Jr. In the 1990s, she went to work for the Illinois Department of Public Health. After more than 20 years, she retired from the agency as chief of the center for minority health services.
Turner said addressing "the deficiencies in our health care system that COVID has exposed" will be a priority in her new legislative position. "Right now, everybody's priority is getting the state's economy open and running and getting our businesses open and getting our kids back in school." Turner said she looks forward to more conversations with Manar, who served the 48th District for eight years. He resigned in January to become a senior adviser to the governor. Manar congratulated Turner on social media, calling her "a compassionate, accomplished leader who gets things done" and someone who "knows the turf."
Turner said in previous government positions she represented diverse populations, including those in rural areas, which is much of what the 48th District currently includes. Turner said she plans to run for the seat in the 2022 election. Turner said while she had not anticipated serving in the state Senate before some suggested she apply upon Manar's resignation announcement, her experience in drafting state legislation and holding elected office makes her a good fit for the job.
Turner served on the Sangamon County Board before serving on the Springfield City Council, where 2023 would have been her last year due to term limits. She is the first African American person to represent Springfield and Sangamon County in the state Senate. In 2012, she was elected as party chair for the Sangamon County Democrats. "When I was elected party chair, I was the second woman and the first African American to hold that position. And I was actually the first African American woman to be elected a county chair in the entire state of Illinois," she said. "I've been the first African American or the first woman to do a lot of things, but that doesn't excite me, because I don't take joy in being the first or only anything," said Turner. "What I want to do is open those doors and be a mentor and an inspiration and a hand back to bring others along with me."
As Sangamon County Democratic Party chair, Turner recused herself from the vote for Manar's replacement. She beat out seven other candidates for the spot, including Springfield Park District board member Lisa Badger and former Springfield Ward 2 Ald. Frank McNeil.
Over the past year, Turner participated in Black Lives Matter demonstrations and rallies in the city. "I was very happy to participate and happy to be able to, in whatever way, elevate that conversation," she said, adding that her goal was to shift conversation and marches into policy. She noted that she and Ald. Shawn Gregory introduced ordinances aimed at addressing systemic racism.
"I have known Senator Turner for decades, from her time of service on the county board, city council, and now as Senator for Springfield and Sangamon County. Even though she is leaving her seat at the city council, we look forward to continuing our work together on issues important to Springfield," Springfield Mayor Jim Langfelder said in a statement.

Turner's resignation from city council is effective Feb. 23. Applications for her replacement are being accepted by the mayor's office. "The Mayor will announce the selection that will go in front of the city council for approval, on Tuesday, Mar. 2, 2021," a Feb. 11 city press release said. "The vacancy of Ward 3 falls within the 28-month window of the next city election and because of this, the person appointed will fulfill the remaining aldermanic term that will expire in the spring of 2023," according to the release.
Turner told NPR Illinois she wants to remain on the council through the budget approval process. "Turner said she asked to be removed from Springfield city payroll beginning Feb. 6, the day she was sworn in to the Senate," according to the public radio outlet.

Contact Rachel Otwell at rotwell@illinoistimes.com
This story was updated with information about Turner's resignation from city council.