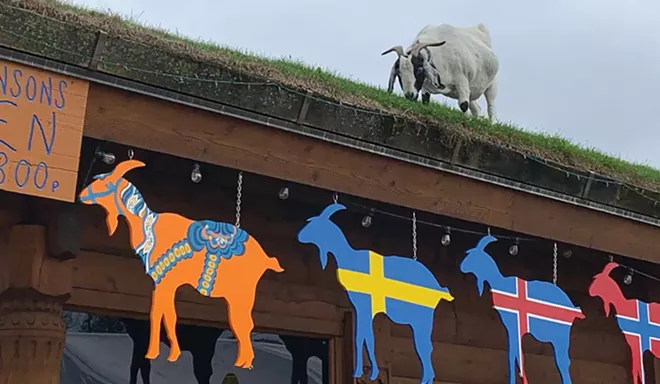 Travel experts traditionally tout New England as the place for seeing fall's color explosion, but you can experience the joys of autumn much closer to home. Just head north for a long weekend to the tip of Wisconsin's thumb, Door County.
The county topped USA Today's list of 10 best places to see fall foliage in the country in 2019, according to Destination Door County. Take that, Vermont.
Surrounded on three sides by water, Door County is popular in the summer as a place to cool off from central Illinois' heat. But fall "is a great time to visit because of all the picturesque fall colors that can be found in our many state parks, natural areas and along our nearly 300 miles of coastline," says Jen Rogers of the tourism agency. She adds that many communities host festivals, ranging from a classic auto show and pumpkin patch to lighthouse tours and a Halloween costume parade.
Rogers advises booking well in advance as limited lodging is available on weekends in late September and all of October. Weekdays offer more options, if you can get away, and you can find some less crowded areas such as the quieter eastern shore and some off-the-beaten-path spots.
Those include the Cana Point Lighthouse, the winding road to the Washington Island ferry and Bailey's Harbor Range Lights. A few miles' drive can get you to apple orchards, unique shops and plenty of restaurants, including one with goats grazing on the roof and the ubiquitous fish boils.
The drive also lets you take in lots of that fall foliage. Grab a bike for an even closer view.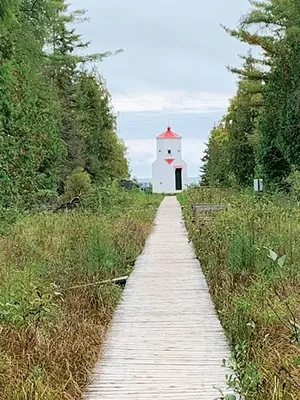 If Lake Michigan isn't too cool, you can walk across a shallow area to an island lighthouse at Cana Island County Park and climb the 97-step spiral staircase to take in views. With luck and the right winds, you can watch the waves coming from opposite directions around the island to form a unique checkerboard pattern.
Not far away at Whitefish Dunes State Park is Old Baldy, the highest sand dune in the state at 93 feet above the lake and another good spot for fall foliage.
For a stunning photo, pull over on the road to the Washington Island ferry. Colorful trees flank the road's numerous curves. Just be careful to watch for traffic as you snap your possible award-winner.
If you decide to hop the ferry, Washington Island is another good destination with Schoolhouse Beach, full of smooth stones and nearby quaint harbors. Climb to the top of the Mountain Park Lookout Tower for views of Death's Door, the treacherous strait of water linking Lake Michigan and Green Bay, responsible for many shipwrecks and the county's name.
Lots of lighthouses dot the shoreline of the peninsula, but two of the most accessible are the Bailey's Harbor Range Lights. A short boardwalk through peaceful surroundings in the Ridges Sanctuary lets you get up close to the two lights. Restored by the sanctuary in the 1990s, the upper and lower lights align to let sailors know they are approaching a safe harbor.
Peninsula State Park on the western shore offers another interesting lighthouse, a nature center, a golf course, camping and loads of trails for hiking and biking. The fall foliage there and at Ellison Bay Bluff County Park is worth a gander.
The state park is nestled between Ephraim and Fish Creek. To the north is Sister Bay, and to the south, Egg Harbor. All four towns on the county's Green Bay side are good places for shopping and dining.
You can find stores filled with lavender products, candy, holiday décor, unique clothing, artwork, antiques and specialty foods and drinks. If all that shopping makes you hungry, you can opt for waterfront eating, supper clubs or a fish boil.
One of the most popular eateries is Al Johnson's Swedish Restaurant and Butik in Sister Bay. Diners are drawn by the Swedish pancakes and the sod roof, where goats graze from May to mid-October.
A must-do-at-least-once experience is a Door County fish boil, available at several places. In a tradition dating more than 70 years from Scandinavian settlers, a fish boil master adds wire baskets of potatoes, onions and white fish to a boiling kettle of water over a wood fire. The master then adds fuel to make the flames whoosh away any brine and removes the baskets.
Diners quickly find a table to enjoy their portion, often accompanied by homemade bread, cole slaw and cherry pie.
The cherries likely will have been harvested in the summer, when Door County is awash in colorful cherry trees. While they will miss the blossoms and harvest, fall visitors can enjoy such treats as cherry cider and wine, often served at numerous wineries and cider houses. Other places to quench your thirst are the county's breweries and distilleries.
A good way to end your Door County day is on the western shore, watching the sun set over Green Bay. Popular spots are Sister Bay's waterfront park, Sunset Park in Fish Creek, Anderson Dock in Ephraim and the Skyline Road overlooks in Peninsula State Park. Combine that with spectacular fall colors, and you can understand how Door County gives New England a run for its money.
Mary Bohlen, a Springfield travel writer, has visited Door County several times and never tires of watching a fish boil.