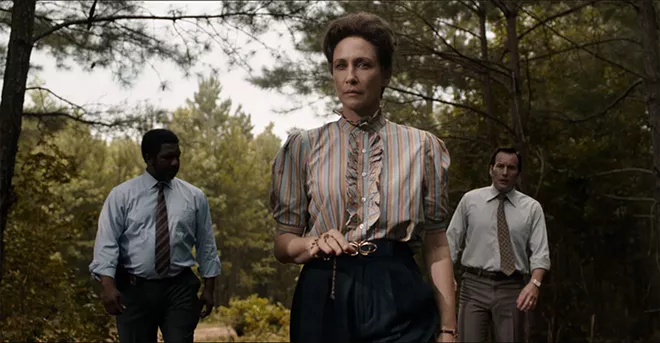 Thrilling Devil a worthy franchise entry
The Conjuring films are built around two things – elaborate set pieces and the relationship between Ed and Lorraine Warren, the paranormal investigators at their center. Both are mined for maximum effect in the franchise's latest entry, The Devil Made Me Do It, as the Warrens try to defend a young man who claims he was possessed by the devil while committing a gruesome murder.
Director Michael Chaves pulls out all the stops. The opening exorcism scene is a corker, but the one that ends the movie tops it, the filmmaker employing in-camera effects and atmospheric lighting to create an unnerving, cathartic climax. Whether it's a chilling moment in a haunted woods where Lorraine reenacts a murder or in a morgue where they commune with the dead. Chaves sets the bar high in every scene, topping it in the next.
As the Warrens, Patrick Wilson and Vera Farmiga provide the emotional foundation of the franchise. Demons, ghosts and cursed objects may come and go, but the Warrens remain steadfast in their beliefs and one another. This is what makes us return to The Conjuring films, the need to be reminded that something remains unshakeable in a world gone mad. In theaters.
Energetic Heights will bowl you over
Jon Chu's adaptation of Lin Manuel Miranda's In the Heights is the most energetic film you'll see this year. Bursting with enthusiasm, it's a movie that bowls you over, a powerhouse production determined to impress. Containing a sprawling narrative, the same conflict runs throughout – how do you stay true to your heritage while trying to succeed in a society that expects you to assimilate? This is the question that haunts Usnavi (Anthony Ramos), Vanessa, Daniela (Daphne Rubin-Vega), Nina (Leslie Grace) and others as they sing the praises of their Latinx heritage on the streets of the titular neighborhood.
Driven by elaborate musical numbers, there are times when the film stuns with its emotional power and unbridled enthusiasm. It also overstays its welcome. While sincere, it restates its message of Latinx pride so often, it threatens to alienate the audience. Far too long, its repetitious nature begins to grate. Still, completely discounting Heights would be akin to throwing the baby out with the bathwater. The film's likable cast and their youthful exuberance are simply too entertaining to dismiss, their efforts so earnest, only a complete curmudgeon would fail to give them their due. In theaters.
Blue Miracle a quiet winner
Based on a true story, Julio Quintana's Blue Miracle is the sort of film you outwardly scoff at but can't help but be moved by all the same. Though the movie has more than its share of cute moments and contrived circumstances, its heart is in the right place, making it easy to forgive these minor missteps. Jimmy Gonzales is Omar, the manager of an orphanage in Cabo San Lucas which is facing the threat of foreclosure. However, a bit of very good luck comes his way when it's suggested he enter a prestigious fishing tournament with former winner Captain Wade (Dennis Quaid) as his partner.
You know right where the movie is headed once the first lure hits the water, yet there's a sincerity in the way it's acted that you don't mind going down the underdog trail once more. That this is a fact-based tale only adds to its appeal, as does the fact that on occasion we need to be reminded that good things do happen to good people, a message of hope that's all too rare these days. Streaming on Netflix.