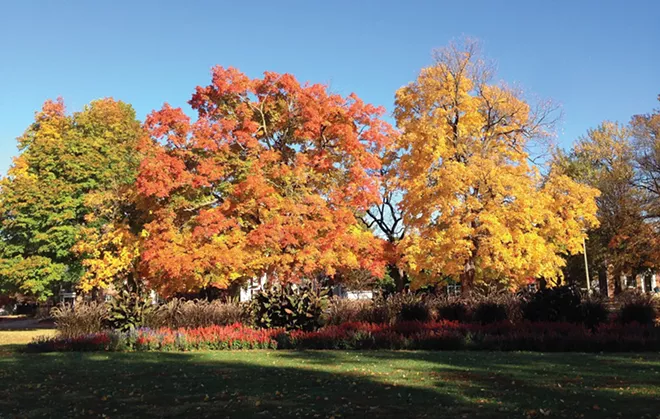 It's that special time of year in the Midwest when we are treated to the beauty of trees turning vibrant shades of red, yellow and orange. As temperatures and daylight hours drop, so does the production of chlorophyll which allows the carotenoids in the leaves to reveal their colorful pigments. With the onset of fall, anthocyanins are produced as a result of sugar being trapped in the leaves' veins. The proportion of all these pigments determines the color, and different tree species have different proportions.
Predicting the vibrancy of fall colors is not a precise science, but October is projected to be the best time to view fall colors in the Land of Lincoln. For up-to-date information check out the Fall Color Report, a joint initiative of the Illinois Department of Natural Resources and Illinois Office of Tourism. Information is posted weekly and includes what's being seen that week and the best places to view fall colors in four different regions of the state https://www.enjoyillinois.com/plan-your-trip/seasonal-adventures/fall-travel-in-illinois/illinois-fall-color-report/.
Guy Sternberg of Starhill Forest Arboretum in Petersburg explains that our colors typically last a long time because we have a diversity of tree species, and they turn color sequentially. Cottonwoods and sumacs change color early, then maples, followed by hickories, then oaks and other species. Weather has a big impact on fall color, and each type of tree has its own reasons for coloring. Sternberg says this year's extreme fluctuating weather and insect and disease outbreaks may make many trees less vibrant. To best enjoy fall colors, visit sites with a lot of species diversity, and return multiple times to witness the changes as each species takes its turn revealing its unique hue.