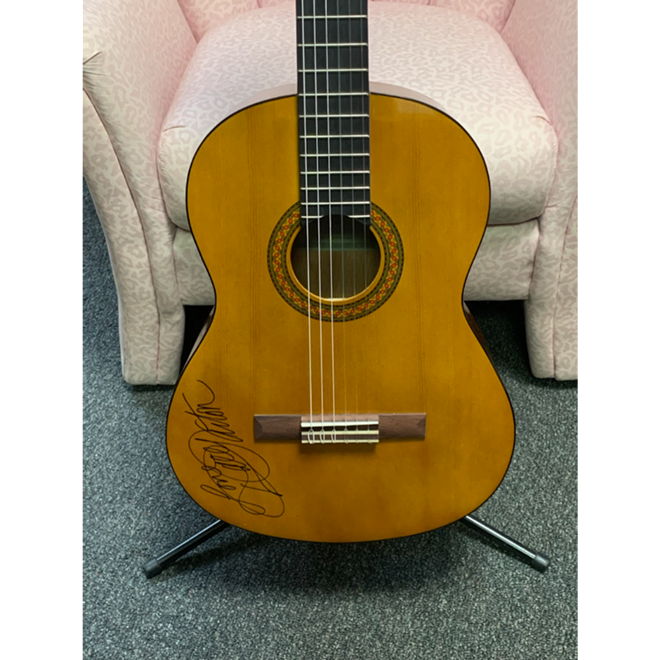 Dolly Parton is known for her singing, songwriting and generosity. Thanks to a local connection, she donated a signed guitar to the United Way of Central Illinois to benefit the Dolly Parton Imagination Library in Sangamon and Menard counties. Online bidding closes Nov. 30.
United Way of Central Illinois partners with Dolly Parton's Imagination Library to mail an age-appropriate book to children monthly from birth through age five. It costs only $130 for one child for five years. Since 2011, more than 169,752 free books have been given to local children. There had been a waiting list, but recently a donor helped eliminate the backlog. A United Way committee is working to build a sustainable program so no child is on a waiting list.
The online auction of Dolly Parton's guitar is part of a recent fundraiser trivia night with sponsors and auction items. The guitar was donated by Dolly Parton and Dolly Parton Enterprises general manager Tom Rutledge, who was born and raised in Springfield. Rutledge was hired by Dolly Parton in the 1970s to be her guitarist in her first road band. He now is a musician in her touring shows and maintains her digital archive. Tom learned about Springfield's commitment to the Imagination Library from his sister, Diane Rutledge, former District 186 Superintendent of Schools, longtime United Way volunteer and advocate for the Dolly Parton Imagination Library.
The signed guitar is a full-sized nylon-string Yamaha C-40 II, featuring a spruce top with back and sides made of Meranti wood. Parton uses nylon-string guitars when composing, and this is one of her song-writing guitars. Bidding is online at https://www.biddingowl.com/Auction/index.cfm?auctionID=28824.
Children of all socioeconomic backgrounds are eligible for free books. The goal is to instill a love of reading at an early age. Another benefit is leveling the playing field when all children entering kindergarten in a community have been exposed to the same books. To donate to the Dolly Parton Imagination Library or register a child, go to http://springfieldunitedway.org/our-work/dolly-partons-imagination-library/#.YYhP62DMLZs.