The sniffles, cough and fever that accompanied Tia Wessel's COVID-19 diagnosis were gone after a few weeks, but the rapid heartbeat, fatigue and dizziness that frightened and frustrated the 33-year-old Jacksonville resident continued for more than a year.
"It was a horrible feeling," she said. "You want to know if you're ever going to be back to normal."
Active, slim and healthy, Wessel was among the estimated 10% to 30% of COVID-19 patients who deal with a variety of long-term effects from the coronavirus infection.
Known as "long COVID," the condition has more than 200 potential symptoms and is the focus of a growing number of medical studies, new treatments and outreach efforts across the country – including in Springfield.
"We don't know much about it. In fact, there's not even a consensus on what to call it," said Dr. Vidya Sundareshan, an infectious-diseases specialist at Southern Illinois University School of Medicine. "You need a good team to diagnose and treat it, and that's what we are building now."
The condition affects people of all ages, including children, whose experience with respiratory problems can last longer than in adults, she said.
SIU's Springfield campus in November began operating a Post-COVID Recovery Clinic – a collaborative group of SIU Medicine's primary care doctors, nurse practitioners and specialists – to better serve the growing number of patients seeking care for long COVID and supplement what is offered by other providers in central Illinois.
The SIU medical providers try to help patients address symptoms that persist, or begin, more than four weeks after a patient's initial COVID-19 diagnosis. The symptoms can last months or years after the initial infection has subsided.
After an initial visit to the clinic, a patient's situation is discussed by a team that includes specialists in infectious diseases, cardiology, pulmonary medicine and psychiatry. Recommendations then are made for treatments that can include traditional and new medicines and physical therapy.
Long COVID symptoms can vary
Patients' symptoms can range from severe fatigue, shortness of breath and problems thinking clearly – known as "brain fog" – to lose of taste and smell, rapid changes in blood pressure, insomnia, constipation, ringing in the ears, hearing loss, blood clots and strokes.
"People are just so desperate to get better," said Sundareshan, a member of the Post-COVID Recovery Clinic team who is a medical adviser to the Sangamon County Department of Public Health. She has played a key role in the community's response to the COVID-19 pandemic since it hit Illinois in spring 2020.
"There's some information now about what works and what doesn't, but we still have a long way to go," she told Illinois Times.
For now, the clinic only accepts doctors' referrals of adult patients and not self-referrals from individual patients. Clinic providers plan to start a patient support group May 9.
The support group will operate virtually in the beginning and allow doctors to tap into patients' experiences – what has helped them and what hasn't – and provide emotional support, Sundareshan said.
"It helps them to know that they're not alone in going through this," she said.
The clinic is serving about 50 patients so far, but thousands more probably could benefit from its services, she said.
In Sangamon County alone, more than 55,000 people have been officially diagnosed with COVID-19. About 380 of those residents have died. Ten percent to 30% of those diagnosed with COVID-19 equals 5,500 to 16,500 people in Sangamon County, 313,300 to 940,000 statewide and 8 million to 24 million nationwide.
"We're trying to understand the magnitude of the problem here," Sundareshan said. "Definitely the resource is available for somebody who's having symptoms that are interfering with their daily life and quality of life."
Avoiding long COVID is another reason for people to be vaccinated against COVID-19, she said. The condition appears to be more common among the unvaccinated, though the vaccinated also have been affected, she said.
The American Medical Association says long COVID can be caused by "direct cell damage" from the virus. Long COVID also can involve symptoms related to a lengthy hospital stay – when someone is bedbound and in an intensive-care unit for weeks. Symptoms also can appear after recovery.
"With COVID itself, you see a variety of symptoms – a 30-year-old dying or a 70-year-old essentially being unscathed and asymptomatic," Dr. Devang Sanghavi, medical director of the intensive-care unit at Mayo Clinic in Jacksonville, Florida, said on the AMA website.
The reason for the variation, Sanghavi said, is "there are various patient factors at play," reflecting the "interplay with the immune system of a person, and then the impact that both those things have on the body."
Some patients face stigma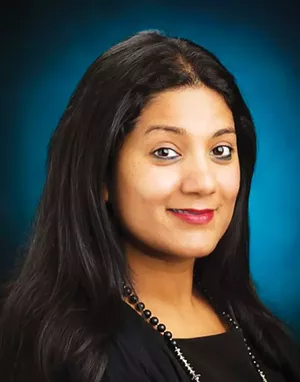 Early on in the pandemic, doctors encountering what later was determined to be long COVID thought "this is not possible, and we really questioned what patients were saying," according to Dr. Greg Vanichkachorn, a long COVID expert and occupational medicine specialist at Mayo Clinic in Rochester, Minnesota.
But as the pandemic continues, "we are questioning our understanding about coronaviruses," he told Illinois Times. "And much of the research over the past two years really has focused on trying to figure out how this condition presents. ... This condition can look like a lot of different things.
"I think the most important takeaway from all of this is that we have evidence that this is not just a condition that's due to a mental-health issue like depression or anxiety, which is something that many patients early on were told," Vanichkachorn said. "There seems to be something more at play."
It's not unusual for viral diseases such as measles, influenza, shingles or mononucleosis to cause longer-term health problems, Vanichkachorn and Sundareshan said. Such problems were reported in research after outbreaks in the 2010s of Severe Acute Respiratory Syndrome (SARS) and Middle East Respiratory Syndrome (MERS) – both of which are coronaviruses, Vanichkachorn said.
"The only difference now is that it's happening on such a widespread scale that it's receiving much more attention this go-around," he said.
The condition is under-diagnosed in part because of the initial dismissive attitude of the medical community, he said.
"Patients have felt abandoned and marginalized because of their symptoms," Vanichkachorn said. "Most have tried to get care early on, and they were told things like, 'This is all in your head,' or 'This is impossible, and you need to tough it out.' And that leads to all sorts of self-doubt and anxiety and depression and so forth."
The responsiveness and empathy from doctors have improved, he said.
"Providers are just really interested to get adequate, up-to-date information and training on this so they can begin helping patients, but it's a long, uphill battle with getting out the information," he said.
Post-COVID recovery clinics like the one at SIU are becoming more common across the country, mostly in large cities and at large, academic medical centers, Vanichkachorn said.
Various treatments being tried and studied

click to enlarge
Treatments and results can vary and are evolving. For long COVID patients with fatigue and brain fog, doctors sometimes prescribe the antiviral COVID-19 treatment drug Paxlovid – and even COVID-19 vaccines for patients who haven't been vaccinated or boosted – all to reduce symptoms.
Exercise, physical therapy and strength training can help with some symptoms, and fatigue can be reduced with conventional treatments for sleep apnea and by promoting regular sleep routines and avoiding the use of screens before bed, Sundareshan said. High-dose antacids have been prescribed for loss of taste.
Mayo Clinic officials say 95% of long COVID patients can expect improvement in their loss of taste and smell within a year.
Vanichkachorn said "olfactory training" may speed up the recovery process for both senses by smelling specific substances – clove, lemon, eucalyptus and rose – for 15 seconds twice a day for several weeks or months. More information is available at bitly/MayoCOVID or abscent.org.
Area patients deal with long-term symptoms
One of the SIU clinic's patients, Jeff Six, a 62-year-old grain farmer from rural Bluffs in Scott County, hasn't been able to taste or smell much of anything for five months. He was diagnosed with COVID-19 in late November 2021. His wife, Jamie, 58, got sick shortly after him.
The couple's early symptoms included severe body aches, weakness, nausea and diarrhea. Six said he and his wife were turned down for monoclonal antibody infusions at hospitals in Jacksonville and Springfield because they showed up more than 10 days after the onset of symptoms.
Six said he and his wife were so sick that they feared they eventually would be hospitalized and die. They finally were able to receive the infusions at Illini Community Hospital in Pittsfield and started feeling better two days later, he said.
Neither he nor his wife has been vaccinated, and they remain skeptical about the benefits of the COVID-19 vaccine, he said. Six said his 88-year-old mother, who came down with COVID-19 while living in a Pike County nursing home, died in September 2020, before vaccines were available.
Six said COVID-19 left him with little taste and smell, though the antacids prescribed by the Post-COVID Recovery Clinic have helped with a bad taste in his mouth. He said he and his wife appreciated the compassionate care they both received at Illini Community and that he has received at the SIU clinic.
Even though his residual symptoms haven't improved much – "It's horrible not being able to taste and smell" – he said he has peace of mind that SIU providers are monitoring him and paying attention to all the details of his COVID-19 experience.
"They got up close and personal with me," he said. "They have been very caring."
Andy Coop, 52, of Jacksonville, said he found his joint pain aggravated by a bout with COVID-19 that began in July 2021 and included a five-week stay at Jacksonville Memorial Hospital, 22 days of it on a ventilator.
The increased pain is in his elbows, shoulders, wrists, hands and hips, he said. He also deals with residual numbness in his buttocks, outer thighs and left foot.
But Coop, a former Jacksonville police officer, said he was able to return to work in Springfield as a firearms eligibility analyst for the Illinois State Police. He said he takes anti-inflammatory medicine and Vitamin B-12 supplements, which has helped but not eliminated the pain, and he is under the care of a rheumatologist.
Coop said his doctors don't know when his long COVID symptoms may abate. "It's kind of a wait-and-see type of approach," he said.
He praised the doctors and nurses at Jacksonville Memorial. "The whole staff just treated me with such respect and dignity," he said.
Jacksonville Memorial staff members from throughout the hospital were exhausted and discouraged after caring for so many COVID-19 patients who died, he said. They visited him in his room after he was taken off the ventilator and before he was discharged.
Coop said they told him: "'You're a miracle.' They told me they needed this victory."
At the time Coop was infected, he and his wife, April, who later contracted COVID-19 but didn't need to be hospitalized, hadn't received any vaccine. "I wasn't 100% comfortable with it," he said.
Both Coop and his wife have since been convinced of its value and gotten vaccinated.
'It was the most frustrating thing'
Wessel, the Jacksonville resident who was healthy up until her COVID diagnosis, is a registered nurse and deputy director of operations for SIU Medicine. She is assisting with the setup of SIU's Post-COVID Recovery Clinic and has given many COVID-19 shots and boosters.
She said she lost her sense of taste and smell for just two-and-a-half weeks. What didn't go away were a high heart rate – up to 190 beats per minute – and shortness of breath and dizziness whenever she would hold her arms above her head to fix her hair in the morning or bend over to put on clothes or use her front-loading washer and dryer.
It got so bad that she couldn't walk her dog or play on her backyard trampoline at home with the 8-year-old son of her partner, Michael Griffitts, a Jacksonville firefighter.
Wessel said she was diagnosed with COVID-19 in December 2020, a few days after Griffitts, 50. That was a time when neither of them had access to a COVID-19 vaccine, she said, adding that both are now fully vaccinated.
Griffitts came down with only mild symptoms. But Wessel's symptoms were so bad that she had to lie down multiple times in the morning as she prepared for work, and felt worn out once she got to the office.
"It was the most frustrating thing," she said.
Wessel said she isn't a patient of the SIU clinic but has seen SIU specialists on her own who have told her the virus caused swelling in the two bottom chambers of her heart.
An increase in her blood pressure medicine has helped some, but she said she just had to endure the long-term symptoms. She has been able to continue working throughout.
Wessel's heart rate and dizziness problems continued until July 2021, then with some breaks in symptoms until February 2022, when she began to feel more normal.
"I would go weeks feeling fine, then it would come back again, sometimes with new symptoms," she said. "There were nights I would wake up drenched in sweat, and I would have to change my clothes and sheets.
"The worst time I had was lying in bed watching TV, and I felt my heart racing and stabbing chest pain," she said. "From going to the doctor so much, I knew there wasn't anything 'bad' happening. It was just a side effect of having COVID. This was a scary feeling that also would happen riding in a car, sitting at my desk at work or on exertion with activity."
Some long COVID patients "feel good for a while, and then something happens" such as exposure to cold air, and their symptoms return, Sundareshan said.
Vanichkachorn said almost 30% of patients with long COVID aren't able to work for months after their initial infection, and some develop long-term disabilities.
"What's become apparent is that patients with long-haul COVID have a really hard time with function, and that includes getting back to work," he said.
"Everyone does get better, so I don't want people to be totally hopeless about this," Vanichkachorn said, "but it's a change in how they do things in their life. ... We don't know what the super-long trajectory of this is going to be."
Dean Olsen is a senior staff writer for Illinois Times. He can be reached at dolsen@illinoistimes.com or 217-679-7810.