A legal battle over a boy and his dog has ended, allowing an autistic second-grader to bring his service dog to school for good.

In a ruling released Aug. 24, the Fourth District Appellate Court of Illinois said the Villa Grove Community Unit School District #302, located south of Champaign-Urbana, could not keep seven-year-old Kaleb Drew from attending school with his service dog, Chewey, setting a precedent in the first known case to challenge the Illinois School Code regarding service animals in schools. The school district has now granted Kaleb and Chewey a permanent hall pass, apparently ending the year-long battle.

In July 2009, the school district barred Kaleb, then six years old, and Chewey from attending Kaleb's last three days of kindergarten. At age three, Kaleb was diagnosed with autism, a condition affecting social, communication and behavioral development. After trying many other therapies, Kaleb's parents, Brad and Nichelle Drew, obtained a trained service dog in July 2009 to assist Kaleb at school and home. [See "Kaleb's best friend," Nov. 19, 2009, by Amanda Robert.] Chewey is trained to calm Kaleb down by pressing his body against the boy, and Nichelle Drew says Chewey helps Kaleb transition from one environment to another and keeps Kaleb from wandering away during the night or at school.

"We're really seeing improvements in Kaleb's behavior," says Nichelle Drew. "We've been on time for school every day. Kaleb used to be upset in the mornings and didn't want to go to school. Now, he's immediately ready to get to work, and he's socializing more because he's more comfortable in his environment."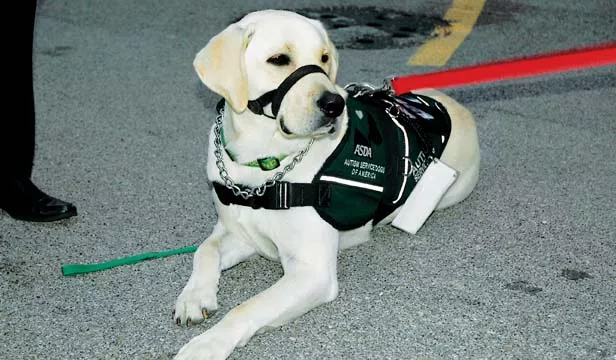 Before they obtained Chewey, the Drews had requested a meeting with the school district to include Chewey in Kaleb's Individualized Education Program, a federally-mandated plan developed for each special education student, but their request was denied. District superintendent Steven Poznic told Illinois Times in July 2009 that the district was not convinced that Chewey was a service animal.

The Illinois School Code states: "Service animals such as guide dogs, signal dogs or any other animal individually trained to perform tasks for the benefit of a student with a disability shall be permitted to accompany that student at all school functions, whether in or outside the classroom."

With the help of attorney Margie Wakelin of Equip for Equality, a nonprofit group focused on the rights of the disabled, the Drew family obtained an injunction from a Douglas County circuit judge on July 14, 2009, allowing Kaleb and Chewey to finish Kaleb's kindergarten together. The injunction was then extended to allow the pair to begin first grade. The Drews told the trial court that Chewey helps calm their son during transition periods and keep him from wandering off, but the school district said Chewey often appeared to sleep most of the day, was sometimes a disruption and had even hampered Kaleb's educational development.

In November 2009, the circuit court ruled in the Drews' favor, saying the case was "not even a close case" because Chewey fits the statutory definition of a service dog due to his special training by Autism Service Dogs of America in Portland, Ore. The school district appealed, and the appellate court upheld the lower court's decision on Aug. 24, saying the district's arguments were irrelevant because they "exceed the plain meaning of the statute."

Margie Wakelin, the attorney for the Drew family, says schools often have a predefined idea of what services they will provide for a student with a disability, and an autism service dog can fall outside that definition.

"A lot of students with disabilities use service animals," Wakelin says. "[Autism is] a unique use for service animals that many schools have not anticipated, but Illinois law doesn't say only the blind or hearing impaired are entitled to a service animal."

Nichelle Drew says she's just happy the battle appears to be over.

"The biggest thing is that there is a very good faculty and staff working with Kaleb," Nichelle Drew says. "They've all been wonderful with him, and they're working well with Chewey, too."

Superintendent Steven Poznic declined to comment, and calls to the school district's attorney were not returned. It is unclear whether the district intends to appeal the case to the Illinois Supreme Court."

Contact Patrick Yeagle at pyeagle@illinoistimes.com.
To read the appellate court's decision, click http://www.illinoistimes.com/Springfield/file-62-.pdf