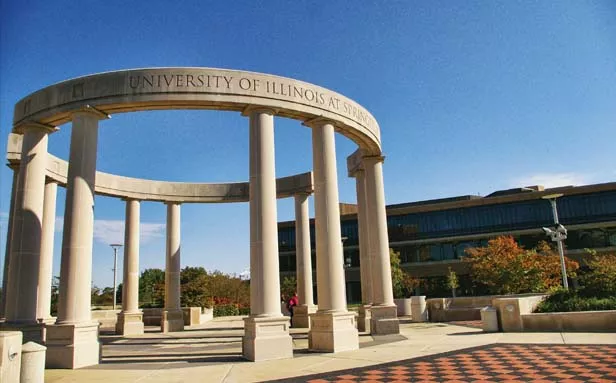 A group of union workers at the University of Illinois Springfield claims many of their non-union counterparts got raises above the university's own limits. The workers also claim UIS pays support staff nearly a third less than the same jobs at the university's flagship campus in Urbana-Champaign.

The claims come amid a round of wage negotiations between about 120 unionized UIS support staff and the university. The support staff handle jobs like cooking, maintenance and clerical work.

Derek Schnapp, director of public relations for UIS, said he could not comment because the issue is currently in mediation.

"The bottom line is both sides are working very hard," Schnapp said. "We're hopeful there will be a positive outcome."

The issue arose when UIS announced its "campus salary program" – basically an official statement of what raises are offered to employees. The union support workers' existing contract called for a 3 percent raise for the coming year, with the option to renegotiate if the campus salary program offered them a smaller raise, which it did. The UIS administration offered a raise of 2 percent for employees with a good evaluation, plus an additional half-percent for "market equity concerns," which refers to efforts to retain employees who may have other work offers.

The unionized support workers met with UIS officials twice to negotiate, but the two sides couldn't reach a compromise. The issue has been referred to a mediator.

In the meantime, the unionized support workers say the average raise for their non-union counterparts was 3.4 percent, well above the possible 2.5 percent raise officially offered by the university. Compared with the same jobs at the University of Illinois Urbana-Champaign, UIS support staff make 31 percent less, the support workers claim.

Normajean Niebur, an office support specialist at UIS, is president of the Local 4100 Support Staff Chapter, the union covering UIS support staff. Niebur says many of her union members have considered quitting at UIS because of the alleged pay disparity.

"We're losing a lot of knowledge, and many of my workers already have to hold two jobs to make ends meet," Niebur says. "There isn't an employee in my bargaining unit who doesn't care about the students. The faculty is already swamped, and they need support staff."

Niebur calls herself a "hard-core" union supporter. She says she walked with the late Cesar Chavez, the popular labor figure who is credited with organizing farm labor in California in the 1970s. Niebur says she previously filed two complaints for unfair labor practices against UIS in unrelated cases under the National Labor Relations Act, though she says she isn't considering a similar complaint in the current dispute – at least not yet.

David Beck, field service director for the Illinois Federation of Teachers, which covers Local 4100, says the alleged salary disparity figures come from salary data provided by the university administration. He says the average raise for faculty and administrative professionals at UIS was 2.8 percent – again higher than the possible 2.5 percent offered under the campus salary program.

"The university has been unresponsive when we bring up the data," Beck says.

He acknowledges that part of the alleged salary disparity could come from a program in which employees who take on extra responsibilities get paid extra. But Beck says any extra pay under that program wouldn't result in a one-year salary disparity because the extra pay is available every year, and because the union support staff can participate, too.

"That happens every year, so you shouldn't see a huge difference when you look at one year," he says. "Some people gain it and some people lose it every year. That would imply that a whole bunch of people got extra pay this year and have never had it before."

Beck contrasts the labor dispute with the deal given to former University of Illinois president Michael Hogan, who made $651,000 during his year as president. He now makes $285,100 as a history professor at UIS.

"From a labor negotiation standpoint, the university seems to have so much trouble negotiating a deal with unions, but it seems so easy to negotiate really sweet deals with people who are doing nothing," Beck said, referring to the fact that Hogan is currently on sabbatical but still drawing a salary.

"Pie in the sky is we want equity with the folks in Urbana," Beck says. "We know we're not going to get that, but we'd like a start. We're cognizant of the fact that this is not the best time to be asking for money. For us, it's about the notions of fairness and equity."

Contact Patrick Yeagle at pyeagle@illinoistimes.com.