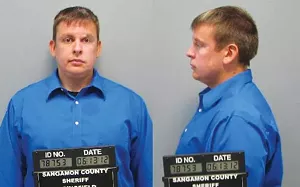 Joseph Langan, an erstwhile Southern View police officer turned criminal, remains on the payroll at University of Illinois Springfield despite a $40,000 settlement reached between the village and a woman who claims that Langan groped her.

Langan on Sept. 20 cut a deal with prosecutors who dismissed five felony charges in exchange for guilty pleas to a pair of misdemeanor disorderly conduct charges. Langan also agreed that he would never work again as a police officer or security guard.
It is not clear, however, whether Langan will be able to keep his job as a UIS police dispatcher, which pays him more than $22,000 a year. He has been on paid administrative leave since May of last year, when prosecutors charged him with five felonies after Tonya King and one of her co-workers accused Langan of groping them after the officer pulled them over.
"He's still on administrative leave until we review the court documents," said Derek Schnapp, UIS spokesman.
Michael Metnick, Langan's lawyer, said the issue of his client's continued employment as a police dispatcher has not arisen.
"I'm hesitant to say whether his job as a police dispatcher falls under that umbrella (of the plea)," Metnick said.
According to court documents, Langan grabbed King's breast and also placed her co-worker's hand on his genitals after pulling the two women over in the early hours of March 27, 2012. That unwelcome contact was the basis for the two misdemeanor disorderly conduct charges that had originally been charged as felony battery. Prosecutors dropped entirely felony charges of official misconduct as well as a felony charge of battery stemming from King's assertion that Langan had put her hand on his genitals.
"This is the appropriate resolution given the facts of the case," said Sangamon County state's attorney John Milhiser. "Looking at the facts of the case and preparing the case for trial, the main goal was to make sure that this individual no longer worked in law enforcement as a police officer."
King on Aug. 28 reached an agreement with the Village of Southern View to settle a federal lawsuit over the matter. She will receive $40,000, with no admission of wrongdoing by the village or any other person or entity.
Citing confidentiality provisions in the settlement agreement, Daniel Noll, King's attorney, declined comment.
Neither Metnick nor Milhiser would discuss details of the criminal case against Langan, but court documents indicate that prosecutors may have faced an uphill battle, given that King and witnesses who might have backed her account have criminal histories. King has been convicted of telephone harassment, a misdemeanor, and domestic battery, a felony. Her co-worker has a conviction for driving under the influence.
Langan, who had been a Southern View officer for barely a month before his encounter with King, came to the village with baggage. He was forced to resign as a Springfield police officer in 2008, after Brenda Caillier, a prostitute with a long criminal record, accused him of having sex with her while on duty. Langan quit after his accuser immediately reported the incident, then led department investigators to a used condom on the ground at Lincoln Park, where the illicit sex had allegedly occurred. Caillier, who was on the witness list for Langan's trial that was called off after his guilty plea, subsequently sued Springfield. She is now serving time in state prison after pleading guilty last year to charges of financial exploitation of the elderly.
Contact Bruce Rushton at brushton@illinoistimes.com.