An elegant finish to a rich holiday meal, fortified wines like sherry and port are perfectly suited to the long, cold nights of winter. These wines are steeped in history and tradition and, after years of declining sales, these wines are becoming once again popular. Many younger drinkers are discovering the versatility and complexity of this unique class of wines. Because of the higher alcohol content and oxidized character of sherry and port, they do not have be be drunk soon after opening like regular wine. Indeed many can be enjoyed for a year or more after opening. Both pair exceedingly well with artisanal cheese and nibbles, and are a delightful offering alongside a plate of holiday cookies.
Sherry has a long history in America. After Columbus embarked on his famous voyage in 1492 from his base in Andalucia, the region became an important center for transatlantic trade. Sherry was likely the first wine imported into the New World. Beginning in the 16th century, large quantities of sherry were shipped to America from southwest Spain.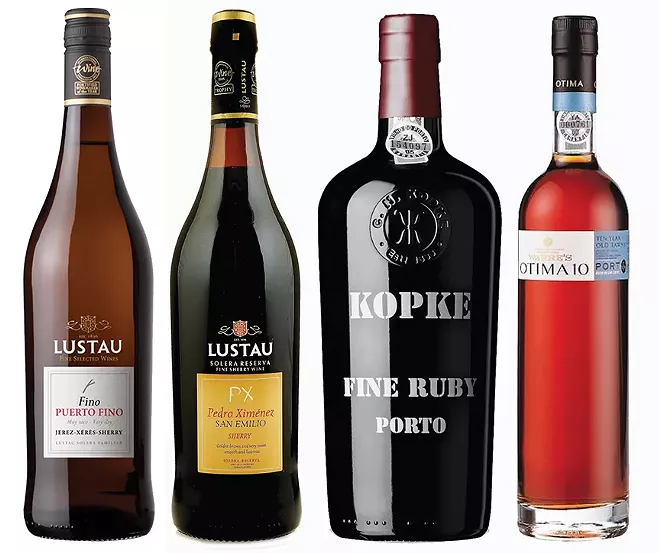 There are two main types of sherry: fino and oloroso. Fino sherry is aged in a special system called a solera. A sherry solera comprises a number of tanks or butts, known as a criadera. Fortified wine is withdrawn from the tank containing the oldest wine, which is replenished with wine from the newer casks. This replenishes nutrients and allows the blanket of yeast, or flor, to continue thriving and protecting the wine from oxidation. When the blanket of flor is lost, either intentionally by the winemaker or due to nature, the resulting fino sherry is known as an amontillado, turning amber in color and changing in character thanks to extended contact with air.
Oloroso sherries develop in contact with air without the impact of flavor development from a protective blanket of yeast. As they age, the wine gradually evaporates, turning dark brown and increasing in alcohol concentration. While there are some dry oloroso wines on the market, the majority are styled into sweet and cream sherries by blending in sweet wines or grape syrup.
Lustau Fino Puerto Fino Dry Sherry $16.99
Straw yellow in color with a heavy nose of citrus and popcorn. Baked apples and roasted almonds on the palate, with a steady, salty finish. Served chilled, this is the perfect accompaniment to spiced nuts, salty prosciutto, and would be a delightful pairing with sushi.
Lustau Pedro Ximenez (PX)
Sweet Sherry
$26.99
Made entirely from Palomino grapes which are left to raisin in the sun, this wine is aged for 12 years in contact with the air. Ebony-hued with pumpkin-tinged highlights, this wine is toothachingly sweet with aromas of dried figs, raisins and dates. Excellent alongside tangy blue cheese or cheesecake, or just go crazy and pour some over ice cream.
Port is a fortified wine made by adding brandy to fermenting wine in order to stop the ferment. Made usually with red and sometimes white grapes, the resulting wine is sweet and high in alcohol. Port as we know it is a result of conflicts between the British and the French beginning in the early 18th century. The Royal Navy's blockade of French shipping ports had the unhappy side effect of stopping the flow of French wine onto British dinner tables. So they turned to their Portuguese allies and began buying large quantities of wine produced in the Douro Valley, fortifying it with brandy so it would not spoil on its way to England.
Over 80 different grape varieties are authorized for the production of port, but in many vineyards the vines are so old that few growers have detailed knowledge of their identity. The grapes are primarily harvested by hand as the terraced vineyards do not allow for machine harvesting. And just like in "I Love Lucy," many of the grapes used to make fine port are still crushed by human feet. This ancient method is still considered best practice for pressing grapes as it breaks up the fruit without crushing the seeds, which would release phenolic compounds that cause a wine to become increasingly bitter as it ages. The juice is then strained and allowed to ferment before brandy is added and then it is transferred to oak barrels to be aged. It is at this point in the process differences in the various styles of port become apparent. While there are many different varieties of port, they can fall under three main categories.
White Port is made from white grape varieties and is aged briefly before bottling. It can be served over ice with tonic and lemon or chilled as an accompaniment to seafood and fine cheeses. Ruby Port is the most widely produced style. It is aged in large barrels to prevent the wine from oxidizing, allowing it to retain its signature deep red color and bright, juicy berry flavor. Tawny port is aged in smaller barrels which allow the wine to oxidize, giving them their golden color and evocative, spicy aroma, with flavors of dried figs and raisins
Kopke Fine Ruby Port
$19.99
An excellent value, this wine boasts a bright garnet hue and lots of juicy berry flavors. Perfect alongside chocolate mousse with raspberries or a fudge brownie. Reduce some with the pan juice left over from searing meat for an out-of-this-world sauce.
Warre's Otima 10 Tawny Port
$24.99
Amber in color, this wine manages to be fresh yet well aged. There are refreshing stone fruit flavors along with more mature tones of golden raspberry and oyster mushroom, with a hint of cigar box character. Perfect with soft cheeses like Camembert or rich nutty desserts like pecan pie.
Ashley Meyer is a Springfield-based food writer and cook. She worked as a personal chef while studying viticulture and winemaking at Lincoln University in New Zealand.