If you had the chance to build a world-class art museum, Bentonville, a city of 38,000 in northwest Arkansas, wouldn't be the first location you'd consider. But when you visit Crystal Bridges Museum of American Art, it's clear why founder Alice Walton chose her hometown, which also is the headquarters of her family's business, Walmart.

Crystal Bridges has made Bentonville, about 430 miles from Springfield, a top attraction as a getaway for art lovers. Since its opening in 2011, Crystal Bridges has welcomed nearly 1.3 million visitors, surpassing Walton's goals to make art accessible to people in the Ozarks and to bridge the worlds of art and nature. "It's basically doubled our expectations," said Diane Carroll, the museum's director of communication. "We draw people nationally and internationally."
Upon your arrival, you'll be lured to the beautiful outdoors. Nestled in a natural ravine, the museum's wood and glass pavilions designed by architect Moshe Safdie are grouped around two spring-fed ponds and are linked by two signature bridges. It's a stunning scene that entices visitors to explore more than 3.5 miles of trails. From sunrise to sunset, the trails provide access to sculptures, gardens, the spring for which Crystal Bridges is named, and a trail to downtown Bentonville.
Once inside the museum, the permanent collection of American art, from the colonial period to contemporary works, will make you want to stay all day. Highlights include Charles Willson Peale's portrait of George Washington, Asher Brown Durand's landscape "Kindred Spirits," Norman Rockwell's "Rosie the Riveter," and Mark Rothko's "No. 210/No. 211 (Orange)." You'll have to remind yourself that you're in Arkansas, and not Chicago or New York.
To expand its outreach, Crystal Bridges collaborates with other museums, including the Louvre in Paris, the High Museum of Art in Atlanta and the Terra Foundation for American Art in Chicago and Paris. As a result, the museum hosts temporary exhibitions that can't be seen elsewhere, such as the "William S. Paley Collection: A Taste for Modernism," on exhibit through July 7. On view are more than 60 works by Paul Gauguin, Andre Derain, Henri Matisse, Paul Cezanne and Edgar Degas that were part of the collection of the late CBS founder.
Coming next fall is an exhibit that will feature more than 100 contemporary artists from across the country. Already, the exhibit and its unusual art hunt have attracted national media attention. Over the past year, the museum's president, Don Bacigalupi, and assistant curator, Chad Alligood, have visited or contacted about 1,000 American artists in every region. Their road trips, still underway this month, have included visits to artists' studios in the Chicago area. Opening Sept. 13 and running through Jan. 19, 2015, "State of the Art: Discovering American Art Now," will showcase the artists' works and include weekly visits from some of the artists.
Next spring visitors can view a Frank Lloyd Wright Usonian house which has been moved from New Jersey to Crystal Bridges. Designed in 1954, the house will be reconstructed near the trails on the museum's 120-acre grounds this summer. The house has cantilevered balconies and a second story, rare in Usonian houses that usually are single-story structures.
Crystal Bridges also provides special programs designed for children, teens and families, including workshops, art-making classes, drop-in activities at the Experience Art Studio, preschool play dates in the galleries, and family events on Sundays.
The museum offers free admission to children and adults to its permanent collection, but charges those over 18 for some temporary exhibits. All the interior spaces of the museum, including the restaurant and gift shop, are wheelchair accessible.
Besides Crystal Bridges, another must-see for visitors is Bentonville's town square, which has a small-town feel with a Civil War statue, a picturesque county courthouse and several restaurants and shops. You'll enjoy the Walmart Museum in the original Walton's 5 & 10 that Walmart founder Sam Walton opened in 1950 on the square. The space serves as both a museum to Walton's success and as a store, with its original tin ceiling, an ice cream shop and displays of candy, toys and books.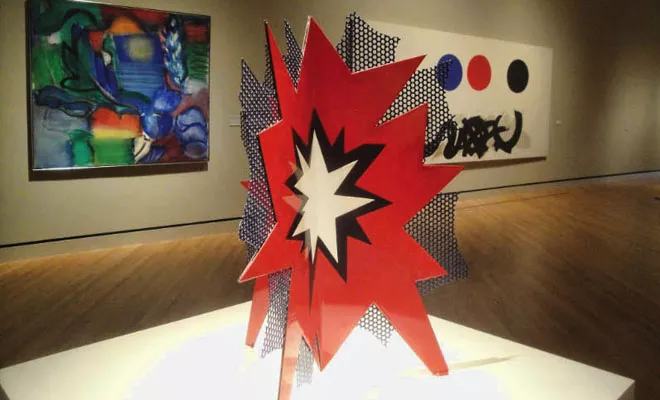 For information about other attractions in Bentonville and the surrounding area, such as the Museum of Native American History and the Pea Ridge National Military Park, go to: http://www.bentonville.org
Learn more about Crystal Bridges at http://crystalbridges.org. The museum is open every day except Tuesdays, Thanksgiving and Christmas. Also look for news from the Springfield Art Association about a possible trip there next spring.
Mary Galligan is a freelance writer and editor in Chicago. A former editorial writer for the Chicago Sun-Times and former Midwest correspondent for U.S. News & World Report magazine, she alternates writing the month IT travel column with Mary Bohlen of Springfield.