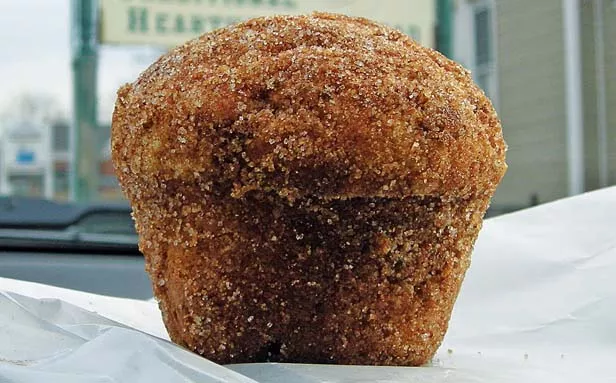 Dirt bombs come from the Bantam Bread Company in Bantam, Conn. The "dirt" is the cinnamon sugar in which they're rolled after baking. In 500 Things To Eat Before It's Too Late, the Sterns offer this description: "In the world of muffins it is the bomb, as in the best, so much better than a normal muffin, and in some ways so unlike one that it almost seems wrong to label it as such. Its mouth-feel is more like that of a doughnut: slightly crisp exterior skin enveloping nutmeg-tinged tenderness that is as velvety as a whipped cream pound cake."

The recipe calls for a 12-cup muffin tin, but that's only if the tin is for large muffins; regular-sized ones (in which cupcake papers come up to the edges) will yield 16-18 bombs.
Dirt bombs are best eaten warm, but will keep for several hours.
For the muffins:

1 stick butter, softened
1 c. sugar
2 large eggs
3 c. all-purpose flour
1 T. baking powder
1/4 tsp. baking soda
1 tsp. salt
1/2 tsp. ground nutmeg
1 c. milk

For the "dirt"

1 stick butter, melted
1 c. sugar mixed with 1 T. ground cinnamon
Grease and flour a 12 c. muffin tin. Preheat the oven to 350°.
Cream together the butter and sugar in a large bowl with an electric mixer. Beat in the eggs, one at a time.
Combine the dry ingredients. Add one third of them and one third of the milk to the bowl and beat at low speed until just barely mixed. Repeat twice, until all the ingredients are mixed together and the batter is smooth.
Fill the greased muffin tin no more than 2/3 full. Bake for 20-25 minutes, until the muffins are golden brown. Turn out on a rack until they're just cool enough to handle, then dip each in the melted butter and roll it in the cinnamon sugar.
Makes 12 large bombs, 16-18 smaller ones.