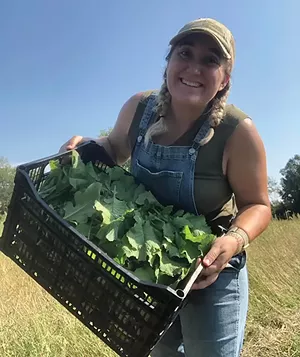 With groceries more costly than ever, let's talk about how to make the most out of what's in season and in your pantry. Produce is still available at many local farm stands like Suttill's Gardens and Jefferies Market through Thanksgiving, with prices that often rival grocery stores, especially for items like broccoli, squash, cabbage and greens. And because local veggies don't spend three weeks on a truck before they even reach the store they last much longer, therefore helping to reduce food waste.
When out of season, pantry staple veggies like frozen peas, green beans, sweet corn and canned tomatoes are not only less expensive than their "fresh" counterparts in the produce aisle, they are sometimes more nutritious choices as well. Frozen and canned veggies are processed within hours of harvesting and are harvested fully ripe, as opposed to many types of "fresh" produce which is picked underripe to facilitate lengthy cold storage.
While meal prep is often the key to avoiding costly and unhealthy takeout, it's hard to find the time. It can be helpful to just wash and chop messy-to-prepare veggies like cabbage, rather than prep a whole meal. Prep veggies as soon as possible after purchase – they take up less room in the fridge and are more likely to get used in a timely manner.
Unstuffed Cabbage
Serves 6
1 tablespoon olive or vegetable oil, or bacon fat
1 pound lean ground beef, sausage or vegan meat substitute
1 onion, chopped
1 green pepper, chopped
1 stalk celery, chopped
3-4 cloves garlic, minced
1 cup cooked brown rice
½ of a medium-to-large cabbage, roughly chopped or shredded
1 tart apple, peeled and chopped
1 15-ounce can tomato sauce
Sour cream or strained yogurt, to serve
Heat the oil in a large skillet over medium high heat. Add the meat and season with a pinch of salt. Cook until it's no longer pink and is beginning to brown slightly. Add the chopped onion, celery, pepper and garlic along with another pinch of salt. Saute until lightly softened and fragrant. Add the shredded cabbage and another pinch of salt and cook until just wilted (you may need to do this in batches). Transfer this mixture to a lightly oiled 9X13-inch baking dish and spread evenly with a spatula.
Add the chopped apple to the skillet and sauté lightly over medium heat until just softened, then pour in the tomato juice plus a can full of water. Bring this mixture to a simmer, then pour it over the shredded cabbage mixture in the baking dish and cover (the casserole can be frozen at this point or after baking – let it come to room temp before putting in the freezer). Transfer to a 350-degree oven and bake for 50 minutes, then remove the foil and bake 10-15 minutes more. Let rest 30 minutes before serving. Serve topped with sour cream or Greek yogurt.
Cheesy White Bean Bake
28-ounce can whole tomatoes (diced will also work)
2 cans cannellini (white kidney) beans, drained and rinsed
3-4 cloves minced garlic
1 teaspoon minced rosemary
1 10-ounce package frozen chopped spinach, thawed and squeezed dry
1 cup cheese, such as Parmesan or cheddar, divided
½ cup breadcrumbs
2 tablespoons olive oil
Lightly grease a three-quart baking dish. Pour in the whole tomatoes and crush them with your hands or a potato masher. Add the beans, garlic, rosemary, spinach and half the cheese. Mix to combine. In a small dish, mix together the remaining cheese, breadcrumbs, and olive oil and spread this mixture over the beans. Cover with foil and bake at 375 degrees for 20 minutes, then remove the foil and bake 10-15 minutes more until golden brown and bubbly.
Bacon and Egg Fried Rice
Serves 2-4
2 strips bacon, diced
2 cups cooked brown rice (not quick-cooking), cold
1 onion, diced
1 carrot, peeled and sliced thin
2-3 cloves garlic, minced
4 green onions, chopped
2 cups lightly steamed broccoli florets
1 tablespoon each sesame oil and soy sauce
2-4 eggs (one per person)
It is crucial to have all ingredients ready before you begin. Break up the cold rice with your hands so it's not in large clumps. Fry the bacon in a wok or large skillet until crispy. Remove the bacon and set aside. Add the broken-up rice to the hot skillet and cook until lightly brown and chewy. If using a wok, push the rice up against the sides of the pan, leaving an open space in the center. Add the onion, carrot and green onion and cook until just soft, about one minute, then mix the veggies in with the rice. Add the steamed broccoli florets (a microwave works well for that step), soy sauce and sesame oil and stir fry with the rice for about one minute. Remove from the heat. Heat a separate skillet over high heat. Add a tablespoon of oil and, when hot, crack an egg per person into the pan. Sprinkle the eggs with salt and cover with a tight-fitting lid and cook until the whites are set and crispy around the edges and the yolk is still runny. Divide the fried rice among plates, top with a fried egg and the crispy bacon and serve.
Southwest Baked Sweet Potatoes
Serves 2
2 medium sweet potatoes, scrubbed clean
2 tablespoons olive oil, divided
1 small onion, diced
1 green pepper, diced
1-2 cloves garlic, minced
½ cup sweet corn kernels
1 can black beans, rinsed and drained
1-2 tablespoons chipotle in adobo (Spicy! Add to taste.)
1 teaspoon each cumin and chili powder
Fresh cilantro, sour cream, and pickled onions to serve
Scrub the sweet potatoes and prick them all over with a knife. Rub lightly with oil and place them on a foil-lined baking sheet. Bake at 400 degrees for one hour until tender.
While potatoes are baking, heat a skillet over medium-high heat. Add the onion, garlic and pepper and sauté until softened and fragrant. Add the corn, beans, chipotle and spices along with a pinch of salt and ½ cup water. Bring to a simmer and cook for about 5 minutes until saucy. Top baked sweet potatoes with the bean mixture and garnish with cilantro, sour cream and pickled onions.