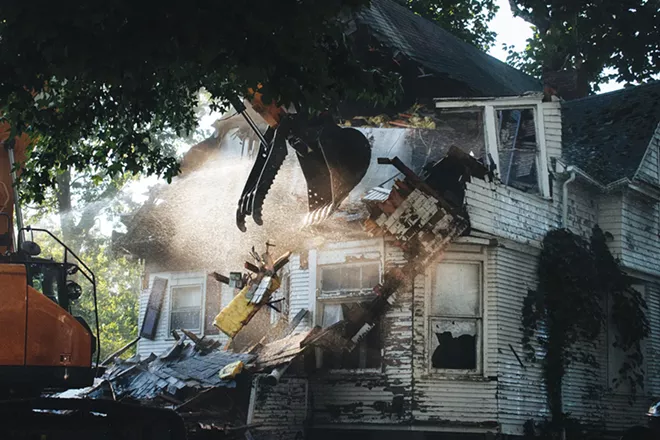 The time between when a home becomes uninhabitable, dilapidated or derelict and when it is torn down can often take years in Springfield, a reality the city council will seek to correct as it considers recommendations in a recent report by the Bloomberg Harvard City Leadership Initiative.
The city commissioned the study to find ways its abandoned property process could be improved. Released in early September, the report makes a number of recommendations on how the council can make changes across three offices to expedite the process.
The city had 173 listings for properties at some stage of the demolition permitting process as of last week, according to the city's vacant building registration website, though a number of individual properties are listed multiple times. The city demolished an average of 72 homes per year between 2012 and 2018, according to the city. In 2019 though, only seven homes were demolished. In 2020, 15 were demolished and so far in 2021, 22 homes have been demolished.
Ward 2, covering much of the city's east side, has a large number of homes either destined for demolition or in dire need of renovations to be saved from it, said Ward 2 Ald. Shawn Gregory. He said he supports finding ways to cut down on the time it takes to demolish such properties.
"One of the key definitions of blight is things that affect the community as a whole. And houses that have been vacant for a while and have animals living in them or are falling down need to be addressed quickly," Gregory said. "So much of that report was giving examples of houses in my ward."
The Bloomberg Harvard study recommends changes to three parts of city government – the Office of Public Works' inspection process, the Office of Code Enforcement's legal process, and the Office of Planning and Economic Development's economic development processes.
Recommendations include moving the city to proactively enforcing code violations rather than waiting to receive complaints, automating the process by which cases go from housing cases to building inspection cases, developing a scorecard to standardize how properties are deemed blighted and shortening the maximum time a property remains on the registry from three years to one year before it must be demolished.
The report also recommended the city could increase its use of municipal lien foreclosures, layer grant opportunities and create a land bank which is a governmental entity or nonprofit that converts abandoned and tax-delinquent properties.
The report also recommended better communication from the city to property owners, including creating a "nudge letter" to urge action when a property is found in violation, or to print on the notices of the violations themselves a list of resources that property owners can seek out.
Citizen confusion
Jessica Handy was unaware of any code violations when she purchased a property on the 900 block of Henrietta Street in October 2020 with the intent to make it a rental. She said she learned the home was on the city's demolitions registry only when she had performed some renovations and was preparing to have utilities reconnected in January 2021.
While she said the city was not at fault for her being unaware of the home's status on the registry, she feels the house – which shows few signs of wear – shouldn't be listed there now. Among violations listed for the property are parts of the building code about the condition of windows. Handy said her property's windows appear in no worse shape than other occupied homes on the block.
Navigating the process of getting the house back up to code – which involves a $500 quarterly fee and ensuring contractors are properly licensed – is a barrier Handy says can especially trip up families who are trying to repair homes themselves. She said considering the state the home was in when the family who owned it since 2006 was evicted in 2020, it should not have been put on the city's vacant property registry to begin with.
"How did it happen that the city took an interest in this not-blighted house?" Handy said. "If we (as a city) spent our resources trying to help this family stay in their home, maybe it would never have been on this list."
She is also up against a time limit.
"I found out it was on the list 13 months after it was put there," Handy said. "Every three months, I pay $500 to renew, and every three months, I think 'this will be the last time I do this!' But then life happens."
Find the Bloomberg Harvard City Leadership Initiative report detailing proposals to change the process for dealing with abandoned properties at tinyurl.com/f7sd3mky.
Contact Kenneth Lowe at klowe@illinoistimes.com.