Could Petersburg become the next Illinois destination community, like Galena or Grafton? A $3 million project funded by a local investor aims to take the Menard County seat a major step in that direction.
A home-grown design and construction team is busily transforming the northwest corner of the town square into a multi-use showpiece with dining, event and meeting space that has an ambitious July target opening.
At the center of the development is the 1872-vintage Broadgauge Building, the longtime site of the Robbins Department Store. Its metamorphosis from retail to regal is a tale of big dreams and hometown pride with a respect for history so keen that the work qualifies for federal historic preservation tax credits.
It's also a story about a Petersburg native who went away to make it big in the dot-com real estate world, returned home to work remotely during COVID, and wanted to do something spectacular that would benefit his rediscovered home town.
"The building has always kind of spoken to me"
Douglas Pope left Petersburg to attend college more than 20 years ago and returned permanently last summer due to the COVID-19 pandemic.
"That gave me the opportunity to move back to Petersburg for the first time in my career," Pope said. "I moved to an apartment right on the town square so I wouldn't drive my parents crazy, and it was a block away from the Broadgauge."
"The building has always kind of spoken to me and drawn me in. I grew up five blocks away from the Broadgauge on Seventh Street, so I spent a lot of time in the building as a kid," Pope said. "I made a really quick decision, within a week of moving back, that the Broadgauge would be my new passion and what I want to give back to the Petersburg community."
Since December Pope has purchased the Broadgauge Building, the adjacent Hubbard Building, nearby property to accommodate parking for the development, and a house that will be transformed into an Airbnb that can be used by Broadgauge wedding parties. Pope contacted people from the Petersburg community he'd known from his youth to help breathe new life into the properties.
"My career is assembling teams and building awesome products on the technology side, so I'm kind of doing the same thing on this real estate side," Pope said. "Assemble a really strong team and let them run with it."
Pete Olesen of Petersburg was the first person Pope asked to "run with it." Olesen is the Broadgauge project's creative director, and he helped Pope to identify other local talent to work on it. Olesen also put Pope's ideas into a design that will be unlike anything Petersburg has seen.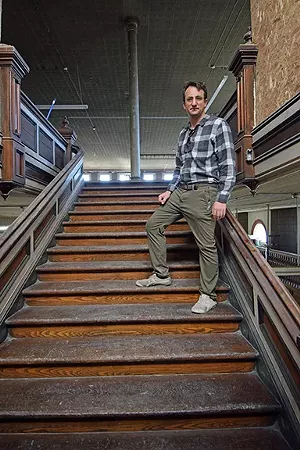 "Douglas is not cutting corners"
Pete Olesen said the main ground floor portion of the building will be Broadgauge Dining, an area that can seat up to 140 people, with a 40-foot-long bar along the south side of the building. The east side storefront windows will be extended from floor to ceiling and will become lounge areas with leather sofas and other fine furniture.
The Broadgauge's most striking interior feature, its dual, symmetrical staircases, have been uncovered and the supporting vault underneath them is being transformed into a wine cave, Olesen said. The Robbins Department Store's "shoe room," immediately north of the main dining area, will feature a large communal table with a window lounge for more private dining.
An open kitchen trimmed in tile and stainless steel, a separate catering kitchen, new accessible elevators, a local artists' display and sales area on the former store's jean sales mezzanine, and The Talisman Coffee Shop and Bakery will round out the Broadgauge's ground floor. There will be outdoor dining on the south side sidewalk with umbrellas, tables and tree plantings.
"Douglas is not cutting corners," Olesen said. "He realizes he has to open with a first-class operation, but it's also got to be approachable."
The Broadgauge's upstairs will feature a main ballroom with eight large chandeliers and a back bar to service the ballroom. The bar will have barn-type doors and high-top tables so it may be rented separately. An upscale boardroom-type space could be rented for meetings, retreats or get-togethers. The far north end of the top floor will have banquet or meeting space for another 100 people.
"Say somebody wants to get married at the Broadgauge but wants to save a little money," Olesen said. "You'd get the same food, you'd get to be in the same building, it would just be a little more casual."
The project doesn't stop at the Broadgauge property line. Pope has signed a 99-year lease for the two large upstairs rooms in the adjacent VFW building and is finishing them in a fashion similar to the Broadgauge spaces. The combination of Broadgauge and VFW spaces, more than 17,000 square feet, means that 350 people could be accommodated at one time upstairs and 150 downstairs, Olesen said.
The Hubbard Building to the west of the Broadgauge served as warehouse space for the old Robbins Department Store. That, too, has been purchased.
"The Hubbard Building is a forgotten gem. It will have floor-to-ceiling glass and a second story enclosed bridge with the Broadgauge Building," Olesen said. "The bridge will be a modern-day re-creation of the original that connected the retail and warehouse spaces. We've had ideas for this space, ranging from wedding chapel to art gallery to more party space. The back wall will become almost all glass looking out into an event garden."
"A vision of keeping its historic nature"
The Broadgauge project has met the National Park Service's strict criteria to be eligible for federal historic preservation tax credits. Stowe Olesen, Pete's son, is the project development manager and he said that's a testament to the careful planning and deep sense of respect that drives the team.
"From the beginning we started thinking about how to utilize the building's history, we always had a vision of keeping its historic nature," Stowe Olesen said. "There will be really classy finishes complementing the original historic features."
Stowe Olesen brought in Chicago designer William Golden, with whom he had worked in his previous career, and Golden has created "a classic look that central Illinois has in historic homes, and what William has done in choosing finishes and light fixtures is to elevate that look into the modern era with a nod to history," Olesen said.
"We are taking a space that has not changed all that much since 1872 and totally rethinking the space in ways that no one has ever thought before," Stowe Olesen said. "I think that is the most rewarding part of the project."
Both of the Olesens recommended that Pope hire Steve and Ann Ozella of Petersburg's Ozella Construction as the project's general contractor.
"The Broadgauge was built very solidly. A lot of the stuff has mortise-and-tenon joints along the studs which is really unique," said company owner Steve Ozella. "It has high ceilings, some of them are tin, and the things we have uncovered after 150 years of use are amazing."
Ozella has done work on several historic buildings on the Petersburg square and he said the Broadgauge has similarities with some of them.
"I hope we can preserve it for many years to come. This building was structurally pretty decent compared to some," Ozella said. "We are doing things to this building that will hopefully make it last another 100 years."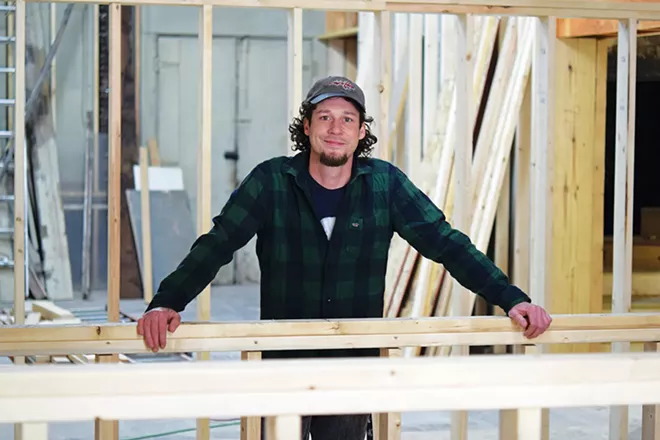 "Showcase the kind of food that Illinois has to offer each season"
Pope wanted the Broadgauge dining experience to bring to mind the historic boutique hotels he had encountered in San Francisco, Chicago and other locations, but also wanted the style of food and décor to be "uniquely Petersburg. We want it to stand out by itself," Pope said.
With that in mind, Pope hired Springfield native Eric Smith to be Broadgauge Dining's executive chef. Smith has worked in Chicago and Arizona and learned about the Petersburg project last fall when he was in town for his grandmother's funeral.
"The Broadgauge is going to be an approachable, elegant restaurant in a historic building," Smith said. "I am going to marry as much local, seasonal, approachable food to the décor as possible.
"Local farmers have been coming in to check the place out, and several are going to supply the produce and meat," Smith said. "We're going to cook food when it is in season; it's not going to be on the menu when it's not. This is going to be a place where you can get really nice steaks, but it's also a place where you can get a burger or a horseshoe."
Smith feels that farm-to-table philosophy will be one of the Broadgauge's primary draws.
"I want it to showcase the kind of food that Illinois has to offer each season, as well as the local favorites like the horseshoe," Smith said. "We want to use the best pork that we can find that's local, the best corn when it's in season. There are a lot of farms I'll contact in our area to see what they can do for us."
Phillip Cade, the executive chef at Illinois State University, is married to a Petersburg native. Cade was asked to help design the Broadgauge kitchen, order the kitchen and bar equipment, and help design and write the restaurant, bar and catering menus.
"The concept was to put a big kitchen in a small space and make sure it was efficient. We didn't want food coming out of three areas so it slowed service down," Cade said. "I've always run pretty clean kitchens, and having the visible kitchen with stainless steel and the tile will make it look that much extra nice."
Pope also brought Corey and Emily Faucon on board to run The Talisman Coffee Shop and Bakery. The Faucons recently ran the Long Nine Junction in Springfield.
Zillow talk
Douglas Pope was 23 years old when he called up some college friends and said, "Hey, I don't like working for a big corporation, do you want to start a company?"
The resulting collaboration with one of those friends was the nation's first map-based apartment search engine, called Hot Pads, which was founded in 2005 using money that Pope borrowed from the National Bank of Petersburg as well as an investment from his parents.
Pope grew the company for eight years and sold it to online real estate giant Zillow in 2012 for $16 million. Pope is now the vice president for Zillow's engineering division for rentals, which includes Hot Pads, and he supervises a team of software developers that build landlord and renter tools used by Zillow, Trulia and Hot Pads.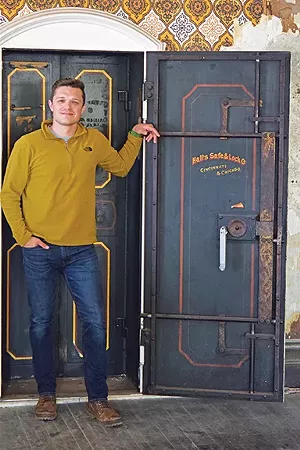 When the COVID-19 pandemic hit, Pope left the San Francisco area where he had been working at Zillow and relocated to his hometown to work remotely. That's when he had the inspiration for the Broadgauge project. Pope was also able to assemble a design team that probably wouldn't have been available were it not for the pandemic.
"I love Petersburg. I think our town square is beautiful and fun," Pope said. "The Hand of Fate Brewing Company had already brought new life to our town square, and there is so much opportunity for Petersburg to become a destination."
As another nod to this local-focused project, Pope is financing the Broadgauge work through the Alliance Community Bank in Petersburg.
Hand of Fate owner Mike Allison, who established his ever-growing and trendy business several years ago just a few doors down from the Broadgauge, is a fan of Pope's development.
"The more things that we can have in our town that draw people here, the better," Allison said. "Seeing this and being told that Hand of Fate was a catalyst for change, and seeing more of these things happen, it's really exciting to see what the future is going to hold for our town."
Project Development Manager Stowe Olesen said opportunities like the Broadgauge might come to small communities only once in a generation.
"The last project on this scale was in 1974 when PORTA High School was built," Stowe Olesen said. "Sometimes in small towns you need that economic engine to start running, and you need to have someone willing to spend the amount of money to make a good product that is going to last."
July isn't very far away and there's still a lot of work to do, but Creative Director Pete Olesen said a remarkable amount of progress has been made since work started around the first of this year.
"Douglas' 40th birthday is July 10, so that is our big, imaginary deadline," Pete Olesen said. "We'll be partying here no matter what, whether it's all open or key parts of it like the restaurant and the ballroom."

—-
History of the Broadgauge, prominent since 1872
Edgar Lee Masters wrote about the Broadgauge in his home town of Petersburg in an uncollected poem: "On Saturdays how thickly walked Crowds of the pioneers and talked; They traded at the Broadgauge store, Or idly stood, or idly stalked."
In 1871 J.A. Brahm, a merchant, banker and one of Petersburg's wealthiest citizens, purchased property on the northwest corner of the town square and constructed a two-story brick commercial building. Brahm, Caleb Laning and B.D. Wright moved into the completed building in 1872 and called their dry goods, clothing, shoes and grocery operation the Broadgauge Store. According to Rev. R.D. Miller in his "History of Menard and Mason Counties," the Broadgauge had the largest stock of merchandise in Illinois outside of Chicago.
Brahm sold the building in 1890 to H.H. Schirding. The structure was owned by the Schirding family, occupied by several retail and professional businesses through the years, and was renovated in the early part of the 20th century. The Robbins family opened a store in the Broadgauge and later purchased the building in 1950.
Many years later Randy Robbins, the last owner of the family store whose name still adorns the Broadgauge Building, wrote from memory a history of the prominent Petersburg building.
According to Randy Robbins, patrons of the 1950s Robbins store could sit on stools and look at sewing patterns, browse the north wall with shoes displayed from floor to ceiling, and request to examine the men's suits that were stored in special glass cases.
The Robbins family remodeled the store interior in 1962 and operated the business through the end of 1998. The Broadgauge building was sold in 2003 and used primarily as retail space until it was purchased by Douglas Pope earlier this year.
David Blanchette is a freelance writer and photographer, and is also the board chairman of the Jacksonville Area Museum under development in his hometown.