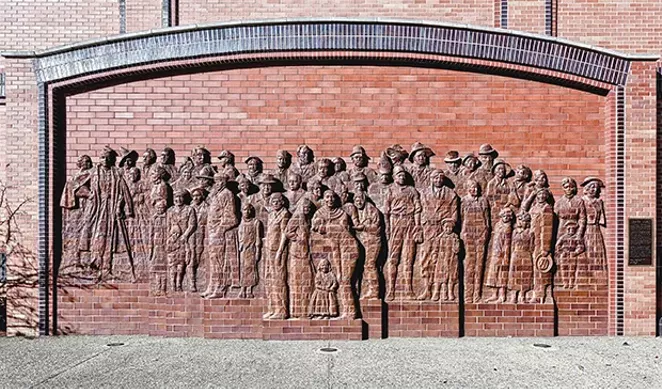 Just two hours east of Springfield with plenty of highlights that can be enjoyed in a few hours, Danville is a pleasant daytrip – and a city claiming a progressive new status.

A strong foundation
Danville considers itself at the corner of progress and history. Its water tower says so. That history is based on hard work and geographic opportunity.
A strong labor town during the Industrial Revolution, Danville's early economy grew in large part due to coal mining to the south and west of town, brick manufacturing and railroads, says Doug Ahrens, a lifelong resident who has made a career in city and public services. "In the 1900s, Danville was a bustling town enjoying strong growth and expansion." A large General Motors foundry, a General Electric plant and many others helped carry the city forward after World War II, Ahrens explained. "But, in the latter 1980s and 1990s, much of Danville's industry moved south and took with it most of its middle class employment."
Today, Danville is reclaiming its treasures. Removing deteriorating housing stock, restoring infrastructure and revitalizing the downtown are just a few of many economic development efforts aimed at growth and renewal, thanks to the city's remaining manufacturing enterprises, distribution facilities, service-based businesses and the efforts of dedicated forward-thinking residents who are creating a new appreciation for Danville's history, topography and cultural resources.
Natural beauty
Danville offers visitors a beautiful swath of nature in Kennekuk County Park, Kickapoo State Park and several other nearby parks; birding, fishing and a place to enjoy water pleasure craft on Lake Vermilion; its own Vermilion River running through town, an upcoming rails-to-trails byway and more.
"Those natural resources are an important part of our economic package," says Ahrens, who served for several years as Danville's director of public works and now serves as director for the Danville Sanitary District. Visit https://www.visitdanvillearea.com for parks information or to request a trail guide.
Fischer Theatre, 158 N. Vermilion St.
Many popular celebrities are now known as "hometown heroes" in Danville, including Dick and Jerry Van Dyke, Gene Hackman, Bobby Short, Donald O'Connor, Helen Morgan and others. Their fans can enjoy charming collection of memorabilia in the lobby museum of the Fischer Theatre.
The Colonial Revival-style theater first opened in 1884 and enjoyed years of shows, remodels and renovations for nearly 100 years until Kerasotes Theatres closed the Fischer in 1982. Danville took title and committed to a full-scale renovation in 1983. As funds became available, structural improvements now guided by the Vermilion Heritage Foundation moved the theater to its new presence as a performing arts center and viable historical landmark.
For now, movie fans of a certain age will thoroughly enjoy the homespun fun of the museum and gift shop open Thursday through Saturday, 10 a.m. to 3 p.m. Suggested donation is $5.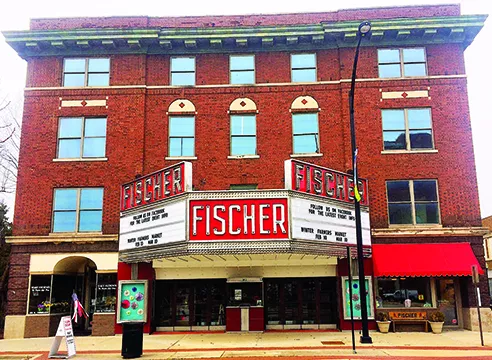 Wall murals tour
All within an easy drive of each other, most within a few square blocks downtown, more than a dozen vivid wall paintings showcase Danville's entertainment superstars, portray Abraham Lincoln at the Dr. William Fithian House, highlight the Chuckles candy plant, Balloon Classic, Tiger Head malt syrup, C&EI Railroad, the historic Danville Stadium – home of the Danville Dodgers, Danville Dans, and location of Universal Studio's film The Babe, and more. Take a peek at https://www.visitdanvillearea.com/
Temple Plaza, corner of Vermilion and North
When you're ready to stretch your legs, stop by one of downtown's green spaces, Temple Plaza. Through the Temple Building arch, you'll see the beautiful 30-foot brick sculpture created in honor of the humanitarians, dignitaries, laborers, teachers, children and others whose efforts created and whose spirits have fortified Danville through the years. Linger long enough to appreciate the detail in the design envisioned by, among others, Springfield architect T. David Parker and creator Donna Dobberfuhl. Stay to enjoy a summer concert or get a meal in one of the downtown restaurants such as Rich's Deluxe (21 W. North St.) or Jocko's Pizza (305 W. Williams).
More sites and architecture
The Fithian House at 116 N. Gilbert St. is an Italianate structure built in 1855 where, as local literature describes, Abraham Lincoln spoke from the balcony in his stocking feet. The Dutch Revival-style Holland Building at 324-326 N. Vermilion St. is on the National Register of Historic Places. The 92-foot Stone Arch Bridge across Stony Creek is a rare central Illinois example of a segmented sandstone bridge.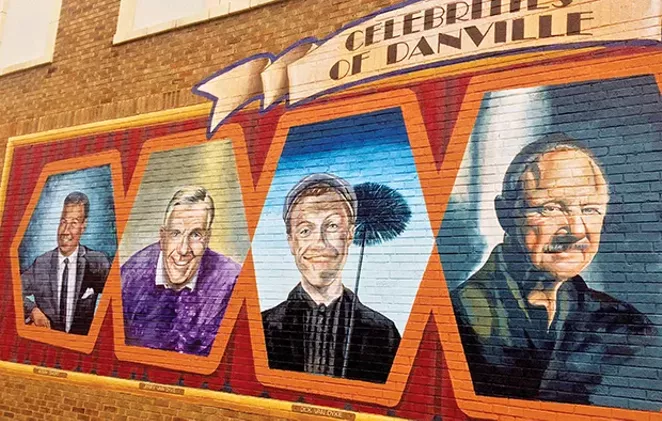 Vermilion County Museum and historic sites
Visit http://www.vermilioncountymuseum.org/ for highlights and hours of the museum, as well as Lamon House in Lincoln Park and Mann's Chapel in Rossville.
Events
Rhonda Ellis, marketing specialist for the Danville Convention and Visitors' Bureau, revealed these and other calendar highlights this summer: Vermilion County Fair June 20-24, Balloons Over Vermilion July 13, 14; Danville Dans baseball schedule, Midwest Heritage Quilt Show all July, Arts in the Park, Summer Sounds, Sleepy Creek Winery and more. For more information, visit https://www.visitdanvillearea.com/event-calendar/.
There, too, you'll find photos of the murals, parks information, and upcoming arts and culture events. "We have a tremendous arts culture here," says Ahrens. "We have our own symphony, many active theater groups and much more." To request a printed calendar or trail guide by phone, call (217) 442-2096.
"We get a lot of things done for a town our size due to our generous community, resilient population, individuals who donate their time and treasure to help the community move forward, and some courageous votes of our city council," says Ahrens. "We are a community of people who care. You don't necessarily see it in the people count yet, but we are growing."