Democrats say Joe Biden-Kamala Harris signs are getting swiped from Springfield yards in large numbers, particularly near Washington Park.
Thefts date back a week, Democrats say, with the level of thefts rising last weekend. Doris Turner, chairwoman of the Sangamon County Democratic Party, called the thefts "criminal acts."
"We're talking about thousands of dollars that people have invested in these campaigns," Turner told reporters gathered for a press conference outside the county courthouse called Wednesday, the day before early voting starts in Illinois. "It's criminal, you know, and we really need to have it stopped."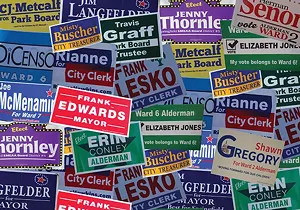 Turner said surveillance cameras have captured men in pickup trucks taking signs. While she said that there is video footage, Turner she said she doesn't have any suspect names, nor has she called police. Three people at the conference who that said that signs have been taken from their yards also didn't call police.
"I thought about it and then I thought 'I don't know, outside of my own personal frustration, that there was a value that warranted the Springfield Police Department coming and spending 30 minutes trying to talk to this woman who at that moment in time was very aggravated,'" said Grace Nanavati, who said that signs have been stolen from her yard.
Bill Houlihan, a member of the Democratic State Central Committee who is director of U.S. Sen. Dick Durbin's office in Illinois, said about 90 of more than 120 signs that he and his son put up have gone missing. "I've never seen anything like this in my adult life," Houlihan said.
Rosemarie Long, chairwoman of the county Republican Party, said the GOP is having the same problem. Sign theft, she said, happens every election season, but there seems to be an uptick this year.
"We've probably had hundreds of Trump signs missing," Long said. "I just figured that's the way it's going to be no matter what you do."
While signs cost money and taking them from yards is illegal, Long said she's not sure what law enforcement can do. "I just do not know how police are going to track down someone who stole a sign," Long said. "We've always had this going on."
Contact Bruce Rushton at brushton@illinoistimes.com