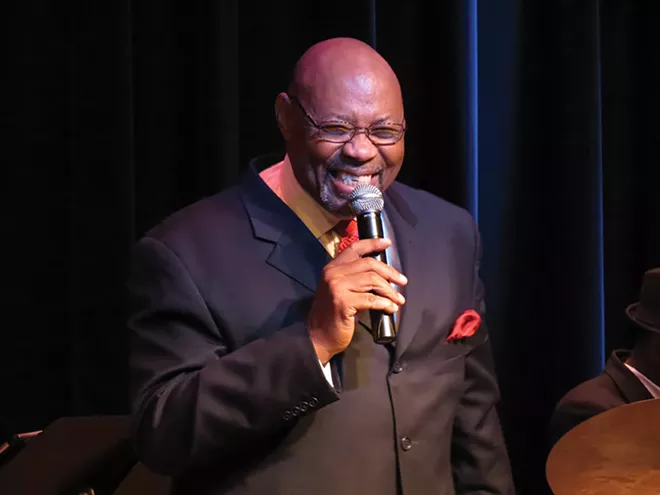 Here we go into the days of December, gearing up for the big holiday hoopla with plenty of marvelous music to supplement the adventure. Along with normal pub performances, be mindful of downtown Holiday Walk music and other special stuff for the season listed in our listings.
Would you like to spend an evening, specifically this Thursday, (yes, it's tonight or you're too late) hearing music made by two iconic Springfield musical artists? Come on then, to a Hoogland Center for the Arts Club Room show by none other than the man with a voice as smooth as butter, Johnnie Owens, joined by the indomitable and unique Josie Lowder. Call it jazz or whatever, Johnnie and Josie, backed by an elite group of musician friends, plan a special performance tribute to Ray Charles and Fats Domino, plus plenty of other good music made well and worthwhile.
Are you aware that Johnnie was once a member of the famed soul vocal group the Platters? After coming to Springfield he's made his performance mark in several ways over the years, including singing with the Illinois Symphony Orchestra, Springfield Theatre Center and other local groups. He directed the Muni's first production of Dreamgirls back in 1992 and later received the Mayor's Award for the Arts. Josie is best described as just Josie, one human possessed with an incredibly artistic soul showing an indefinable presence on stage with her funky style of getting the music across from her to you on whatever instrument she is currently learning or playing, from bass, to guitar to who knows what. Together these two shine and you should go see their emanating light.
On Friday, continue in the jazzy, funky, cool cat vein with a stop at Robbie's for Angel Brown's Smooth 'n' Blue Band as the Uptown Friday Night music series continues to roll on. After Angel, Kevin Ellis and Groove Orbit keep the groovy grooves going over at Anchors Away, a spot containing a certain history from a past venue filled with decades of music soaked into the basement walls. Keeping in the downtown area, Eric Brackett & the Cocktails serve up fine songs mixed just right at Craft Beer Bar, while After School Special, an acoustic duo featuring Aasne Daniels and Jerry Setnicky, are at The Incubator, a fairly new addition to our scene located on the northwest corner of Fifth and Adams, also a place with a history of live music from venues past.
Now that our new online calendar blends the bar listings with other music happenings it's very simple to be aware of other concerts, especially the many related to the upcoming Christmas holiday season. Why not check out a few this Friday, like the Appalachian Christmas Quartet at the West Side Christian Church, the Mary Bryant Choir at the Senior Services Center, soprano Awet Andemicael with the Illinois Symphony Chamber Orchestra at the First Presbyterian Church or even travel to Jacksonville for a concert by contemporary Christian artist Jason Gray (with special guest Kipper Gray) at the Assembly of God's event that includes a specially priced VIP ticket so you can hang out with Jason before the show and get special seats, too.
Now we are out of space and not even to Saturday or Sunday. What a shame that is, so let me say, I just heard that Andon Davis is in town this Saturday night playing with Mike Burnett at the Brewhaus. Also, the Sunday Funday lineup at various bars, clubs, wineries and breweries is exceptionally laden with many of our finest, locally based, solo-singing guitar players.
Be back next week as we move closer to 2020.