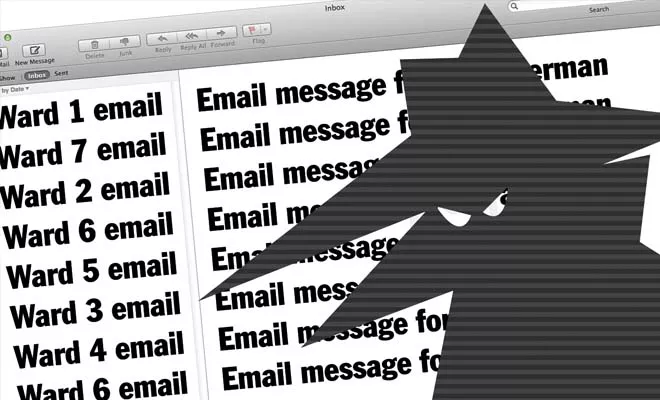 Where's Edward Snowden when you need him?
That may well be what Springfield aldermen are asking themselves as they ponder whether Nathan Mihelich, the city's communications director who reports to Mayor Mike Houston, has been snooping though emails sent to city council members via the city's computer system.
The issue erupted last week when aldermen received emails from constituents that included Mihelich's name in the "from" line.
"Has it always been past practice that you as the communications director see an email from a constituent that goes to an individual alderman before the alderman gets it?" asked Ward 6 Ald. Cory Jobe at a Jan. 14 committee-of-the-whole meeting of the council.
"No," Mihelich answered. "And I don't see them this time, either. It may say it's coming from the communications director, but I don't usually get them."
Usually. It wasn't exactly a categorical denial, and aldermen weren't satisfied when Mihelich said that he isn't cc'd on emails between constituents and aldermen.
"As communications director, are you looking at the emails that are coming to the aldermen before they get forwarded to us?" asked Ward 8 Ald. Kris Theilen.
"No," Mihelich answered. "It's never been my practice since I started."
Nonetheless, Jobe the next day joined Ward 1 Ald. Frank Edwards, Ward 2 Ald. Doris Turner and Ward 7 Ald. Joe McMenamin in filing a Freedom of Information Act request aimed at discovering whether Mihelich has had access to emails sent to aldermen. The request covers records of all purchases made by or on behalf of Mihelich going back one year, including any acquisition of computer gear or software. Two days later, Jobe on his own filed two more FOIA requests, one for all computer work orders from Mihelich, the other for records showing all email accounts routed to Mihelich or monitored by him.
"I'm doing that so I can make sure I get a look at everything," said Jobe, who authored the FOIA request and is eyeing a run for mayor in 2015. "This isn't political. This is about open, transparent government. I'm doing this because I felt like I was not told the full, accurate truth. I fully believe our emails were being intercepted."
An answer to the initial FOIA request for all of Mihelich's spending was due Jan. 23, although the law allows for a five-day extension. Similarly, responses to Jobe's subsequent records requests are due on Monday, Jan. 27, although the city could invoke five-day extensions for those requests.
Jobe said that delivery of emails has been delayed since Mihelich was hired in 2012. Since aldermen confronted Mihelich last week, Jobe says that the system has been tweaked, with a corresponding flood of messages from the city's system.
"I've gotten more emails in the last two-and-a-half days than I've gotten in the last five months," Jobe said. "There's a total lack of trust. … I don't think the mayor knew about this. I think that Nathan was doing what he wanted to do and got caught."
Mihelich is more than just a spokesman for Houston. He has said that he is considering a run for city clerk in 2015. He also has front-row access to sensitive information, judging by billing records from the Noll Law Office, which represented the city in a lawsuit filed by Calvin Christian after the police department shredded disciplinary files that were subject to FOIA requests from Christian. The billing records show that Milhelich sat in on at least a dozen meetings between lawyers, Houston and other city officials while the lawsuit, which settled, was pending.
"It looks like Nathan is a key player in the inner circle of Mayor Houston's inner operations," McMenamin said. "I think it's already political. … I think it's appropriate for Cory Jobe to inquire as to the activities of Mihelich and his activites with regard to emails directed to aldermen. You shouldn't look at other people's mail without permission."
Contact Bruce Rushton at brushton@illinoistimes.com.