It's chilly in the packed parking lot of the Eagles Club on Springfield's far east side. But inside the club's cavernous concrete ballroom more than 100 novice dancers are shedding sweaters and mopping their brows.

"Tee, ay—n-g-o! Tee, ay—n-g-o!" barks Pat Lyttaker as she leads a multigenerational crowd through the basic steps of the tango. "Good job, baby dolls! Good job!"

A professional dance instructor for three decades, Lyttaker peppers her lessons with pet names and reassuring pats on backs. Using a remote microphone and surrounded by a dozen assistants, most of them her former students, Lyttaker moves through the crowd, breaking down complex dance moves into simpler steps and often separating couples and dancing with each to get them accustomed to moving with a partner.

"It's a really rare person I can't teach to dance," she says. "I've been at this a long time."

Lyttaker, who lives in Williamsville, trained and received accreditation from the Arthur Murray Dance School in Memphis, Tenn. She taught for years at Arthur Murray and Fred Astaire studios in Florida and Virginia before returning to Springfield 14 years ago.

"There wasn't a whole lot happening in Springfield back then in ballroom dance," she says. "I started teaching group dancing at Lincolnland Community College and I've been at it in various venues ever since."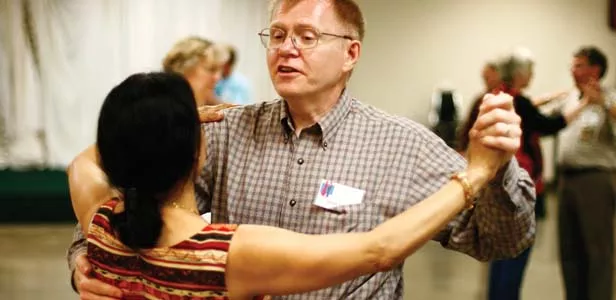 Even Lyttaker says she could not have foreseen the explosion of interest in ballroom dance of the past decade, let alone ballroom's possible elevation to sport competition at the Olympic Games. Thanks to "Dancing With The Stars" and other televised dance competitions, ballroom dancing as a media phenomenon, hobby and business is enjoying its greatest resurgence since the 1940s.

Lyttaker's Thursday night classes cover everything from swing to salsa. Some students are young couples unaccustomed to slow dancing who want to learn to waltz at their weddings. Others are senior citizens who show up for exercise and the opportunity to socialize and make new friends. In between is an egalitarian mix of social and economic classes, ages and ethnicities. Some come with partners who never leave their side. Singles, or anyone who wants to change partners, raise a hand to signal for someone new to dance with.

Lyttaker says with dancing, little except the dance names has actually changed since her days at Arthur Murray.

"Swing dancing is popular now, but it's really just a style of what we used to call Jitterbug. There are polka steps in country dancing, and the Texas Two-Step is the same thing as the Fox Trot. I teach salsa dancing, but it's pretty much the same mambo class I used to teach. Once you learn the basic steps, you can dance most anything."

Anything, that is, except West Coast Swing – the current dance du jour in bars and ballrooms around the nation.

Danced in six- and eight-count patterns, West Coast Swing is a "slotted" dance that takes place in a confined space.


"Couples don't dance West Coast in a circle like they do in ballroom," says Kim Beachy, who teaches West Coast Swing on Tuesday nights in the basement of Jerome United Methodist Church. Beachy likens West Coast to "dancing on a railroad track, with the female dancing between the tracks and the male dancing on the rails. He has to get out of her way as she moves forward and backward in the slot."

Beachy, whose day job is with the State Board of Education, has studied dance since childhood and began teaching professionally about eight years ago. She says West Coast Swing is her passion. So much so that she sometimes travels to distant cities for weekends of training with top professional dancers. She competes on the professional level in places like Chicago and St. Louis where its not unusual for 1,000 people to show up for workshops and competitions.

Why the West Coast Swing fever? Beachy thinks its the dance's versatility.

"People realize they can dance it to B.B. King's music or The Black Eyed Peas. Whatever you like to hear, it works with West Coast and changes the way you dance it. I love ballroom, but done correctly you never really look at your partner. In West Coast it's more casual — you're face to face."

Unlike Lyttaker, Beachy requires everyone in her classes to change partners continuously, regardless of their relationship.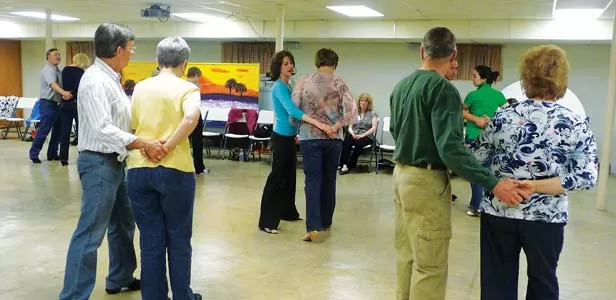 "I think you're a better dancer if you concentrate only on what you're doing. Couples who dance just with each other tend to focus on what the other person is doing, and not as much on their own dancing. This way it cuts down on arguments, and people's skills improve more quickly."

Gene Weiser, a retired musician and restaurant owner, says he used to watch other people dance but didn't take an interest in learning himself until about 12 years ago. What started as merely something to do turned into a major hobby that motivates him to take water aerobics classes five days a week so he can keep his legs and ankles strong for dancing.

Weiser met his wife, Sharon, both age 60, taking Lyttaker's classes. It's one of four weddings and 14 engagements that Lyttaker credits to her classes.

Both Sharon and Gene are helpers for Lyttaker's and Beachy's classes and Beachy and Gene recently competed as a couple in a pro/am at the Chicago Dance Camp. The pair finished third in a large field of dancers.

"People ask me if I mind Gene dancing with other women," says Sharon. "I tell them I was single for 27 years so I know what it's like to sit on the sidelines with 'happy feet' and no one to dance with. You meet good people dancing. I sure did."



For more information about ballroom dance classes and dance events in central Illinois go to www.dancingdates.com.

Julie Cellini writes freelance articles on arts and culture. And she takes dance lessons.