I've loved cooking ever since I was a teenager.
I enjoy cooking so much that late in life I started doing short, unpaid apprenticeships at notable restaurants in order to broaden my culinary skills. I'd approach a chef and say "I'm old and a bit slow, but I'm neat and precise." I started planning my vacations around restaurant apprenticeships, working in noteworthy restaurants from Montreal to New Orleans. I loved the experience and felt very much at home in a restaurant kitchen. The only problem was that, being in my 60s, I had a hard time being on my feet the long hours that chefs have to work.
After nearly 40 years as a dentist, I was ready for a change. I was struggling both physically and emotionally. I was in constant pain due to herniated discs in my lower back. I badly needed hip replacement surgery, but I had been putting off the surgery because I didn't want to be off work for 10 weeks. I finally could put it off no longer and scheduled the surgery. My recovery and rehabilitation did not go well. I walked with a limp and had to rely on a cane. Then my wife suddenly died. The future seemed very bleak.
At the urging of friends I joined the Longevity group at CrossFit Instinct gym and started working with a personal trainer, Mike Suhadolnik. He realized that I wasn't needing sympathy. I was needing hope. He worked with me an hour a day, seven days a week for three months. Under his guidance I changed my diet and lost 80 pounds and was able to get off my blood pressure medicine. He taught me not to accept my fate, but rather to create my fate. I realized I could now handle the rigors of restaurant work. I decided to retire from dentistry, sell my house and start a new career as a chef at the ripe old age of 65.
I have a school bus named Bertha that I've converted into a rolling tiny house. Bertha has a roomy, fully equipped kitchen and my original plan was to travel around the country hosting pop-up cooking events. It wasn't a very well thought out plan.
Two years ago Bon Appetit magazine did a feature on "America's Best New Restaurants" and wrote that the best new restaurant Nonesuch existed in an unlikely place – Oklahoma City. I remember watching a video about Nonesuch on the Bon Appetit Facebook page and thinking, "I would love to work at a place like this." I started following Nonesuch on social media.
When Nonesuch posted that they were looking for a line cook, on a whim I sent them my resume: seven pages of my dental experience and a half page of my restaurant experience. To my surprise they responded and invited me to come to Oklahoma City for a two-day working interview.
I was totally unprepared for the environment I walked into. Nonesuch was immaculate. The chefs get down on their hands and knees twice a day to scrub the floors. The dishes are plated with tweezers. You get reprimanded if the cooler door makes a noise while closing. Everybody was in their 20s, including the boss. The workdays were 14 hours long. I felt way out of my league. And I was frankly very shocked when I was offered the job.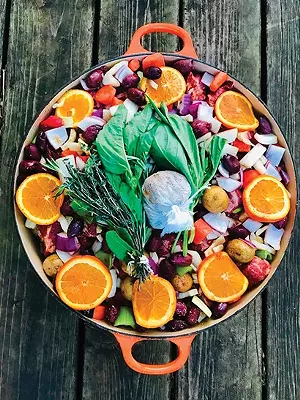 I was hesitant signing a 12-month apartment lease in Oklahoma City. I didn't know if I would be able to handle the 14-hour work days and 60-hour weeks or whether I could perform up to expectations. Reinventing myself at the age of 65 was risky business.
Now my year at Nonesuch is winding to a close. I wake up every morning looking forward to going to work. I get to work early and am one of the last to leave. When I am corrected or criticized, I come back the next day more focused. Every mistake teaches me something and makes me a better chef. I've never worked harder. I've never been happier.
This is an exciting time of life. I've divested myself of a lifetime's possessions, and I have no debt. I am free to pursue my dreams, and I'm not afraid to reach too far and occasionally fail.
Shortly after my wife died I attended a workshop put on by the Zingerman organization in Ann Arbor. The workshop taught me the importance of developing a clear vision of what I wanted my life to be and then doing the necessary work to achieve that life. Creating my vision required a major change in direction of the course of my life.
The transition from a dentist's lifestyle to a line cook's has been an interesting process. I'm in a tiny apartment. I have very little discretionary income but I am living quite comfortably. I love the people I work with. I enjoy interacting with our restaurant guests.

I didn't anticipate the public reaction I've received. When Nonesuch posted a picture on Instagram introducing me as their new chef they received hundreds of likes and comments. An artisan knife maker made me a beautiful chef knife. Bon Appetit published an article about me. This led to the "Today Show" spending a week with me filming me for a mini-documentary. I was recently interviewed by the Washington Post.
The next stop on this crazy journey will take me to Michigan's Upper Peninsula for a six-month stint cooking with Michelin-starred chef Iliana Regan at her weekend gastro-and-nature retreat, Milkweed Inn. The Inn is already sold out for the next two summers.
After six months at Milkweed Inn I'll be heading to Ann Arbor to Zingermans, the host of the workshop that helped me create my vision. This time, however, I'll be the seminar leader, helping others create their own visions of an inspired life.
After fulfilling his own vision of an inspired life, Dr. Chef Peter's updated vision is helping others create and achieve their own vision. If you'd like to chat, email him at docglatz@gmail.com.