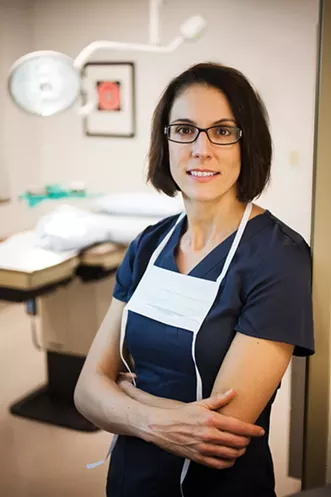 For over 25 years, Dr. Nicole Sommer has been performing surgeries that make patients' lives better. Sommer is a cosmetic, plastic and reconstructive surgery specialist at Southern Illinois University (SIU) Cosmetic Clinic located in the Institute for Plastic Surgery. She is also affiliated with HSHS St. John's Hospital, Springfield Memorial Hospital and Decatur Memorial Hospital.
Sommer wears many hats in her professional life. In addition to her plastic surgery practice, she serves as a professor for the Department of Surgery, director of the SIU Cosmetic Clinic and director of the Plastic Surgery Residency Program.
Her research interests include breast augmentation, reduction, reconstruction, revision surgery and male breast reduction. Sommer also performs nonsurgical and surgical cosmetic treatment for the face and body, along with migraine surgery. Sommer is a graduate of SIU School of Medicine where she completed a residency in both general surgery and plastic surgery.
"After finishing my residency in plastic surgery, I was most passionate about helping patients interested in cosmetic and breast surgery," shared Sommer. "I chose to pursue specialized training and experience in breast and cosmetic surgery, in Nashville, Tennessee, at the Institute for Aesthetic and Reconstructive Surgery. I wanted to bring this higher level of expertise in cosmetic and breast surgery back to the Springfield community."