Squad cars are poisoning Springfield police officers, according to emails showing elevated levels of carbon monoxide in police cars have resulted in two officers being taken to hospitals since November.
"The officer's CO level upon arriving to the hospital was close to critical," Deputy Chief Shawn Handlin wrote in a Nov. 19 email to David Lawler, the city's fleet manager. "That's unacceptable to officers." Handlin asked about testing all police cars.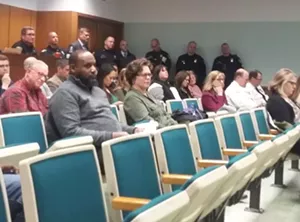 According to emails, high carbon monoxide levels have been an issue in Ford Crown Victorias, which haven't been made since 2011. "Exhaust getting into the cars is not a design problem it is an age problem," Lawler wrote in a Nov. 21 reply to Handlin. Propane leaks were also an issue, Lawler wrote. "As for the propane issues leaks have always been an issue some of the systems are quite dated," Lawler wrote.
Sgt. Bryan Henson, a member of the department's health and safety committee, brought the propane issue up to other committee members in an email that same day. "There is a fear of the propane leaking due to faulty components in the conversion kit as they are past their suggested life span," Henson wrote. "It has been said the life expectancy of the conversion unit placed on those vehicles was only five years. They are currently 7-8 years old."
On Dec. 5, a second officer was taken to Memorial Medical Center, where an elevated level of carbon monoxide in his blood was found, according to emails. He was given oxygen and was expected to recover sufficiently to return to work the following day.
That same day, chief Kenny Winslow emailed Lawler.
"I know this is a lot to take on and your folks do an awesome job but we cannot risk officers' health while doing routine required tasks," Winslow wrote in a Dec. 5 email, asking to be told when all cars had been tested and results documented. "As Deputy Chief Handlin stated today, unfortunately this can't wait…as this is the third recent incident and the officers' safety is paramount."
Lawler agreed that action was needed.
"I agree that all cars will need to be inspected quickly and we will need to start Monday the 9th," Lawler wrote in a Dec. 6 email that was sent to Handlin and a half-dozen others, including Winslow and city budget director William McCarty. "I am expecting several of the fleet cars to have manifold problems which will deem them unserviceable."
Nearly two months later, the chief still hadn't gotten answers.
"Where are we at on this?" Winslow asked in a Jan. 30 email to Lawler. "Do we have a list of cars that have been tested and the readings as I'm getting questioned about the safety of the cars. Need ASAP."
That same day, exhaust had found its way into yet another car. By then, the city had issued carbon monoxide detectors for cars.
"LO5 was downed tonight due to heavy exhaust odor inside the cabin of the vehicle," Officer Kristopher Hughes wrote in a Jan. 30 repair request. "The CO2 detector did not alarm and had batteries, however, the smell was nauseating and too overwhelming to operate." The following day, Lawler replied the vehicle had been tested with a sensor and a blower motor was to blame. After repairs, it was returned to service. Less than two weeks later, it was back in the shop after carbon monoxide was found.
"L05 was downed tonight for excessive exhaust fumes in the passenger compartment," Sgt. Bryan Henson wrote in a Feb. 8 repair request. "The officers took the squad (car) to a fire station. The carbon monoxide reading was five. This occurred three hours into the shift tonight."
One week later, on Feb. 15, a carbon monoxide alarm went off in a different car. An officer reported that he and a colleague had experienced headaches prior to the alarm sounding. "No hospital visit was required but we felt the effects of the gas," the officer wrote in an email to a sergeant.
Sgt. Grant Barksdale, police union president, said he believes there have been five incidents of elevated carbon monoxide in police cars. "There's a high level of concern," Barksdale said.
With officers looking on, the issue erupted this week at a city council meeting, where police chief Kenny Winslow blamed problems on an aging fleet and said new cars are on their way. One issue, the chief said, is color. The city is still waiting for 28 white cars ordered last summer, he said.
"I can get 10 black vehicles right now," Winslow said. "I don't know when I can get those 10 white ones." Barksdale said officers aren't picky about color. "Some departments use grey vehicles, some use white, some use black," the sergeant said. "We could stripe them the same."
Winslow's remarks came after the council on Feb. 18 declined to act on a budget amendment from Ward 8 Ald. Erin Conley, who proposed adding ten police cars to the city budget. "I've heard concerning reports about the condition of cars the officers are driving," said Conley, without going into specifics.
Winslow told aldermen that the city "out of an abundance of caution" had equipped cars with carbon monoxide detectors. The department understands, he said, that it competes with other departments for money.
"We do need cars, there's no doubt about that," the chief said during the Feb. 18 meeting. "Our garage does a wonderful job of keeping cars upright, moving and safe. … We're trying to be a team player here, but I'll definitely take ten more vehicles if you throw them my way."
Asked by Ward 1 Ald. Chuck Redpath whether officers are driving unsafe cars, the chief on Feb. 18 said no.
"Since Nov. 1, we have had three to four incidents of carbon monoxide," the chief said. In each case, he said, carbon monoxide levels were below Occupational Safety and Health Adminstration standards for eight-hour exposure.
During the week's council meeting, budget director William McCarty told the aldermen that the city is doing everything it can to ensure vehicles are safe. The city already has purchased carbon monoxide detectors and may acquire more. The city regularly tests police cars for carbon monoxide and responds to issues raised by officers. "The reality of the situation is, most of the concerns that have been conveyed to us when we've inspected those vehicles and we've run the tests, the tests have turned out negative," McCarty said. "It's been some other issue."
Contact Bruce Rushton at brushton@illinoistimes.com
.