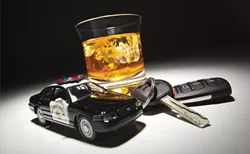 A Springfield police officer who crashed his car in 2014 with an open bottle of whiskey inside stood trial last week for driving under the influence.

James Stewart was initially placed on administrative leave, then put on desk duty after crashing his car into a concrete median on the 1600 block of Stevenson Drive on April 12, 2014. Stewart, who was off duty at the time, refused to perform roadside sobriety tests or submit to a breath test.
Stewart prevailed in the early stages of the case, successfully challenging the suspension of his driver's license that is supposed to be automatic when suspected drunken drivers refuse breath tests. To cancel suspensions, drivers who refuse tests must convince a judge that police either didn't properly warn a motorist of the consequences of refusal or didn't have sufficient reason to request a breath test.
After canceling the suspension last year, Sangamon County Associate Judge Rudolph Braud declined a defense motion to quash Stewart's arrest, which could have ended the case, and so a bench trial was held last week. Braud had not issued a verdict as of press time.
Stewart was arrested by fellow officers after two passersby called 911 to report that his Toyota Camry was disabled on the roadway, with the left front wheel broken off. One woman who called 911 told the dispatcher that Stewart had tried to put his car in gear and drive away, despite the broken wheel, and she believed that the officer was intoxicated.
Police found a 1.75 liter bottle of Maker's Mark bourbon in Stewart's car that was two-thirds empty. Stewart acknowledged having three or four drinks at another officer's house in the four hours before the crash.
"Yes, it could have been six to eight ounces of alcohol or it could have been as little as three ounces," Patrick "Tim" Timoney, Stewart's lawyer, said during closing statements.
Stewart sounded confused in an audio recording that chronicled his arrest.
"Where were you at?" an officer asked Stewart.
"Going home," Stewart answers. "Take me home."
"I can't, unfortunately, do that," the officer responds. "I don't like being in this position any more than you do. I don't want to do this to you. I really don't."
Sgt. Matthew Fricke testified that Stewart after being arrested asked him to recommend a lawyer as many as 20 times.
"He kept asking that same question over again, wondering what would happen to him," Fricke testified. "He sounded a little emotional, repeating himself over again."
Stewart in previous proceedings had testified that he swerved and hit the median while attempting to avoid a dog that had run onto the road. Officer Timothy Jenkins, a designated DUI enforcement officer for the department, testified that Stewart's walking was deliberate, his breath smelled of alcohol, his eyes were glassy and his speech was slow and slurred.
Stewart said that he suffered a head injury during the accident with symptoms that could mimic signs of intoxication. He said he noticed a lump on his head on the morning after the accident, a Saturday, and wasn't feeling right, so he went to his doctor the following Monday.
"I was having nausea," Stewart testified last week. "Things were fuzzy. I was having balance problems."
Assistant state's attorney Derek Dion questioned whether a head injury was responsible.
"Do you believe this was a hangover?" Dion asked the defendant, who answered no.
During closing statements, Dion argued that one of the most important elements in the state's case was Stewart's refusal to take a breath test.
"If he's not intoxicated, why not do it?" Dion said.
Dion also pointed out that Stewart, who testified that the lump on his head the next day measured two or three inches across, didn't point out the injury to anyone in the weekend before he went to the doctor, even though he had seen other officers the day after the accident.
"He didn't think to show it to a fellow officer and say 'Hey, look at this,'" Dion told the judge.
Timoney during closing arguments reminded the judge that the state had to prove its case beyond a reasonable doubt, and the attorney argued that the burden hadn't been met. It's not unusual for suspected drunken drivers to refuse breath tests, he said.
"There's not a single police officer or judge or state's attorney who would have taken the breath test," Timoney argued. "Judge, this isn't a very complicated case at all. It's unusual because of Jim's status as a Springfield police officer. It's getting more scrutiny, but the standard of proof remains the same."
Contact Bruce Rushton at brushton@illinoistimes.com.