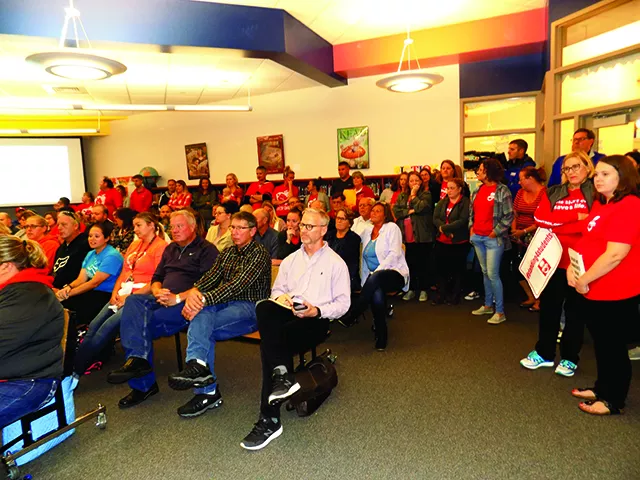 I don't know much about Adam Ehrman, the moderately embattled superintendent of the New Berlin School District, and I know as much after a four-hour school board meeting last week as I did before.
The New Berlin Education Association had called on Ehrman to resign, saying its members had taken a no-confidence vote. Two television stations dispatched cameras!
What, exactly, is the problem? That's tough to figure.
On the one hand there is a superintendent praised for dressing like a cowboy to read to kids and helping students and teachers with discipline issues. At the board meeting, Tyler Robinson recalled his seven-year-old son, who plays for the Mets in a kids league, wearing his jersey to school one day. Ehrman, a Mets fan who can go on and on, stopped the boy in the hallway to talk baseball, making him feel welcome at school. "My son thought, 'That's the coolest thing,'" Robinson told me. The school board praises Ehrman for fiscal success – the district had 471 days of operating cash on hand as of June 30, which seems an awful lot. "I have more resources than I could ever need," one teacher told the board.
On the other hand, there is the villain described in a union press release, a man who has "repeatedly demonstrated a lack of respect for the collective bargaining agreement," "demonstrated a leadership style that lacked communication or an ability to accept responsibility," "repeatedly circulated misinformation and false information" and "avoided building authentic relationships or communicating transparently." There's also failure to safeguard the district's financial condition and failure to ensure that the superintendent and his staff respect laws that protect the right to be in a union.
Ehrman's detractors have offered few examples to bolster accusations. Vicki Rapier, who taught at New Berlin Elementary School for 35 years before becoming a substitute three years ago, earned the most applause after saying she recently was informed that she could no longer be a substitute. "I can't think of anything I've done wrong," she told the board. She's refused an offer to meet with Ehrman. "At this point, I have no intention of returning to the district," Rapier said. Ehrman danced when I asked whether Rapier was told of any concerns. "People say things – just because people say things doesn't make them true," he answered. He quibbled with the notion that Rapier has been banished. "We haven't said, 'No, we don't want you,'" the superintendent said. "We just haven't called recently."
There's talk of intimidation. The union last month sent board members a copy of a text allegedly sent by an unnamed administrator to an unnamed recipient in 2017, when teachers didn't have a contract: "I'm not saying this to be threatening, but if it comes to a strike, any non-tenured will get their walking papers if they participate."
When that didn't sway minds on the board, Angie Raymond, a former New Berlin teacher who was on the union board, wrote a letter this week to the school board, saying she left for the sake of her mental health and that Ehrman had forced employees to sign documents regarding nonrenewal of work contracts before they had a chance to consult with attorneys, the union or spouses. Ehrman played hardball after union members two years ago rejected a tentative contract approved by union leadership – the union president has since resigned and sided with Ehrman in the no-confidence kerfuffle. "So, what is the response…we do nothing," Ehrman wrote in an email to board members that contained more bold-faced letters and all-caps and italics and grammatical errors than would seem excusable. "The act of doing nothing is a response (not a reaction). It will show those that are driving the union bus right now…which are using considering using fearmongering tactics to incite a reaction from us that those tactics will not work in their favor. I have prepared a media statement IF the media contacts me."
A contract, eventually, was reached, but rancor remains. Two teachers present at last week's board meeting spoke against the no-confidence measure. Emails from others who support Ehrman were read aloud. There are 70 teachers in the New Berlin School District; 58 are union members, and two departures, Ehrman tells me, were made official the day that the union announced the no-confidence vote. The superintendent tracks these sorts of things: A year ago, he says, just one teacher didn't belong to the union. Joseph Kindred, president of the New Berlin teachers union, says 40 teachers cast ballots in the no-confidence vote. He couldn't provide a precise final count but says that the decision was overwhelming.
These numbers don't seem to help the union. I didn't hear parents blast Ehrman last week, but I did hear a couple question the hubbub. "I deal with ignorance on a daily basis," said Kevin Howell, an Illinois State Police trooper who acknowledges that his daughter and the superintendent's daughter are friends. "When there's a vote of no confidence and we don't know what's going on, it's unsettling to us as a community."
If I was the grader, I'd give the union an incomplete – when you demand someone's head, you should say here's-why in terms that anyone, instantly, can understand. Otherwise, folks are apt to dismiss you as whiners who should run for school board if they don't like the way things are run, which is what the board did last week in voting 7-0 for a resolution stating full support for the boss.