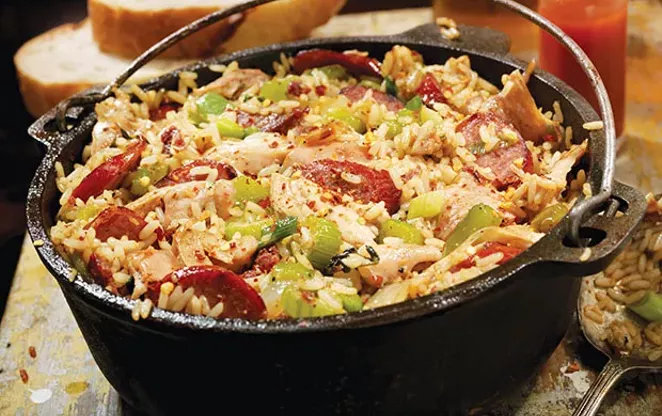 Food and music top the list of things I'm passionate about. Several years ago I saw a southwest Louisiana band called the Red Stick Ramblers who played a mix of Cajun, Texas Swing and gypsy jazz. At the set break they announced that the Ramblers hosted an annual festival in Lafayette – the Black Pot Festival & Cookoff – that celebrated their Acadian heritage and sought to preserve their musical and culinary traditions. They described the Black Pot Festival as, "not just a festival. It's a way of life."

The festival was preceded by Black Pot Camp, a week of workshops held at a nearby campground. Fans of the late Anthony Bourdain might remember his No Reservations episode when he visited Cajun Country and participated in a boucherie – a whole hog roast. The boucherie was held at the same campground as Black Pot Camp. Several of the musicians from the upcoming festival held clinics devoted to different musical traditions. There were also Cajun and Zydeco dance classes. And my favorite: Cajun cooking classes.
These cooking classes weren't taught by chefs in white chef coats, but by "ordinary" guys in ball caps, blue jeans and plaid shirts. The dishes they taught weren't the refined cuisine you might find in New Orleans, but rather the rustic cuisine you would enjoy on fishing and hunting trips and campouts.
Chicken and Sausage Jambalaya is an iconic rice dish that speaks the languages of Louisiana. As is the case with many Louisiana dishes, there are two distinctly different styles of jambalaya – Cajun and Creole. Cajun jambalaya, like many traditional Cajun dishes, is a one-pot meal typically cooked in cast iron. Long ago Cajuns used cast iron cookware because other materials weren't available. Most families only owned one pot and cooked all their meals in it – usually over a wood fire. Cast iron is very durable, conducts heat well and builds up a layer of seasoning that creates a non-stick surface.
Cajun jambalaya, which is the kind you find in Southwest Louisiana, is sometimes referred to as "brown" jambalaya because the meats are browned first, onions are added and allowed to carmelize, followed by bell peppers and celery. Rice and stock are then added to the browned meat and vegetables. Southwest Louisiana is known for its readily available smokehouse meats and fresh-killed poultry. Cajun jambalaya has a smoky, spicy flavor profile and is amenable to improvisation based on what's available at the moment.
Creole jambalaya, the type you'd find in New Orleans, differs from its Cajun cousin because it includes fresh tomatoes and is therefore called "red" jambalaya. It is considered more refined and usually contains shrimp.
I learned to make Cajun Chicken and Sausage Jambalaya at Black Pot Camp from a smiling, rotund Cajun named Bruneaux (pronounced Bruno). His "kitchen" setup was a cast iron pot on a metal stand over a wood fire. He rough-cut his vegetables "camp-style" on a picnic table. Nothing was measured, nothing was timed. As the sun slowly set, the whole process was guided by the smell and sounds coming from his black pot.
I had the opportunity to apply Bruneaux's cooking lessons last week while camping in Bertha Bus at the John Hartford Memorial Festival in Bean Blossom, Indiana. I was hosting a party for the Saturday night headliners Great American Taxi and needed to prepare a large quantity of food. I had chicken thighs and vegetables in my cooler and neighboring campers contributed smoked pork and andouille sausages. I assembled a group of volunteer prep cooks, passed around beers and, to the sounds of a string band playing in the background, we improvised our way through Bertha Bus Cajun Jambalaya. I didn't have a large cast iron pot on board so I substituted my paella pan. And because we had some zucchini and asparagus, we included it as well.
Bertha Bus Cajun Chicken and Sausage Jambalaya
This recipe is the basic format I follow. Use homemade chicken stock whenever possible. My favorite Cajun seasoning is "Slap Ya Mama" available from Amazon.
Ingredients
4 tablespoons, or more, olive oil to cover bottom of pan
1 chicken thigh per person
6 inches sliced andouille or smoked pork sausage per person
¼ cup chopped onion per person
1 clove minced garlic per person
¼ cup chopped celery per person
¼ cup chopped bell pepper per person
½ cup long-grain rice per person
1 cup chicken stock per person, warmed or at room temperature
½ teaspoon Cajun seasoning per person
Salt (to taste)
Thinly sliced green onion tops for garnish
Preparation
Over medium heat, heat a large (preferably cast iron) pot, and add enough oil to coat bottom of pan.
Add chicken and cook until it begins to brown.
Add the sausage and brown slightly.
Add onions and garlic and sauté until translucent.
Add bell peppers and celery and sweat down.
Push the meats and vegetables to the perimeter of pan and add the rice. Stir rice until well-coated with the oil.
Ladle in the stock
Add the Cajun seasoning and stir while cooking a few minutes.
Bring the rice to a boil while scraping the bottom of the pan.
Adjust heat to maintain a simmer. Do not stir from this point on.
When the rice is "al dente" turn off the heat and cover with foil. Set aside to rest 20 minutes.
When ready to serve, garnish with the green onion tops.
Peter Glatz and Bertha Bus are back in Oklahoma City after cooking at the John Hartford Memorial Festival. He is developing new dishes for the Bertha Bus menu in the kitchen of Nonesuch. His current project is Okie Gnocchi.