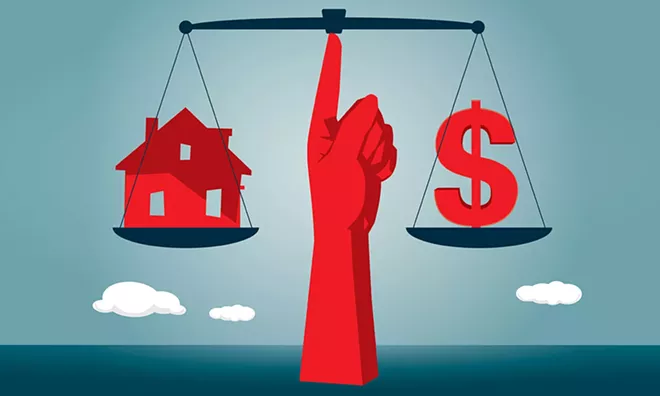 Springfield is one of the most racially segregated cities in the United States, according to experts. Citizens Club of Springfield hosted a panel discussion last week that focused on the structural challenges that make homeownership, especially for people of color in Springfield, so difficult to achieve.
As part of its third installment in a series of public forums about confronting inequalities in Springfield, Citizens Club welcomed Tyrone Dooley, head of the school of Public Management and Policy at University of Illinois Springfield, Valeria Cueto of the Springfield Immigrant Advocacy Network (SIAN), Jackie Newman of the Springfield Housing Authority and Polly Poskin of the Harvard Park Neighborhood Association to speak on various aspects of a problem they all said is readily apparent: For many families, affording, remaining in and maintaining a home is becoming increasingly difficult, with results that are harmful to the community as a whole.
Springfield's stark divide in white homeownership versus Black homeownership looks a lot like the story in the rest of the country, Dooley said.
"For far too long, communities of color have been impacted by past policies and conventions, and have had some difficult issues that make it virtually impossible to access a piece of the American dream," he said. "None of the 100 cities with the highest Black populations have a Black home ownership rate close to their white home ownership rate."
Dooley cited 2018 household income figures that show Black families in Sangamon County have a median annual income of $27,000, whereas the same figure for white families is $66,000. The result is concentrated poverty in majority-Black neighborhoods in Springfield, particularly on much of the east side, Dooley said. The ongoing effect is to entrench low property values, as many lenders who consider things like home equity loans consider the value of surrounding properties among the factors that determine how much money might be approved.
There are other factors at play for immigrant families, or families with mixed immigration status, Cueto said. About 4.5% of Springfield's population are immigrants, though Cueto said that may be a low estimate. For immigrants, especially those more likely to be frontline workers, there were hardships before the pandemic led to devastating job losses and health risks, Cueto said.
Anti-immigrant rhetoric ramped up in 2016 as Donald Trump campaigned for the presidency. While Illinois passed the Trust Act the following year, which protects those who may be undocumented from being detained for immigration reasons when they interact with police on other matters, Cueto pointed out that Springfield's city council tabled its "Welcome City" resolution just two months later, sending a decidedly mixed message. The resolution has never passed.
"So many families working with SIAN face housing where conditions are not necessarily safe, and families are unable to lobby for the remedy to these things out of fear of what would happen if they did advocate," Cueto said. "All of this has been exacerbated by the pandemic, which knocked out employment for people in restaurants and hotels, and that has led to people dealing with housing insecurity."
Keeping homes in older neighborhoods well-maintained is also a struggle, Poskin said. Government has not responded to systemic challenges in a way that prioritizes houses as homes, Poskin said, rather than structures judged entirely by their monetary value.
"We are working very hard to overcome what I see as local, state and federal government resistance to shifting resources toward redevelopment in our older neighborhoods," Poskin said. "Older neighborhoods have become the poster child of unfairness. They have less institutional support from public and private wealth."
In particular, the city's proposal to reduce the amount of time a home may sit on the vacant property registry before being demolished from three years to one year should be approved, she said. She also called for a landlord registry in Springfield, responding to a question from a participant.
"We desperately need landlord registration," Poskin said. "What we don't have that we desperately need in a democracy is transparency in who is impacting the conditions where we live. In this city, there is no easy way to access information about who owns property that is deteriorating."
Ultimately, Dooley said, homeownership is one of the primary means of transferring wealth from one generation to the next. In that light, a barrier to homeownership is a barrier to wealth.
"From an African American perspective, we're looking at homeownership rates that are 30% less than white homeownership, and the number one way to garner wealth is homeownership and to pass it on to the family," Dooley said. "Renting doesn't get us out of that."
Kenneth Lowe is a staff writer for Illinois Times. Contact him at klowe@illinoistimes.com.