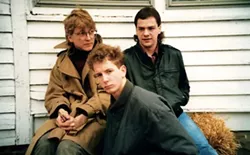 Condition 90 ca. 1986, l-r Irwin, Walter, Berkman
It is nothing out of the ordinary for Tom Irwin to be performing at Brewhaus (617 E Washington) on a Sunday night.
Tonight, however, promises to be unusual indeed.
In just over two hours, at 8 PM, Springfield music fans of a certain age will be treated to their first chance in a couple of decades to see the normally folky Irwin trade his guitar for a bass and perform herky-jerky songs from his 1980s-era pop-new wave band Condition 90. Former conspirators John Walter (guitar) and Tony Berkman (drums) are in town from California and Rockford, IL, respectively, and it looks like what we have on our hands is a full-scale re-yoou-nyun. Tom "Dooley" Woolsey of Irwin's slightly earlier combo The Strand will also be on hand to add extra guitar muscle.
New wave nostalgia hounds and Springfield local music historians take note! We may never see their like again!
(In fact, I'm frankly surprised we're getting this much)
.
Card for Condition 90's 1984 cassette "Condition 90 Now!"