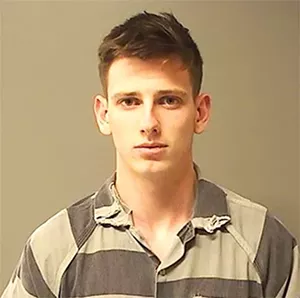 You can go far in this world with cojones and a cellphone. Ask Chase Brown, who stands accused of frauds that span the nation.
Marks provided credit card numbers and cash and hundreds of thousands of dollars worth of goods while Brown chartered planes, according to a grand jury indictment issued last week. Prosecutors say that he once went shopping for a tiger. They also say that he used an ill-gotten credit card number to pay a $5,000 retainer to an unnamed Springfield law firm and also to settle a tab at a local sports bar: Including a $500 tip, the total came to nearly $1,100.
Bar tabs notwithstanding, Brown will turn 21 in September. He graduated from Rochester High School in 2018 and played on the state championship football team, mostly late in games when the Rockets were far ahead – former teammates who didn't want their names published describe him as mysterious. Charged with a boatload of bad-check charges in Sangamon County less than a month after he turned 18, Brown was granted probation last summer and issued a $17,000 restitution order.
Even while charged in state court, Brown kept bamboozling people, according to court files and federal prosecutors, who say that the spree concerning them started last August. Rubber checks included one made out to a Missouri resort for more than $8,500; also, there is a $10,000 check payable to an Alfa Romeo dealership with "down payment" written in the memo line. Last year, Brown told a St. Louis man he'd pay $19,500, plus provide stock in a CBD company, for a boat and trailer but never made good on the deal after taking possession.
After setting up a company called Midwest Surgical last year, Brown cold-called a medical equipment broker in Texas, offering to sell goods that were never delivered after the Texas broker sent two credit card numbers, plus pictures of the cards and a photo of his driver's license, which Brown said he needed because no card had been physically swiped. Brown used the cards to buy a secondhand Jeep Wrangler, according to prosecutors, which he equipped with more than $3,900 worth of wheels and tires.
Brown made good on two orders placed to a Mokena medical supply company, prosecutors say, but subsequent deals with the company went sideways, with the firm ultimately paying Brown nearly $13,500 for goods never received. Brown also entered into a consignment deal to sell medical equipment from a shuttered Blue Island hospital that was supposed to be paid $750,000, with half due upfront. After a $375,000 check bounced, Brown returned all but $10,000 worth of equipment, prosecutors say. A Pennsylvania medical equipment sales company wired Brown $13,000 but never received promised goods or a refund. An equipment company in Niles, Illinois, ended up in a $36,000 hole.
When Brown last December applied for credit to buy aviation fuel and charter planes, claiming that he had 26 employees, he got an assist from Experian, which told the card issuer that Midwest Surgical had more than $2.8 million in sales. In a month's time, Brown charged more than $234,000 in charter flights and fuel, hitting his credit limit, then failing to pay.
In January, Brown met an employee of a Springfield jewelry store in Miami, crashing on a couch in the employee's hotel room, according to an indictment made public last week. Let's fly to Los Angeles, Brown suggested: I have watches to sell there, but I lost my debit card. Could you pay for the tickets? The employee agreed. Once in Los Angeles, Brown said he wanted to buy a tiger, and so he chartered a jet to Ontario, about 50 miles distant, to make the deal, which fell through.
When the duo returned, tigerless, to Los Angeles, the owner of the house where they were staying accused Brown of not paying rent. Brown remained on the West Coast while the jewelry store employee returned to Springfield, where his father discovered more than $25,000 in charter plane charges on a credit card that had been held by his son, who told authorities that Brown likely took photos of the card as well as his driver's license. The charter company told the feds that Brown didn't show up after a jet was summoned to fly him from Los Angeles to northern California.
Last summer, Brown, saying he wanted to establish a racing team in Florida, agreed to pay $490,000 for a boat moored at Lake of the Ozarks in Missouri, but a $100,000 check bounced, and a $495,000 wire transfer proved bogus, prosecutors say. Brown didn't get the boat.
The law caught up to Brown in Florida, where he was arrested on March 13. His return to Illinois was delayed by the pandemic, with Brown, claiming asthma as an underlying condition, arguing that he should be freed on bond. A judge said no. He faces a maximum penalty of 30 years for each of two counts of wire fraud, plus up to 10 years for one count of access device fraud.
Contact Bruce Rushton at brushton@illinoistimes.com.