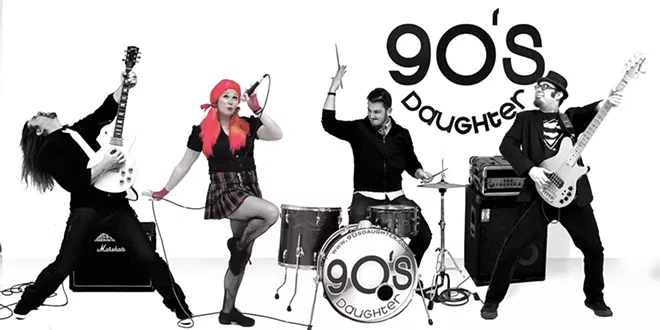 Howdy, neighbor, and welcome to another edition of Now Playing in the 'Patch and beyond. Far from the fear, anxiety and concern of
a year ago, here we are working our way through a global pandemic, finally seeing some real progress in battling this nearly unimaginable, dangerous and tragic virus that seems unreal and so very real all at once. With that observation and opinion in place, let's see what the live music listings offer us this week.
First, I want to apologize to After School Special for failing to announce their CD release show last Friday. It just completely slipped my mind and typing fingers without any excuse whatsoever. The duo of Aasne Daniels (vocals, guitar) and Jerry Setnicky (guitar, vocals, mandola, harmonica, percussion) put last year's lockdown time to good use and wrote and recorded an album's worth of songs. The record, available at gigs (next one is May 1 at Sheedy Shores) and on Bandcamp or from the group's website (www.afterschoolspecial217.com) features 10 songs mixed, mastered and produced by John Shepard at Wind Cave Studio and New Paradigm Audio in Springfield. Please take a listen and buy a copy if you're so inclined, then bring it to the next gig for autographing by the artists, 'cause that's how it's done.
Next, I'm proud to announce that another episode of C.A.M.P. (Creators of Art, Music and Poetry) premieres this Saturday on Facebook at 6 p.m. with a theme of Introspection. As one might expect from the moniker, the show highlights local visual artists, original songwriters and poets. This time around there's Stuart Smith, Micah Walk and Battles & Rhodes supplying the music, while Ted Morrissey and Carey Smith head up the poets' corner and Michelle Smith discusses and presents her work as an artist. Many thanks to Crowdson Creative and the Springfield Area Arts Council for incredible support of an immense magnitude. There are several more shows in the works, plus previous episodes can be viewed on YouTube. Soon we'll be discussing how to take the show live, hopefully by the fall of 2021.
As our main venues continue to pick up the pace, with the Groove Daddies at the Curve Inn and After Sunset at Long Bridge on Friday, as well as 90s Daughter at Blue Grouch and Three Gun Whiskey at Weebles on Saturday, there's plenty of music happening in the small towns around the capital city every weekend. For example, this Saturday night, Daugherty's Pub in Chandlerville presents Small Small World, another project from the always-on-it music man Colin Helton, joined by stalwart bandmates Jeremy Reeves and Bill Steele, while Positively 4th Street is there next Saturday featuring the Tom Beverlys (both of them) and band.
Also on Saturday, somewhere south of town, the marvelously talented Joel Honey travels to Pawnee for a rousing performance at Local's Bar as JackAsh takes it to Maddy's in Divernon and John Drake picks a winner at the Lucky Moon Saloon near Glenarm, all while Ryman's Way delivers big time on the classic country up north at Boar's Nest in Athens.
Continuing our area community romp on Sunday, Antone and Wick do things up right at Hill Prairie Winery near Oakford, while Jeff Young and the Bad Grandpas bring out the best in folks at Danenbergers near New Berlin. And on top of it all, the Funky Monkey in Taylorville celebrates three years in business with a blazing show by Brandy Kristin & The Revival on Saturday night.
Be careful out there as we ease on into the new normal of the old ways. See you in April.