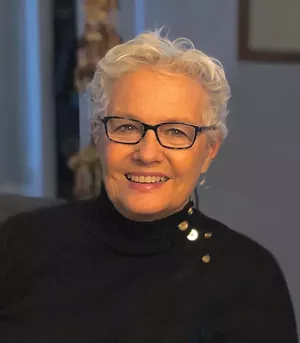 Peggy Ryder was fearless, vibrant and alive in all ways, says her youngest son, Tim. Everyone who knew her was touched by her warmth, beautiful smile, generosity, good humor and positive attitude. She left her mark on Springfield as an extraordinarily dedicated community leader and volunteer. Sadly, she passed away on Sept. 16, after valiantly battling ovarian cancer for four-and-a-half years.
Through her passionate service with a multitude of organizations, Peggy enriched the lives of many. She didn't simply join an organization; she gave it her all. And, she did this for multiple organizations concurrently. It was common for her to volunteer and then join the board while continuing as an active volunteer.
Peggy and Tom Ryder moved to Springfield in 2006, but Peggy was active in Springfield long before that. Tom was a state legislator from Jerseyville for many years and Peggy worked in his legislative district office, in addition to working as a P.E. teacher before having children.
When their children were young, Peggy traveled to Springfield so their family could be together while Tom was working. The Illinois State Museum, adjacent to the State Capitol, was a perfect destination for Peggy and her young sons, Josh and Tim. She instilled in them a love of learning and adventure. Years later, the governor appointed her to the Illinois State Museum Board, and she also served on the Illinois State Museum Society Board. Ryder stood on the front porch, and with her radiant smile and welcoming personality, greeted throngs of schoolchildren visiting on field trips. Always curious and a lifelong learner, she also participated in the museum's travel opportunities. Later, she delighted in bringing her grandchildren to the museum.
Peggy also introduced her boys to the Dana-Thomas House and later volunteered as a docent. She served on the Dana-Thomas House Foundation board and helped recruit and train volunteers. As a world traveler, she enjoyed learning where visitors were from and sharing her knowledge and love of the Dana-Thomas House with people from all over the world.
In 2008, Mayor Tim Davlin appointed Peggy to the Springfield Commission on International Visitors. She enjoyed hosting international visitors in her home, serving as a tour guide and ensuring they experienced the best of Springfield. "A day in the life of a volunteer is never the same. It's always something different and always fun," said Ryder during an interview in celebration of the commission's 50th anniversary.
Peggy also contributed her time, talents and treasures to the Community Foundation's Women for Women Giving Circle. She served with distinction on both the grants committee and steering committee. In 2015, Peggy and Tom established the Ryder Family Fund at the Community Foundation, demonstrating their commitment to philanthropy.
With Peggy's diverse interests, she always found places to help. She organized an annual book sale for Friends of Lincoln Library and later joined the board. She chaired the American Association of University Women's annual fundraising tea. She helped sort medical supplies at Hospital Sisters Mission Outreach. She served on the board of the Hoogland Center for the Arts. She was a powerful presence at the Simmons Cancer Institute's Women's Power Lunch Against Cancer.
Peggy had "a heart for the arts and passion to help the community. She did it so humbly," said Pam Johnson, a longtime friend from Cherry Hills Church, where Peggy also volunteered.
Through all of this community service, Peggy's highest priority was her family. She was devoted to her husband, Tom, and helped organize his life, says son Tim. Their mother was enormously proud of both Josh and Tim, who says their childhood was filled with wonderful times.
"Never one to stay at home, she filled our world with experiences," said Tim. Days were filled with visits to museums, historic sites, summer art classes and other adventures. They tagged along on their father's work trips, seeing and experiencing new things and places.
"She instilled in my brother and me a desire to not rest on our laurels, to constantly see what's out there, to get comfortable, but not too comfortable," he said. Tim is now a writer, actor and director in Los Angeles after working in Chicago at Second City and on a cruise ship in the Mediterranean. His parents were a constant presence at his performances.
Josh lives in Springfield and has two children, Finley and Isaac, who were Peggy's pride and joy. She adored taking her grandchildren to places she took her sons when they were young, and having adventures that made their parents nervous.
Peggy lived life to the fullest. While battling cancer, she didn't want to be fussed over or pitied. Her family is committed to keeping her vivacious spirit alive. They suggest to honor her memory, get vaccinated, read a good book, travel somewhere you've never been and go through a door you're not supposed to.
To be like Peggy, do it all with a wide smile on your face.
Karen Ackerman Witter is a former associate director of the Illinois State Museum. She had the pleasure of knowing Peggy through the Illinois State Museum and serving with her on the steering committee of the Community Foundation's Women for Women Giving Circle.