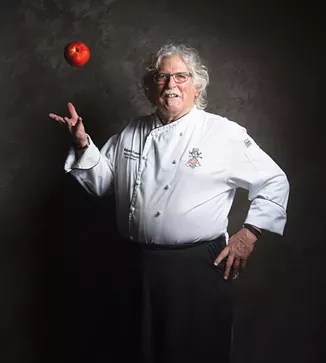 Masked in a red bandana on a foggy Wednesday morning, Chef Michael Higgins surveys a farmers market table stacked high with early spring produce. He selects several bunches of fat green garlic, makes arrangements to pick up some arugula later, then follows the one-way arrows taped on the concrete to the next vendor. A regular figure at the Old Capitol Farmers market, the chef-owner of Springfield's most historic fine-dining restaurant has been a champion of local farms and progressive dining for over four decades.
Established in 1884, Maldaner's is Springfield's oldest restaurant. Under Higgins' direction it has been one of the area's most forward thinking. Years before the phrase "farm to table" devolved into an overused marketing ploy, Chef Higgins had begun to establish relationships with local small-scale meat and produce farmers in Illinois. A California native, Higgins and his late wife, Nancy, moved to Springfield in the early 1980s to manage Maldaner's, and a decade later they purchased the business.
Higgins sought out local growers like Suttill's Garden and Jefferies Orchard early on in an effort to develop the kind of chef-grower relationships that he'd been accustomed to out west. Eventually these close relationships allowed Higgins to begin requesting specialty varieties of produce from these growers, like fava beans, heirloom tomatoes and delicate French green beans. The diversity of produce on display at local markets and restaurants today is thanks in large part to chef-grower relationships like these, helping to shape Midwestern palates and expectations in the years since.
Maldaner's was the first restaurant to offer al fresco dining in downtown Springfield in the mid-90s, and at that time Higgins worked with the city to pass an ordinance that would allow other businesses to do the same. In 2011 he worked with local beekeeper Arvin Pierce to install hives on the restaurant's rooftop, followed by a rooftop garden the following year, and a 50-panel solar array in 2013, all in cooperation with other local groups and organizations.
"In doing all this I learned that there are some things that you just have to do and take on yourself," said Higgins. "A business is only as successful as its community. You need to participate in your community, because that, along with a lot of hard work, is what has allowed you to be successful."
Higgins recalls a pivotal moment after his wife died in 2003 when his commitment to this community was solidified. "We had her service at Blessed Sacrament and the church was completely full. As I looked out over that crowd it just blew me away. I didn't even realize that we knew that many people. It was a real eye-opener for me."
Fortified since by years of community engagement, Higgins is pragmatic about the future of his century-old restaurant in the age of COVID-19. "Maldaner's has survived a lot over the past 100 years," Higgins remarked, "and we're going to just have to get through this with what we've got."
For now, Maldaner's is offering carry-out and corporate catering, and Higgins is resisting pressure to reopen too soon. "The economy is not going to just turn over immediately," he cautioned, "and having a set reopen date is a false hope, because if you just reopen like business as usual at 25 percent capacity you have to make up for your fixed costs somewhere else. We will have to incorporate more take-out into our business model because we don't have a choice." Higgins is appreciative that the city and Downtown Springfield Inc. collaborated to provide more outdoor dining space downtown by closing off certain parking lanes so that restaurants were able to expand their outdoor seating capacity through the fall.
When the time comes to once again serve guests in the dining room, Higgins will be looking to creatively utilize those longstanding relationships to help fill his restaurant. "When we do reopen this restaurant it will be at 100 percent capacity," the chef remarked with a twinkle in his eye. "I'm hoping to work with other downtown retailers to fill the restaurant's otherwise vacant seats with mannequins dressed in their merchandise with some advertising information on the table. Ideas like that support other businesses and organizations."
The return of support from the community has been humbling, Higgins said. "People have responded in positive ways and really appreciate what we're doing, and they've just been incredibly kind and generous. Our success is because of our community, and for me it all comes back to that moment looking out over the crowd at Blessed Sacrament that day. Until you're in the thick of it you don't even realize all that kindness and generosity is out there."
Ashley Meyer is a Springfield-based writer and cook and has worked with Chef Higgins at local charitable events, including the Illinois Stewardship Alliance Harvest Celebration and the Hope Institute Gala.