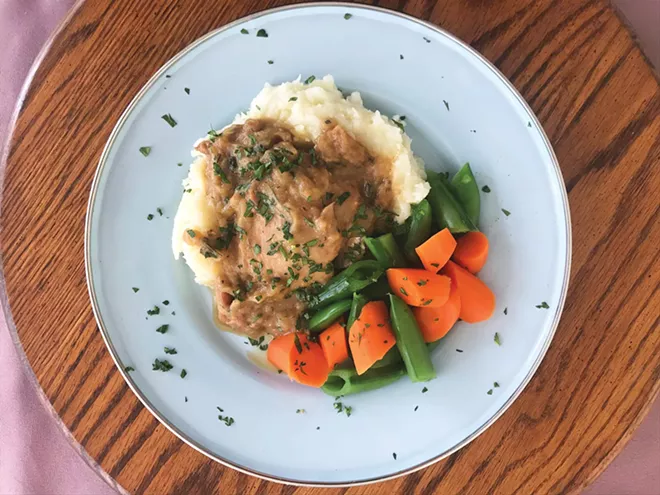 In times of high anxiety my strong inclination is to retreat to the kitchen and turn on the stove. The practiced movements of my hands kneading dough or mincing onions helps me to process all the messy information floating around in my brain. As a bonus there's usually something yummy produced as a result. It's generally a delightful coping mechanism, albeit a messy and often a rather caloric one.
The chaos of the past year had me whipping up midweek chocolate cakes, big pans of baked ziti and batches of cookies in the middle of the night. Cooking in this way helped keep me sane and gave me a way to connect with others, but it didn't do my body any favors. Now, in the darkest days of winter, I'm craving stick-to-your-ribs comfort food more than ever, but in a way that loves me back. These veggie-focused recipes are perfect for cold, snowy weather and can all be made several days in advance or even frozen.
Weeknight Ragù with Spaghetti Squash
1 spaghetti squash
1 tablespoon olive oil
1 pound ground beef, pork or turkey
1 teaspoon salt, divided
1-2 teaspoons salt-free Italian seasoning
8 ounces mushrooms, sliced
2 onions, minced
2 green peppers, diced
2-4 cloves garlic, minced
1 jar pasta sauce (Look for a brand that doesn't have lots of added sugar. I like Aldi's Simply Nature Organic Marinara.)
Preheat the oven to 400 degrees. Split the spaghetti squash in half with a heavy knife. (You can soften it slightly before cutting by piercing the squash all over, then microwaving for one minute.) Scoop out the seeds and brush with olive oil. Sprinkle with salt and pepper and place cut side down on a baking sheet. Bake for 30 minutes, or until the squash can be easily pierced with a knife.
While the squash is roasting, brown the meat with a sprinkle of salt over high heat in a nonreactive skillet with deep sides. Add the mushrooms and another pinch of salt and cook until they release their juices and begin to brown. Then add the peppers, onions, garlic, herbs and another sprinkle of salt. Continue to cook until the vegetables begin to soften and brown, then add the tomato sauce and ½ cup water. (Rinse the jar out with the water.) Simmer for 15 minutes. When ready to serve use a fork to pull out the strands of spaghetti squash. Top with ragù and grated cheese if desired.
French Onion Braised Chicken
1 tsp butter or olive oil
8 skinless chicken thighs (chicken legs, pork chops and even tofu work also)
3 or 4 onions, peeled and sliced thin
2 apples, peeled and sliced thin
2 cups unsalted broth or water or wine, divided
2 tablespoons Dijon mustard
2 cloves garlic, minced
2 teaspoons minced fresh rosemary or thyme (use ½ tsp if dried)
Salt and pepper to taste
Heat a Dutch oven over high heat (or any wide pan with deep sides and a lid that can go in the oven). Add the olive oil and sear the meat on both sides then put on a plate and set aside. Add the onions and apple and cook over high heat for about 2 minutes until they begin to soften and brown, then add ½ cup water or broth to deglaze the pan, scraping and stirring up all the delicious brown bits from the bottom of the pan. Reduce the heat to medium low and continue to cook for about 30 minutes, stirring occasionally, until golden brown. Mix in the mustard, minced garlic, herbs and remaining broth or water and bring to a simmer. Season to taste with salt and pepper then add in the chicken and any accumulated juices.
Place the lid on the Dutch oven and bake in a preheated 350-degree oven until meat is fork tender, about 45 minutes (larger cuts of meat such as roasts will take longer). This method also works well in both a crock pot (increase cooking time) or pressure cooker (reduce the amount of broth/water added and adjust time accordingly). Top with chopped parsley and serve over mashed cauliflower (boil cauliflower florets in salted water until tender, drain and mash with butter or olive oil).
Brown Butter Baked Apples
A nutrient- and fiber-rich treat with no added sweetener that's fun to make with kids, these apples keep for a week in the fridge and reheat beautifully.
4 tablespoons butter or coconut oil
6 firm apples, such as Granny Smith or Pink Lady
½ cup chopped dried fruit such as raisins, cranberries, apricots and/or dates
½ cup toasted chopped nuts
½ teaspoon cinnamon
½ cup apple juice or water
A pinch of salt
Brown the butter in a small saucepan, then set aside to cool (skip this step if using coconut oil). For instructions on browning butter, check out https://tinyurl.com/y5ye7bn7.
While the butter is cooling, peel the apples if desired and core them. Combine the cooled brown butter or coconut oil, dried fruit, nuts, cinnamon and salt and mix throughly. Stuff the cored apples with the fruit/nut mixture and place them in a greased baking dish. Add the water or juice to the pan and cover lightly with foil and bake in a preheated 350-degree oven for one hour, or until the apples are fork tender. Serve warm with yogurt or coconut cream.
Ashley Meyer is a cook and writer living in Springfield with her husband and two children, and is eagerly awaiting the advent of spring garden season.